The Permanent Representative of Jordan to the United Nations, Prince Zeid Ra'ad Zeid al-Hussein ("Prince Zeid"), has just been nominated as the next United Nations High Commissioner for Human Rights. The outgoing High Commissioner - Navi Pillay of South Africa - served for six years.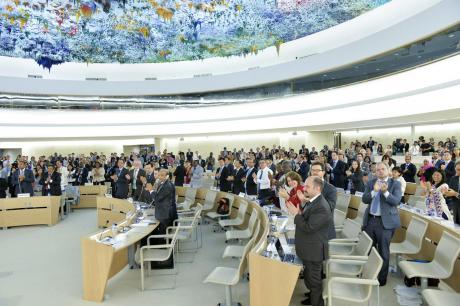 Standing ovation of the participants during Closing Ceremony of the End of Tenure of the United Nations High Commissioner for Human Rights, Navi Pillay at the 26th Session of the Human Rights Council. 27 June 2014. Flickr/Jean-Marc Ferré (UN Photo). Some Rights Reserved.
The High Commissioner is expected to take the UN lead in protecting human rights worldwide, even as he must also support the work and respond to the demands of the politically driven UN Human Rights Council. Reporting to the UN Secretary-General, the High Commissioner is also expected to act as an independent voice, able to speak out even (perhaps especially) when it's inconvenient for the UN. It's a difficult balancing act, shown by the fact that no UN High Commissioner for Human Rights has served the full 8 years allowed. Thus, rather than rushing to judgment on a tenure completed, perhaps it would be more constructive to look ahead. What should be Prince Zeid's key priorities?
Here's an initial list, of both do's and don't's:
Seek a much higher public profile. The real strength of the High Commissioner's mandate lies in leveraging the moral authority of his office; and for this visibility is key -- among governments, media, and especially among the growing local, regional and global networks mobilizing for change. The High Commissioner and his Office (OHCHR) have a much weaker media profile (especially in social media), than either UNICEF or UNHCR. Given OHCHR's much broader and equally or even more compelling mandate, this is simply indefensible.
Linked to (1), develop a much more dynamic communication strategy for the work of the Office and the many UN expert bodies it supports. One could go on at length about this – but anyone who has ever tried to retrieve a UN report on a country from the OHCHR website will immediately appreciate the problem. What should be the hub for global information and debate on human rights is instead an amateurish, incomprehensible and unimaginably dull portal to bureaucracy and UN-speak. Information is key to most struggles for human rights, and OHCHR does a dismal job of making it easy to access.
Don't give up on reforming the UN human rights treaty bodies. Their role is crucial. However, the just completed effort, over several years, to improve their functioning, encapsulated in a recent UN General Assembly resolution, at best leaves them on life support (and, at worse, with a 'do not resuscitate' order in place should a new crisis emerge). The fact that the outgoing High Commissioner achieved so little, despite considerable effort, might tempt her successor to avoid this file, but that would be a mistake. New, independent and bold thinking is needed on the treaty bodies, and, arguably, the past effort saw too little of all three (and might be one reason it came up short).
Engage with sub-state authorities. The treaty bodies are constrained to deal with central state authorities: foreign, justice, and home affairs ministries. But nothing prevents the High Commissioner from engaging with provincial, regional, local and municipal authorities who carry responsibilities in so many areas important to the realization of human rights – policing, housing, land and property, health, water and other essential services, labour disputes and more. For most people, central government is remote and urbanization and other trends will widen the gap.
Aim to double the number of OHCHR staff, but with zero increase in Geneva. The debates in the Human Rights Council are important, but the real struggles for human rights are waged elsewhere, and OHCHR staff needs to be on the ground. The new High Commissioner should ramp up the effort of his predecessors to build a local presence in key regions and countries. He must also accelerate efforts to redress the imbalance in OHCHR staff, barely 5% of whom come from the BRICS countries, and almost 50% of whom are from western Europe and North America.
Worry a lot less about mainstreaming human rights in the UN system, and a lot more about putting human rights concerns on the agenda of powerful bodies that control and guide global financial and economic policy including the G7/8, G20, the IMF, and the private networks of influence that grow in importance – Davos, Bilderberg, and many others. Even if the entire UN system fully embraced human rights, it would matter little to the way power is exercised in the world.
Don't fall victim to the malaise over a supposed human rights 'end times', said to be the inevitable result of declining western power. The global power shift provides both risks and opportunities for advancing human rights protection, and is only one of many global trends. Others, including a dramatic growth in the global middle class, rising global education levels, and the expanding diffusion of - and access to - information via online sources, all point to an increasing interest in human rights, and in new places. The challenge for the new High Commissioner is not to halt a supposed decline, but to figure out how best to encourage, shape and then ride the next wave of interest in human rights.
Finally, please don't announce in your first speech, as every previous High Commissioner has done, that 'the era of standard-setting is over, and now is the time for implementation'. Beyond it's banality, it's simply wrong to think that the process of developing international legal standards can be frozen, especially in such a dynamic area as the protection of human rights. It also belittles the strenuous implementation efforts that have been undertaken for decades, and blinds the High Commissioner to the need to look ahead and actively promote law reform and development, rather than simply react to the proposals of others.
This article was first published on the oGR Blog on June 7, 2014.