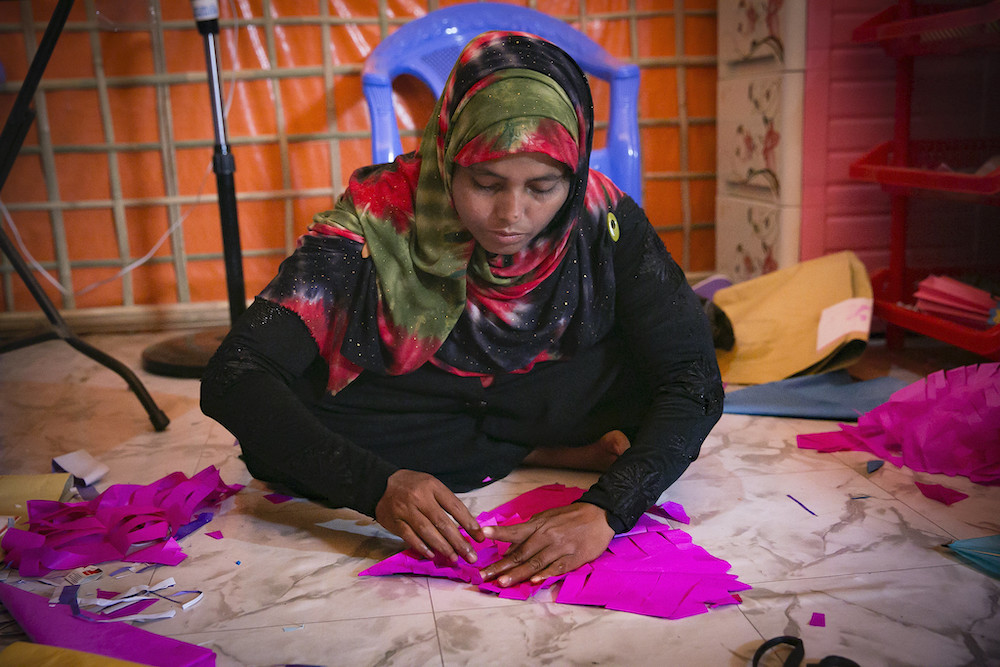 Photo: UN Women/Flickr (CC BY-NC-ND 2.0)
---
The Rohingya refugee crisis is an enormous challenge for the international community. Bangladesh is under the strain of hosting a million Rohingya refugees and their voluntary repatriation to Myanmar appears remote. Short of decisive action by the Security Council or other regional institutions or bodies, or unforeseen political developments in Myanmar, other solutions and mitigating actions deserve attention.
Many Rohingya refugees have expressed the desire to return "home", but they have several reasonable demands before doing so. These include justice for wrongs committed, reparations, protection of their human rights, including the grant of Myanmar citizenship and being able to return to their home villages. Delivering on these demands requires commitment from Myanmar, and from the perspective of the Rohingya may be essential before any move to return. But such commitment is currently lacking and indeed may not materialize.
The current political climate on the Rohingya issue isn't easy and there is a legitimate concern the international community may lose interest which can impact available resources. Bangladesh would then face the challenge of coping without continued international support. Images of another Gaza Strip are not misplaced, and Bangladesh is unlikely to absorb a million of its neighbour's would-be citizens.
Against this background the following options could be taken by the Bangladesh government and the international community to help alleviate the suffering of the Rohingya and pressure on Bangladesh. While neither novel nor unprecedented, these proposals have to date received limited attention.
Bangladesh (and other countries hosting Rohingya refugees) should grant access to public schools and temporary work rights in addition to ensuring health care including psycho-social support, family planning and reproductive health services. Bangladesh is permitting some of this type of assistance already as the UN and dozens of domestic and international NGOs are present and working on a range of protection and assistance programmes in the camps. But full access to education is particularly important – over 70 percent of Rohingya are illiterate and innumerate.
Bangladesh should grant access to public schools and temporary work rights in addition to ensuring health care.
The World Bank and UN development actors have committed to upscale the welfare and economic absorption and co-existence of the Rohingya with local Bangladesh communities. Delivering services requires considering an end to encampment and permitting refugees to be hosted in communities outside of Cox's Bazar. Registration of the refugee population with a national authority and international organization would similarly meet the law and order concerns of the Bangladesh authorities.
Apart from providing services it should be acknowledged refugees have skills and want to work and help themselves. While the Rohingya may currently find limited work in the informal economy in Bangladesh, the absence of legal protection makes them vulnerable to exploitation and abuse. Permitting them to work legally in areas with labour needs contingent on being registered would be a significant step forward. Engaging the International Labour Office in supporting skills training and creating job opportunities, similar to initiatives for Syrian refugees in Jordan, could also be explored.
Another solution is resettlement. Canada is one country which has communicated its interest to resettle Rohingya refugees from Bangladesh. A properly managed resettlement programme with UNHCR support can avoid risks of fraud or pull factors. Any resettlement would initially be modest and prioritize urgent protection cases such as women victims of violence, the medically at risk, and separated or unaccompanied family members.
Malaysia, for example, permits an estimated 150,000 Rohingya refugees to de facto reside in the country; but also, with UN support, facilitated over ten thousand Rohingya to be resettled to several countries including Canada, the United States, Japan and New Zealand over the last decade.
Regional solidarity through a managed programme of moving Rohingya refugees to neighbouring countries would be a positive example of global responsibility-sharing.
Resettlement and other options to move abroad can also be explored in the Asia region and beyond. There is public sympathy for the plight of the Rohingya and several Southeast Asian and Gulf states have vibrant economies which can provide work opportunities. Regional solidarity through a managed programme of moving Rohingya refugees to neighbouring countries would be a positive example of global responsibility-sharing. Similar to the Comprehensive Plan of Action adopted for Indo-Chinese refugees, there are various options which could be adopted including temporary protection in a third country; temporary protection and stay with eventual resettlement; or repatriation under international supervision with an option of applying for asylum if conditions require.
Of course, the international community cannot overlook the serious violations of human rights experienced by the Rohingya. Some measures of accountability and seeking justice for the Rohingya are essential. The investigation underway by the International Criminal Court, and the case alleging genocide brought by The Gambia against Myanmar at the International Court of Justice, are important steps. Beyond individual criminal and state accountability, UN monitors have suggested an embargo on business interests tied to the Tatmadaw to cut off financial and other support. There could also be options to impose sanctions against military officers and family members. Identifying and seizing hidden assets outside Myanmar is another area national departments of justice can explore.
But these international legal initiatives will not happen quickly. The immediate track is continuing to support Bangladesh and the Rohingya refugees with humanitarian assistance. Looking ahead, inclusive and systematic refugee representation in important decisions which affect them, especially around repatriation, is a must. Failure to engage with and include the Rohingya will limit or prevent buy-in to whatever is negotiated on their behalf.
The humanitarian dimension of the current crisis can continue to be well managed with sound leadership, strategic planning, creative diplomacy and advocacy and a degree of political good luck. But luck alone is insufficient and will not lead to solutions the Rohingya deserve, and Bangladesh and the international community legitimately demand. The options discussed above deserve urgent attention.