Human rights activism relies on an ability to tell stories to diverse audiences that will inspire action toward justice. Distributing information through journalism, whether it be traditional or new media, is the standard method of raising awareness. Globalization and the movement of people means that activists and artists from affected communities may cooperate to mutual benefit and find new audiences in the process. Live theatrical performances in particular offer an exceptional form of audience engagement that human rights organizations may find more meaningful than the circulation of films or literature. Theater is also a highly adaptable medium, able to be molded over and over according to the vision of its social and cultural location. How many places in time and throughout the world have versions of Romeo and Juliet been produced? What if the two leads were not male and female, but male and male? What if one was a black African and the other white and British? What if one was Hindu and the other Muslim? The story remains the same and yet the meaning is given new life. Old texts adapted and applied to human rights issues can help us understand the universality and timelessness of struggle.
This was the vision for Queens of Syria, which mixed Euripides' 410BC text of The Trojan Women with the real-life stories of women refugees from Syria. The UK based charity Developing Artists, which seeks to support the arts in post-conflict nations, worked with a drama therapy group, as well as British and Syrian directors, to translate the ancient play into Arabic while journalists added archival footage that played on a screen above the women. Queens of Syria sold out in a number of venues throughout its three-week UK tour in 2016 and was featured in The Guardian, Financial Times, and on the BBC. Audiences were given supplemental materials about the conflict and the actors in their programs and encouraged to learn more about the refugee crisis.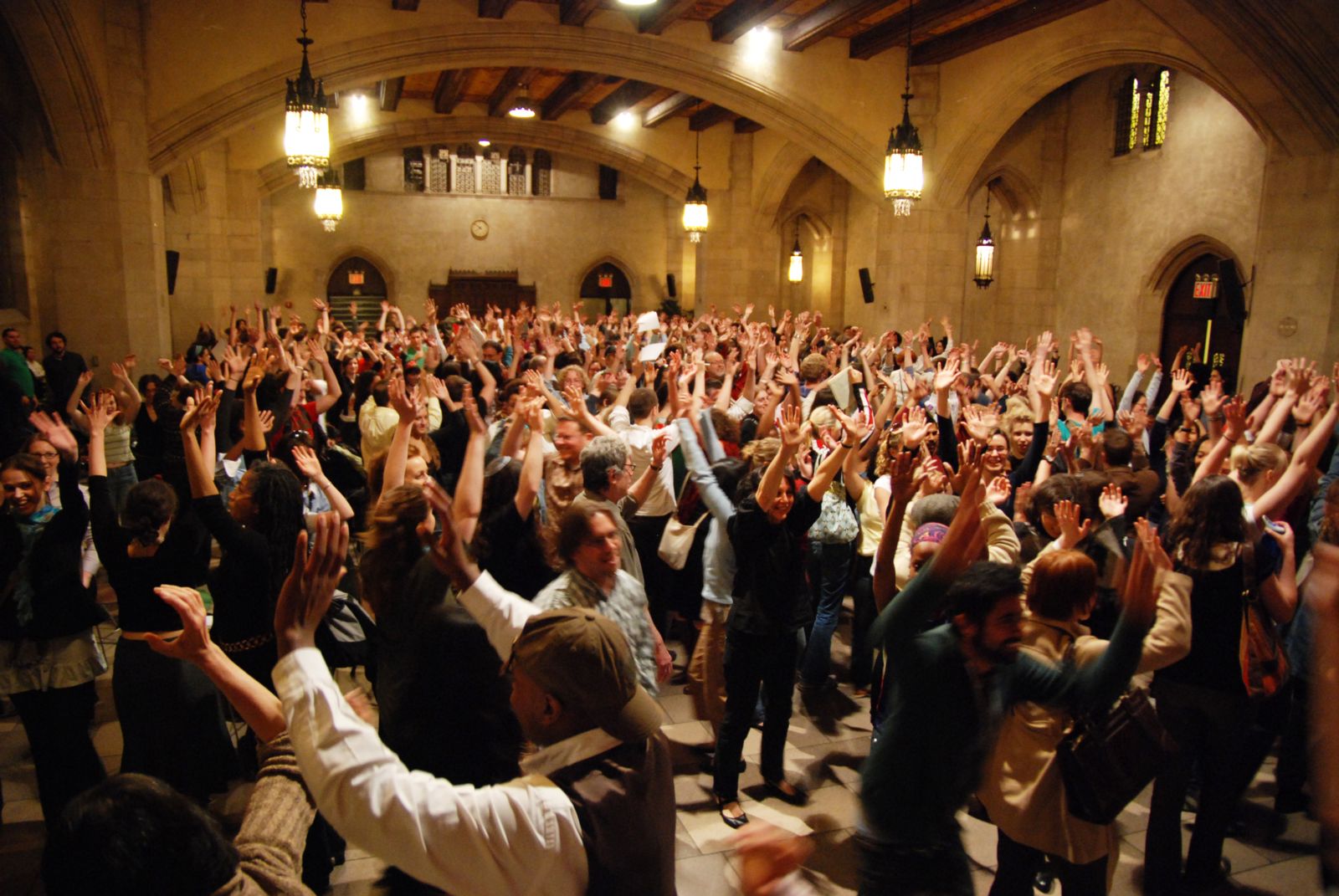 Thehero/Wikimedia Commons (Some Rights Reserved).
Participants in a Theatre of the Oppressed workshop.
---
I attended the show already knowing a fair amount about the subject, and the play itself was very light on context, focusing instead on emotion. While I may not have learned anything new, what I felt while watching and being in the presence of these women who were engaging in a creative form of post-memory work was certainly an arresting experience. To do so in the presence of others, who laugh when you laugh and who applaud when you applaud, creates a form of consensus. The audience members certainly already had empathy for the actors, which is why they bought the tickets, but the experience created a new and intimate connection. Independent theater critic Paul Taylor cited a scene where the women read letters to family members as particularly evocative and capable of expressing a "piercing homesickness".
Theatrical performances need not be explicitly tailored for an activist audience in order to have an effect. The Broadway production of OSLO, about the 1993 Oslo Peace Accords between Israelis and Palestinians, was not created with any specific development goals in mind. However one feels about the presentation of narratives in the play, its placement in the competitive market of Broadway and its receipt of the 2017 Tony Award for Best New Play means that human rights topics can be palatable to mainstream theater going audiences and the industry at large.
A number of faces from film and television have also shown an interest in embracing theater to tell stories about war and conflict. Zimbabwean-American actress Danai Gurira, who graces the screen as the katana wielding Michonne on The Walking Dead, co-founded the non-profit Almasi Arts Alliance to bring African voices to American stages. Gurira wrote the play Eclipse, about the experiences of "wives" of rebel commanders in Liberia, and attracted Oscar winner Lupita Nyong'o to the 2015 Off-Broadway production.
Beyond commercial theater, drama therapy has grown into a staple for post-conflict and social reconciliation programs all over the world. Communities in Africa affected by HIV/AIDS have taken on performance as an educational and social inclusion tool. One such program called "Wise Up" in Botswana, funded by UNICEF, ran workshops to create 20-minute plays in the local language that would be presented to an audience. "Drama...serves a mirror to reality," said facilitator Mpho Rabotsima, "but is not actually reality—and therefore transports an audience and allows members to question why they like or dislike a character or story—and also presents them alternative solutions to a problem."
Theater can also be a form of resistance.
Theater can also be a form of resistance. Brazilian born Augusto Boal, for example, coined the term Theatre of the Oppressed in the 1970s. His theory called for a different kind of audience: a group of critically engaged witnesses that were ready to become actors themselves and also stand up for social justice. "At some stage we are told we are too old to play and act, we must become spectators," he told the Guardian in 2002. "But we should not be spectators in the theatre, even less in our lives. We should be actors. In the Theatre of the Oppressed we don't have spectators in the sense that you go there and consume something. We have what we call 'spectactors'."
The lesson we can learn from activist oriented productions like Queens of Syria, Hamilton, and the Theatre of the Oppressed is that in order to achieve both the goals of art and activism, the artists and the audience must be treated as agents of change. Whether the production is commercial or charitable in nature, creators and actors are engaged in the act of speaking truth to power, while the "spectactors" maintain the possibility of relating what they've witnessed outside of the theater. Human rights organizations must recognize the desire of both the artist and the audience and increasingly look towards ways to fill that demand.