On 10 November 1995, nine men were hanged by Nigeria's military government. Their executions, carried out in secret following months of detention and what Amnesty International called an unfair and politically motivated trial, briefly shone a global spotlight on events in Ogoniland, an oil-rich corner of the Niger Delta. The nine were falsely accused of murder and tried by a military court in a process that was globally condemned. The executions of the "Ogoni Nine" were the culmination of a campaign by Nigeria's military to silence the environmental protests of the Movement for the Survival of the Ogoni People (MOSOP) against the devastating impact of Shell's oil production and pollution in the region.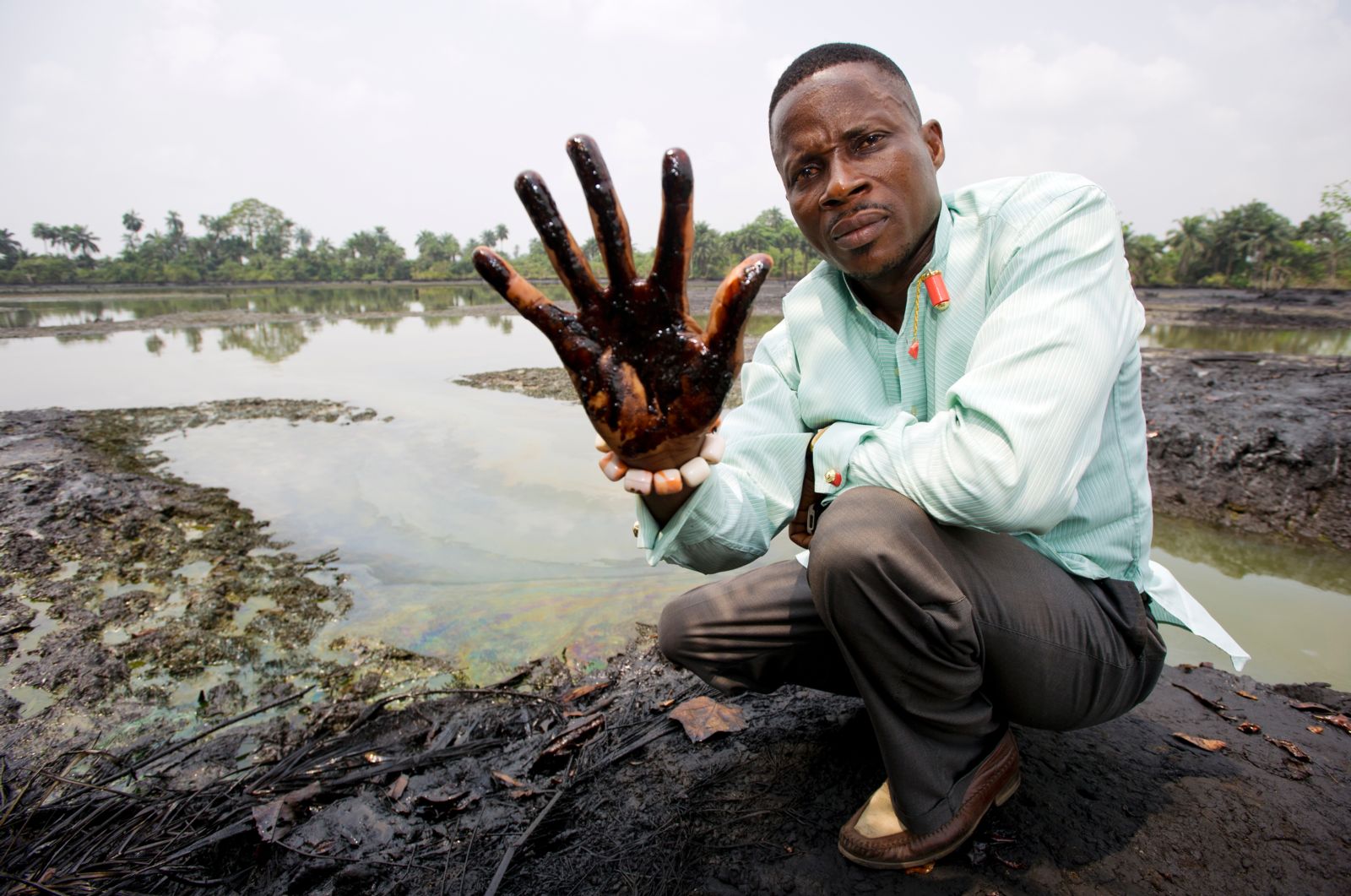 Flickr/Milieudefensie/CC BY-NC-SA 2.0 (Some Rights Reserved).
Shell has left a trail of pollution in the Niger Delta affecting millions of people and causing political unrest and the spread of violence in Southern Nigeria.
---
The allegations against Shell are extremely serious. In 1993, MOSOP, and its charismatic leader Ken Saro-Wiwa, had declared that Shell was no longer welcome in the area. The government and Shell were alarmed as operations in Ogoniland were very lucrative for both parties. A wave of violent suppression by Nigerian security forces followed, in the course of which Amnesty International documented numerous grave human rights violations including the killing of hundreds of Ogoni people Shell continued to encourage the military authorities to stop the MOSOP protests even after the company knew that the army was committing serious human rights violations.
Shell has never been held to account for its role in events in Ogoniland or the subsequent executions. After being sued in the US by the families of Ken Saro-Wiwa and some of the other executed men, Shell settled out of court on the eve of the trial in 2009. Shell paid the families $15.5 million but did not accept liability. In 2001, a separate lawsuit was spearheaded by Esther Kiobel, the widow of another member of the Ogoni Nine, Dr. Barinem Kiobel. Yet this case was dismissed on jurisdictional grounds by the US Supreme Court in 2013 before it was even heard. More than twenty years after the executions, Esther Kiobel is now involved in a new legal battle to get Shell to answer for its role in these atrocities, which have never been investigated by any government. In June, after more than two decades of fighting for justice for her husband, Esther Kiobel filed a legal writ against the company in the Netherlands.
However, Shell seems determined to frustrate Esther Kiobel's efforts to use the courts to get a fair hearing. The company's US lawyers, Cravath, Swaine & Moore, LLP, are refusing to hand over thousands of internal Shell documents that could be relevant to Kiobel's case. In January, a federal court ordered the law firm to give up the documents, but they have appealed this ruling. On 12 September, a US Court of Appeals heard arguments from both sides. The US Foreign Legal Assistance Act, under which Kiobel's legal team has applied for access to the documents, could prove pivotal in this fight for justice. One of the biggest challenges faced by all plaintiffs in corporate human rights cases is that companies control so much of the information. Legal tools such as this are vital in helping to level the playing field.
Shell's ability to hide information behind expensive counsel demonstrates the power imbalance when individuals take on multinational companies. Many poor people trying to confront corporate power are forced to give up their fight because they lack the resources to continue. All victims of human rights violations have a right to justice. In order to realize it, however, victims and their
lawyers need access to all the information relevant to their case. Without this information, companies are never brought to account but rather are emboldened to continue abusing human rights, safe in the knowledge that they can simply refuse to hand over anything that incriminates
them.
"All victims of
human rights violations have a right to justice."

Amnesty International is calling for governments to redress the balance by reforming victims' access to critical information. Home states of multinational corporations should compel companies to disclose critical information about how their global operations impact human rights, such as oil spill data and health studies. In 2015, the EU took an important step in this direction by requiring
the disclosure of non-financial information. This directive requires companies to publish information on their principal risks to human rights and their management of those risks. Separately, countries with restrictive discovery regimes, such as Germany, Switzerland and the Netherlands must also modernise their procedures to allow for access to evidence. For example, the Dutch Government has suggested a proposal for easier, greater and timelier access to information for plaintiffs. Such
developments show that reforms to improve access to justice for victims of corporate abuse are possible, but only when the political will exists.
Esther Kiobel describes her husband as a pillar of his community. She is afraid that unless
somebody is brought to account for his execution, he will go down in history as a criminal. No credible evidence has ever been presented to substantiate the allegations against Barinem Kiobel, Ken Saro-Wiwa or any of the Ogoni Nine who lost their lives to peaceful protest. Nothing so clearly illustrates the power imbalance between corporations and victims of human rights abuses than to
contrast of their fate with Shell's success in using wealth and power to escape the courtroom.