As Women Human Rights Defenders (WHRD) operating from different cultures, contexts and political environments, our strategies are also diverse and constantly in flux. Our work can be dangerous, difficult and subject to punitive action, simply due to the fact that we exist or organize as a young human rights group or collective. Some of us are members of LGBTQI* groups who can never openly admit these identities. Some of us are lawyers who listen to cases of human rights violations that require an empathetic ear and complete confidentiality. Some of us are resource mobilizers who need to navigate the politics of money. Some of us are artists writing songs, painting walls, performing poetries and singing lyrics that challenge oppressive structures.
In the fight to defend human rights and make sure justice is accessible and attainable to everyone, we risk our physical and psychological well-being.
In the fight to defend human rights and make sure justice is accessible and attainable to everyone, we risk our physical and psychological well-being. Indeed, physical attacks on WHRDs are not a new phenomenon and have increased in recent years, according to the 2012 Global Report on the Situation of WHRDs. And, according to the recently published research, 'Brave, Creative, Resilient: The Global State of Young Feminist Organizing', produced jointly by AWID's Young Feminist Program and FRIDA, 44% of young feminists said they felt threatened or unsafe because of the work they do. Fifty-four per cent of them have identified extremist or fundamentalist religious groups as the biggest threat to their everyday activism. The rise of fundamentalism, militarism, democracy crises, neoliberalism and globalization overlap the contexts where WHRDs work. This has resulted in an alarming increase of attacks and threats against us. There are thousands of young feminist activists who are at serious risk or have been subjected to different forms of physical, psychological and online violence.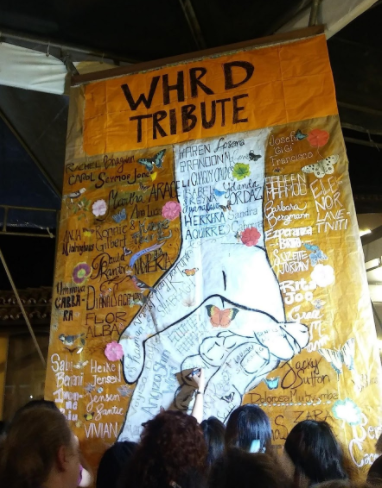 Photo credit: Deepa Ranganathan
In 2016 at the 13th AWID Forum held in Bahia, Brazil, a canvas was dedicated to WHRDs who lost their lives. Participants signed the wall with parting messages as a tribute.
---
In this volatile and challenging global context, holistic security is a political strategy that contributes to the preservation and sustainability of feminist movements. To understand holistic security, one needs to be mindful of the social, political, economic, environmental and other systemic factors that provoke and reproduce inequality, violence and patriarchal attitudes and practices. Holistic security recognizes the specific gendered nature of violence, which can manifest itself on the physical, emotional and psychological level, takes into account the way public and private spheres interact with each other and offers a complete self care solution in continuum that serves to counter that. It also contextualises our needs, privileges and risks.
Self-care is a security mechanism that can help WHRDs cope with physical and digital risks and prevent burnout and vulnerabilities at an early stage of our roles as activists. At its core, self-care challenges the patriarchal vision of women as carers of the family and community, at the cost of undermining our own sanity and health. Often, self-care is only related to the individual level. But it cannot be separated from the collective well-being within our organizations, shared efforts, and movements. Collective self-care, as an essential part of integrated security, is a feminist act of resistance and resilience that contributes to transformative social change and strengthens the sustainability of our work.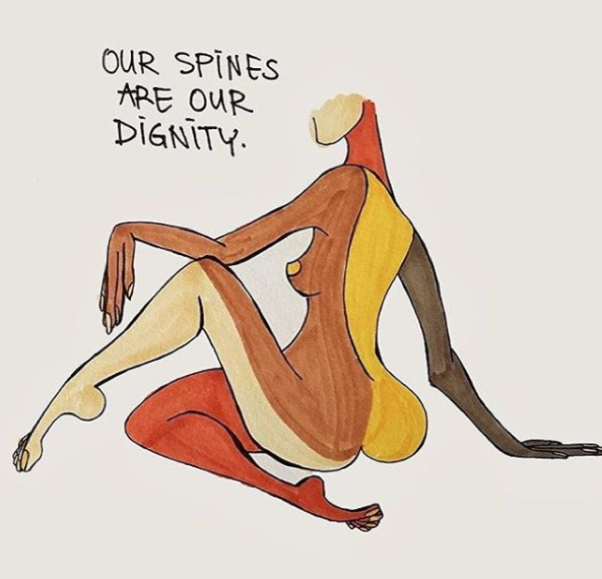 Words by Maryam Alkhawaja, Urgent Action Fund's board member. Art by @mosaiceye. Original Insta post by @urgentactionfund.
Urgent Action Fund recently launched an Instagram feed dedicated entirely to posting about self-care and well-being. "As a human rights defender, you are not just putting yourself at risk. You put everyone you love at risk. Your family, your relatives, your friends, your colleagues."
---
At FRIDA, some of the young feminist groups that form a part of our community often include self-care as part of their work strategy. As many of them work on eradicating different forms of violence, it is necessary to take frequent breaks from all intense workshops and sessions. Often, at global and regional gatherings that we organize with our grantee partners, staff and advisors, we start with positive affirmations for each other, hold hands, offer hugs, and do rituals and breathing exercises together. These tools are an essential part of our convening/meeting methodology. In addition, we always carve out safe spaces during meetings for self-care sessions, such as stress management, feminist self-defense, eating, dancing, and practising collective yoga. Resorting to breaks and taking concrete steps to care for each other becomes especially important for us, as a global organization that only gathers everyone together in the same space about twice a year.
At an organizational level, we regularly build and reconstruct our politics and collective self-care practices. We prioritize holistic security in our internal policies and translate it into actions. As a team working from different time zones, we always try to find online and in-person spaces that are safe and dedicated to team building and collective reflections. Our weekly team meetings begin with casual check-ins talking about everything except work, before jumping into any strategizing or planning: what did we cook, what shoes are we wearing, what song are we humming today. To verbalise such seemingly insignificant things has become a welcome breather and has had a huge impact on our mental well-being. It makes us feel closer to each other, despite being miles apart and playing diverse roles. In fact, last year, our team co-wrote this blog post about some of our own practices for individual and collective self care. It was the first collaborative piece for our team and it was fitting that it was about self care and well-being.
Fighting for human rights is an everyday task for many of us and our interaction happens both on the field and off it. Either way, it could be an isolating and thankless experience. In such situations, to know that your team has got your back matters a great deal. To stay motivated every single day to continue our fight can sometimes be a daunting task. That is why we must often seek support and solidarity from our peers and other fellow feminists around us, to make sure we are never isolated. To take care of our mental well-being is necessary to be able to contribute to the movement fully.
As WHRDs, we must lead the way in ensuring holistic security as part of our work. As young feminist leaders, we must resist falling into the trap of replicating the systems we challenge in organizations and movements. This can lead to exhaustion of members, unequal power dynamics, eventually contributing to an unbalanced and unhealthy work environment. It is important to incorporate comprehensive self-care policies in our organizations, and ensure resources are available for us to be able to promote this culture of feminist collective well-being in our movements.