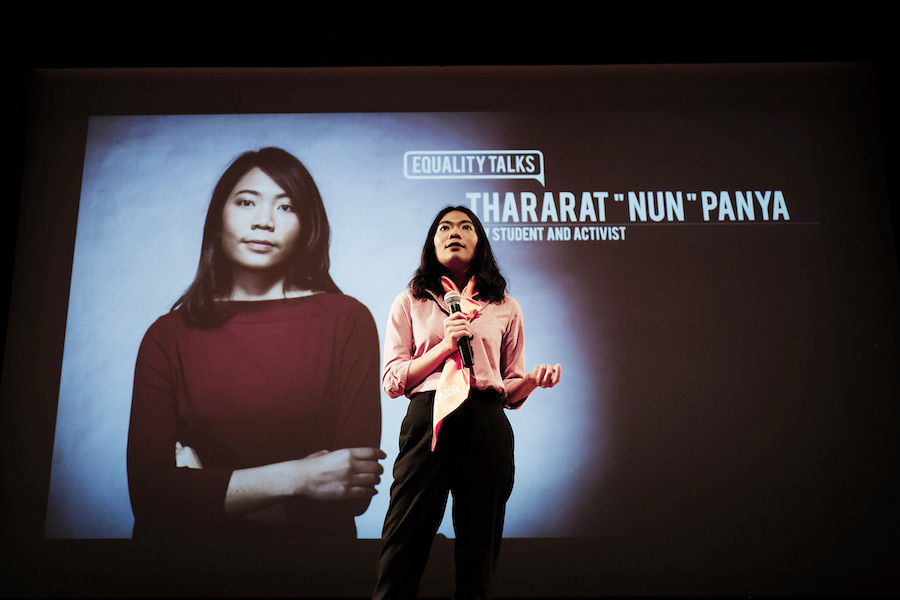 Photo: UN Women/Pathumporn Thongking/Flickr (CC BY-NC-ND 2.0)
---
In 2017, the #MeToo movement ignited a conversation about violence against girls and women, gender justice and the power of speaking out about sexual and gender-based violence. As the movement enters its third year, it is time to reflect on the extent of its impact, especially in global South nations, recognizing that young feminist activists have been leading this movement from the start, long before it became a hashtag. Indeed, young feminists are redefining the #MeToo movement in ways that go beyond it being just a viral and trending hashtag affecting a miniscule population.
Sexual harassment affects young people disproportionately: young women and gender non-conforming youth, especially between ages 16 and 19, are four times more likely to experience sexual harassment or abuse. Research published by FRIDA | The Young Feminist Fund and MamaCash about girl-led organizations all over the world reveals that, while some issues may be specific to regions or cultures, the most common issues that mobilize girls worldwide is gender-based violence.
In this regard, the #MeToo movement is particularly relevant to young feminist activists everywhere. Yet, our organizing goes beyond this hashtag and some activists are questioning the validity and extent of its impact.
Not only does the response to #MeToo change as one moves across contexts, but the way young feminist groups are countering sexual violence also evolves.
In the Czech Republic, for example, where feminists are fighting the rape culture enveloping societal conventions, #MeToo has had a different kind of impact: "Unfortunately, in my country, the mainstream opinion on #MeToo is very negative. It is explained and described as a witch hunt and a crazy concept of the 'West'. From my perspective...it allows us to show compelling statistics, which proves they are not mere numbers. There are real stories of real people behind it," says Johanna Nejedlova, co-founder of Konsent, a young feminist group whose mission is to help achieve gender equality in the country by opposing sexism, deconstructing the myths around rape and promoting consensual sex. Konsent designed its web content to illustrate the absurdity of the rape myth and address power relations that operate within any conversation around rape and sexual assault. "The #MeToo movement gave us visibility" Nejedlova says. "We were interviewed a lot on the topic of sexual violence, rape and sexual harassment. [But] to be honest, the older Czech generation doesn't consider sexual harassment as something inappropriate."
Not only does the response to #MeToo change as one moves across contexts, but the way young feminist groups are countering sexual violence also evolves. In Egypt, for example, The BuSSy Project is a well-known feminist collective documenting censored and untold stories about gender throughout the country. When asked about the #MeToo fever, Sondos Shabayek, Project Director at BuSSy said, "In some ways it did [spread] and in other ways, it didn't. What resonated with us was the wave of opening up and sharing stories. The origin of the movement and the leading stories were ones from the Western world. And although many stories are similar, still it wasn't the same for us, I think."
Indeed, the movement to end gender-based violence needs to be complicated, contextualized and decolonized for it to resonate on a global level. Violence operates differently across continents. For organizations like BuSSy that operate from a specific geography with a specific history, the #MeToo movement may not feel relevant.
BuSSy Project performing 'Look at her' at Chouftouhonna, the international Feminist Art Festival of Tunis. Photo credit: The BuSSy Project, Egypt.
In India, the #MeToo movement's progress is particularly complex. Even before the hashtag began being noticed, in October 2017, Raya Sarkar, a young law student at University of California at Davis, posted a list accusing South Asian academics of sexual harassment. Raya, who identifies as a Dalit person (lower caste, loosely translated as "untouchable" in the Indian caste system) started the ball rolling for naming and shaming perpetrators of sexual violence, particularly those who enjoy positions of extreme social and economic power. However, as the movement gained momentum, upper class, upper caste, cis women were holding the baton, rather than passing it on. Though young Indian women have notably led #MeToo and made great strides in calling out sexism in their society, young Dalit women's voices have not been prominent among them. Amna Nasir, a Pakistani journalist and young feminist media fellow with FRIDA and The FBomb, recently exposed the realities of who is really in the #MeToo limelight in India, and which groups continue to be marginalized.
In Pakistan, TransAction points at the failure of #MeToo to address everyday harassment experiences of the transgender and queer community.
In Pakistan, a country where women are enduring years of systemic violence, #MeToo doesn't really emerge as a definite answer or solution. TransAction, a young feminist group working to promote awareness, visibility, and cultural and legal acceptance of people with alternative sexual orientations and gender identities, points at the failure of #MeToo to address everyday harassment experiences of the transgender and queer community.
In fact, not every culture and context has been quick to even adapt the viral hashtag. The Guardian's coverage of Thaiconsent (a FRIDA grantee partner in Thailand) explains how Thai culture isn't very confrontational and the way they are trying to break free of a slut-shaming society is creating viral hashtags of their own. The hashtag #donttellmehowtodress which went viral in Thailand last year, was particularly aimed at changing perceptions around survivors and perpetrators of sexual assault. Wipaphan Wongsawang, founder of Thaiconsent, explains, "The whole movement [of #MeToo] was in English; this language barrier is a huge thing."
While the #MeToo hashtag may push for more global conversations on a seemingly universal phenomenon—young feminists have been trying to find newer, bolder and contextually appropriate ways of dealing with bodily rights, integrity, sexual violence and surviving the trauma. What connects each of these young feminists' organizing is the way they address cultural and social prejudices before approaching the seemingly bigger problem of ending violence. They are attacking the root cause, relying on more localized language, vernacular hashtags, vivid storytelling and graffiti art to drive home the fundamentals of consent, culture and context.
Members of Las Hijas Del Rap, a collective of feminist hip hop artists in Mexico, dedicated to eradicating gender-based violence.
Phana La Yucatecana Mulixa, a member of Las Hijas Del Rap, a Mexican "artivist" rap group points at the repercussions of the viral movement. "With #MeToo arose topics such as suicide, as women now found themselves in situations where, after telling their story, they had no kind of support networks. What worried me most were the actions of intervention after a denunciation, because many did not have emotional and legal support. Many feel alone and fall into depression or attempt suicide," she says.
Upon closer inspection, we begin to see the realities of survivors facing multiple forms of oppression—whose oppressors themselves seem to be a part of the mainstream movement. In many ways, young feminist activism is trying to both own #MeToo and critique its limitations in a way that is truly intersectional.
All young feminist groups quoted in this piece are grantee partners of FRIDA. FRIDA is the only young-feminist led fund supporting young feminist-led activism in the global South. For a complete list of groups supported by FRIDA, please click here.