Cross-movement organizing in Mexico leads to new resources
Feminists and environmentalists are coming together in Mexico to form new partnerships with an emphasis on local resource mobilization.
---
---
A few years ago, the directors of Semillas and the Solidarity Action Fund (Fondo Acción Solidaria—FASOL) had an important revelation about the potential for cross-movement organizing in Mexico. Semillas—a women's fund based in Mexico City—had found that grassroots groups seeking financial support for women's rights were increasingly incorporating environmental sustainability into their approach. At the same time, FASOL—an environmentalist fund based in Baja California Sur—had observed an increase in the number of environmental justice projects being proposed by women-led groups. In response, the two funds established a joint "Gender and the Environment" program aimed at both strengthening knowledge of environmental justice among grassroots women's rights defenders, while also promoting a gender perspective among local environmental justice groups.
For this joint program, Semillas and FASOL prioritized local resource mobilization, as part of a shared commitment to strengthening rights-based Mexican philanthropy. With the exception of a small donation from a donor in the United States, the Semillas-FASOL alliance is currently funded entirely by Mexican foundations. The first phase of the joint program had an overall budget of approximately US $175,000, of which 94% came from Mexican foundations.
This alliance brought to light many key lessons, not only in terms of how to facilitate synergies between the feminist and environmentalist movements in Mexico, but also regarding the importance of mobilizing resources through the lens of solidarity.
1) Joint resource mobilization is strategic for activists and donors alike
Cross-movement alliances and other joint resource mobilization strategies allow organizations to reach new donors.
Cross-movement alliances and other joint resource mobilization strategies allow organizations to reach new donors that they may not be able to reach on their own. For example, through the alliance with FASOL, Semillas has been able to attract the attention of Mexican funders who are interested primarily in environmental sustainability, while viewing women's empowerment as a plus.
These alliances are also attractive to both national and international donors because they ensure strategic collaboration to achieve a broader, more significant impact. Rather than carrying out isolated or unintentionally overlapping efforts, joint strategies allow for a more integrated approach and as such, a more efficient investment of resources.
2) Intermediaries play a key role in facilitating access to funding for grassroots women
Local organizations and activists have often criticized national and international NGOs for involving grassroots women solely as beneficiaries or engaging them in "assembly line activism", in which they are paid to implement specific activities but have no decision-making power. These vertical funding flows generally do not allow for much-needed organizational strengthening at the local level.
As funding organizations, both Semillas and FASOL are committed to transforming unequal funding patterns by channeling resources to grassroots groups that would otherwise have very limited access to donors. The Mexican foundations that have invested in the Gender and the Environment program were drawn to the initiative in part because it allows them to support a broad and diverse group of local projects that they would otherwise be unable to reach. As part of the first year of the Gender and the Environment program, approximately 30 grassroots groups and leaders working in communities throughout Mexico have received seed funding totaling more than US $115,000.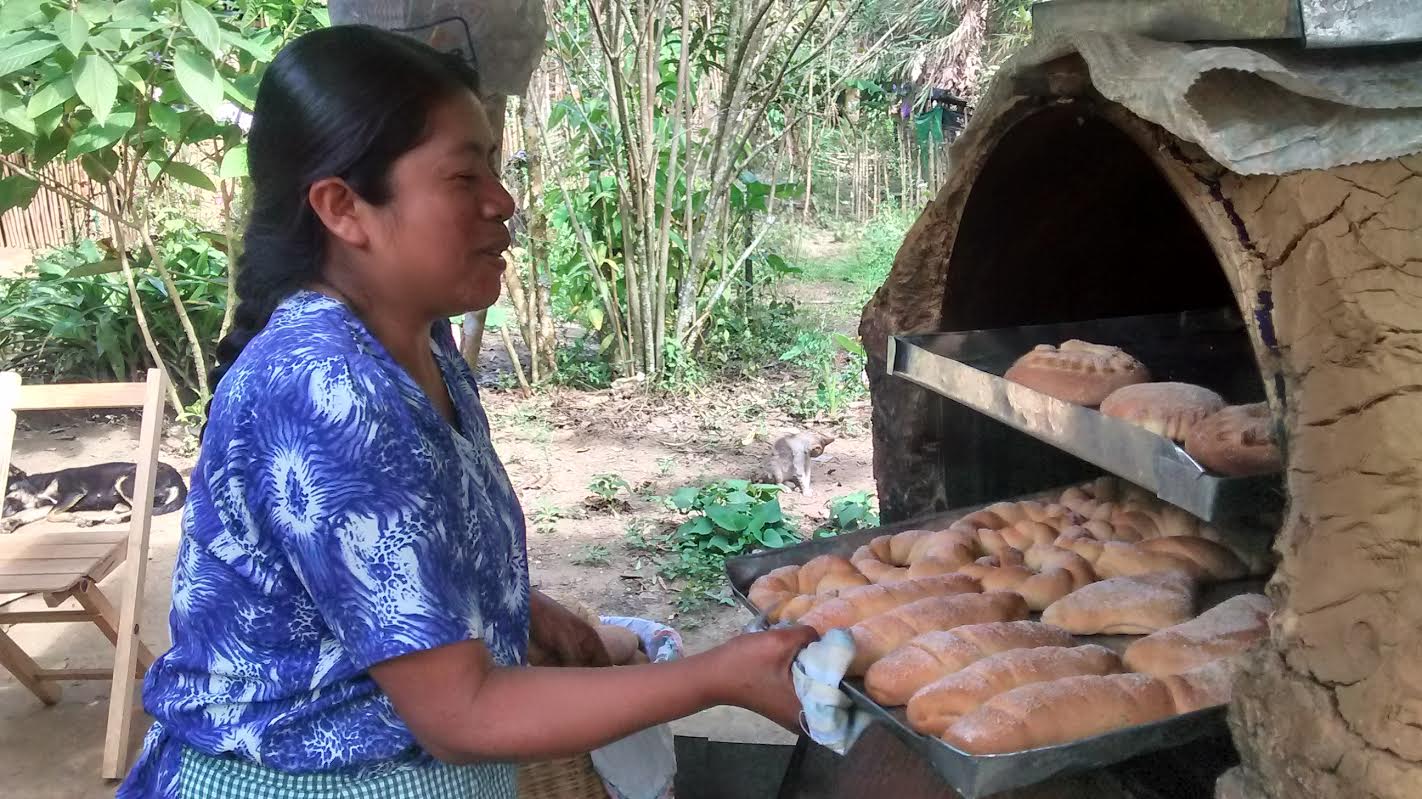 Photo credit: Batsil Antsetik, Chiapas (All rights reserved)
Indigenous Tzeltal woman uses an eco-friendly oven to produce organic bread. This project was overseen by Semillas' grantee partner, Batsil Antsetik, which is based in Chiapas.
---
3) By working to shape local philanthropic cultures, activists can increase funding for social movements
In addition to fulfilling their own missions, both Semillas and FASOL also work to promote a culture of rights-based philanthropy in Mexico, carrying out actions to influence the strategies of emerging Mexican foundations and to engage wealthy and middle class Mexicans as individual donors. One of the primary funders of the joint Gender and the Environment program is the Tichi Muñoz Foundation, a private foundation based in the northern state of Sonora, which has participated in several exchange sessions with Semillas and FASOL. As a result, the foundation is now launching calls for proposals to support Mexican grassroots groups working from a gender and sustainability perspective.
The other main funder is the ADO Foundation, a corporate foundation based in Mexico City, which recently asked Semillas to participate in its strategic planning process in order to learn from Semillas' comprehensive model of support for grassroots grantees. In other words, through these alliances with Mexican foundations, Semillas and FASOL have been able to not only secure funding for their own joint program, but have also influenced the grant making processes of Mexican donors so as to unlock new local funding sources for grassroots activists in Mexico.
4) Activists must analyze the extent to which their fundraising practices reflect their values
Frontline fundraisers are often so consumed with trying to meet deadlines and cover annual budgets that they have little time to think about the politics of resource mobilization and allocation. However, the funding strategies of an organization say a lot about its institutional values and identity. Many NGOs are faced with ethical dilemmas regarding whether or not to accept funding from corporate funders whose practices may clash with their values. However, analysis of the politics of fundraising strategies should go beyond donor profiles.
For example, if we believe strongly in the importance of solidarity and equality, we must examine the extent to which these values are reflected in our approach to resource mobilization. To what extent do we share calls for proposals and information regarding funders with other organizations and activists? When speaking with current or potential donors, do we seek only to position our own work or do we also recommend other organizations that are carrying out strategies that may be of interest to the donor? How can we stop viewing other organizations as the competition and instead seek alliances to jointly mobilize greater sums of money?
Likewise, although the grant amounts offered by foreign donors may currently exceed those provided by most local donors, there are political reasons behind the commitment Semillas and FASOL have to local resource mobilization. Engaging in a funding collaboration with a national foundation is a tremendous opportunity to further shape local philanthropy from a rights-based perspective. The same is true of individual donors, as donating often serves as an entry point for people to become more aware of and involved in social change issues. These efforts contribute to a cultural shift that has an impact far beyond annual fundraising numbers.
Through their partnership, Semillas and FASOL have found that working to strengthen philanthropy in Mexico and establishing alliances with emerging local donors are key to disrupting the dynamic of competition for external funding, which is common among Mexican NGOs despite being broadly acknowledged as counterproductive to effective organizing.
Although building a local culture of rights-based philanthropy is a slow process, the potential should not be underestimated. After all, the power of activists and civil society organizations lies in large part in their ability to influence cultural norms and model new forms of organizing and setting agendas.
ORIGINALLY PUBLISHED: June 21, 2016
---
Jenny Barry is the Head of Development at Fondo Semillas. She holds a master's degree in Gender and Development from the Institute of Development Studies (IDS) at the University of Sussex, England, and for over ten years she has dedicated her career to the promotion of women's rights.
---