Fragile Rights? New Challenges for LGBTQ People in the Americas
The rise of religious fundamentalism in Latin America—in conjunction with the populist trend sweeping the globe—is threatening LGBTQ rights and placing people in this community under threat.
---
---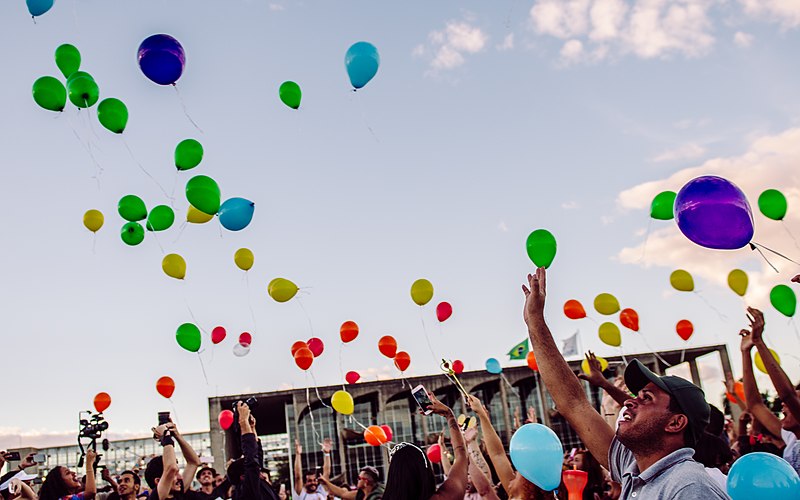 Photo:Fotos Mamana Photo Coletivo/Wikipedia
LGBTQ rights protest in Brazil June 2017
---
On the first day of his presidency, Brazil's new far-right leader, Jair Bolsonaro, issued a number of orders targeting minorities, including one that removed LGBTQ issues from the purview of the country's new human rights ministry. This act was unsurprising given Bolsonaro's past statements, having declared himself a "proud homophobe" and asserted that he would never be able to love his son if he were gay ("I would rather he die in an accident"). His penchant for authoritarianism has long encompassed violence against marginalized groups, and his new policies leave Brazil's LGBTQ citizens fearing for their survival.
The full consequences of Brazil's election for LGBTQ people may as yet be unknown, but we can look elsewhere in the region for predictive clues. In fact, Bolsonaro should not be viewed as an isolated case of individual bigotry, but rather as part of a broader wave opposing sexual and gender minorities that is sweeping through the Americas—including the United States—with the growing political power of evangelicals.
The number of evangelical churches has grown steadily over the past decade, accounting for nearly 20% of the population in once staunchly Catholic Latin America. The rise of fundamentalist evangelicals, in coalition with members of ultra-conservative Catholic sects like Opus Dei, is part of a new populism that aligns right-wing and center-right political parties with the homophobic and patriarchal views of religious fundamentalists.
One of the most problematic results of this political marriage is the re-emergence of a manufactured concept—"gender ideology." This spurious label has its roots in Vatican opposition to international efforts during the 1990s to expand sexual and reproductive rights for women. Over the past several years, it has been appropriated by opponents of LGBTQ rights to recast claims regarding sexual orientation and gender identity as efforts to impose an "ideology" that will subvert traditional gender roles and destroy the family. In Latin America, conservative activists have used this language to galvanize religious voters by stoking fear of advances on LGBTQ rights.
So far, it has been a highly effective strategy.
In 2016, Colombians narrowly rejected a peace accord that sought to end more than 50 years of violent conflict with FARC guerillas after opponents successfully mobilized voters with the aid of evangelical and Catholic fundamentalists. Opponents argued that a provision of the peace accord specifically recognizing women and LGBTQ victims was evidence of a plot to upend long-held social norms.
In Peru, Education Minister Jaime Saavedra was accused of promoting a gender ideology for including discussions of gender equality in a revised school curriculum. Conservative mobilization opposing education policies to reduce discrimination against women and LGBTQ people has also occurred in Ecuador, Panamá, Paraguay, Argentina and Colombia. Likewise, in Costa Rica, presidential candidate Fabricio Alvarado, an evangelical preacher, campaigned by explicitly highlighting his opposition to same-sex marriage. Although he ultimately lost the election, he effectively weaponized the prospect of a gender ideology to leapfrog his opponents and win a plurality in the first round of voting.
And in Cuba, where a process of constitutional reform is currently underway, language that would have opened the door for same-sex marriage was stripped from the draft text of the constitution after an overwhelming public mobilization in opposition to the change driven by activists with ties to evangelical groups in the United States.
Only recently, Latin America was heralded as the site of a "gay rights revolution." Long before marriage equality was the law of the land in the United States, legislative victories around same-sex marriage and transgender rights in Argentina and Uruguay, as well as judicial rulings affirming LGBTQ rights in Colombia, Brazil, and Mexico, seemed to signal an inexorable march of progress in the region.
But the time for celebrating victories has passed. The rising political power of evangelical groups and the deployment of gender ideology as a rallying cry for religious fundamentalists pose an imminent threat to the lives of LGBTQ people. Opponents have taken advantage of political opportunities like constitutional change, peace negotiations, and presidential elections to mobilize against LGBTQ rights, destabilizing the region by weakening democratic institutions and fueling political corruption through alliances with political extremists.
What's more, homophobic rhetoric—in many cases from the highest levels of government—reinforces anti-LGBTQ stigma and sanctions violence against these already vulnerable communities. Grupo Gay de Bahia, a Brazilian rights group, reports that violent deaths of LGBTQ people in Brazil has hit an all-time high, with 445 victims of homophobia in 2017—a 30% increase from the year prior. In Colombia, where President Ivan Duque has appointed staunchly anti-LGBTQ officials to prominent ambassadorships at the Organization for American States and France, the number of LGBTQ people killed continues to increase, with more than 100 in 2017, according to a report by LGBTQ rights group Colombia Diversa.
In other parts of the hemisphere, efforts to rollback progress on LGBTQ rights are in full force. In Chile, a bill enacting same-sex marriage has stalled in Congress since 2017 with public opposition from conservative President Sebastián Piñera. Meanwhile, in the United States, President Donald Trump has taken action to rescind protections for LGBTQ people across a range of issues under the guise of "religious liberty," from health care to school safety to bathroom access, while also seeking to ban military service by transgender members of the armed forces.
As LGBTQ people face threats and diminished support domestically, activists have appealed to international institutions as a bulwark against further backsliding. The Special Rapporteur on the Rights of LGBTI People at the Inter-American Commission on Human Rights monitors the situation of LGBTQ people in the region through public hearings and in-country visits. Most notably, an advisory opinion by the Inter-American Court of Human Rights from January 2018 ruled that member states must extend marriage equality to same-sex couples and that the right to change national identification documents in line with a person's gender identity is protected by the American Convention on Human Rights.
However, these developments alone cannot counter the wave of anti-LGBTQ sentiment that continues to surge. Hard-fought progress for LGBTQ people throughout the Americas remains fragile. This moment demands coordinated action among activists across the region to shore up domestic protections and strengthen the capacity of international institutions to counter policies that perpetuate violence against LGBTQ people. It requires that funders, academics, policymakers, business leaders, and activists defend democracy in the Americas by learning from the experiences of previous social movements, such as women's rights groups, while recognizing the new challenges posed by the widespread growth of authoritarian populism and the emergence of networks of religious fundamentalists. The threat is too great and the consequences too grave to remain complacent or indifferent.
ORIGINALLY PUBLISHED: March 6, 2019
---
Ari Shaw is a political scientist researching international human rights and LGBTQ politics. He holds a PhD in political science from Northwestern University and BA from Harvard. He has previously worked with UCLA School of Law, Open Society Foundations, and the Council on Foreign Relations.
Mauricio Albarracín is an LGBTQ rights activist and Director of Litigation at the Center on Law, Justice, and Society (Dejusticia) in Bogotá, Colombia.
---