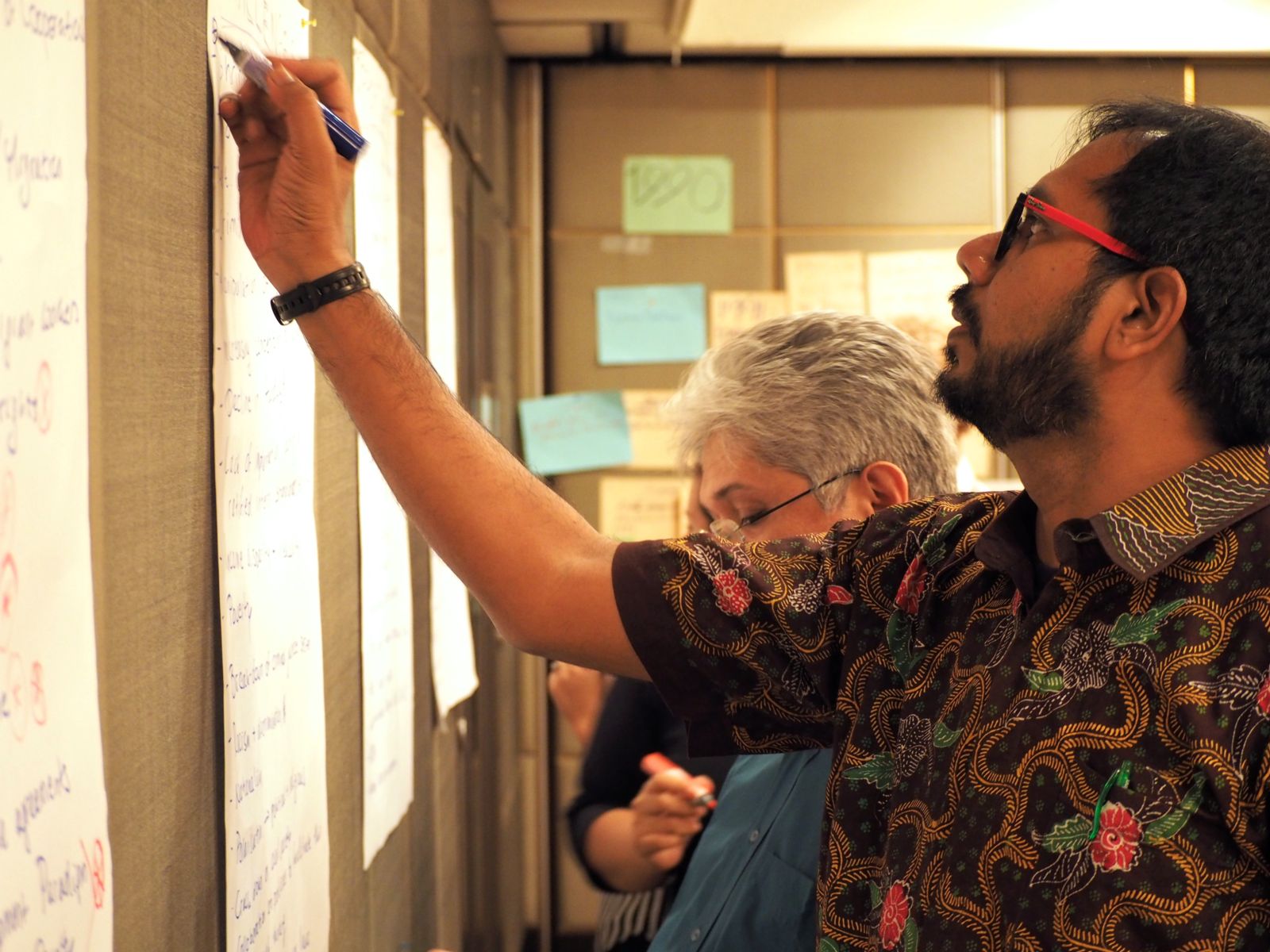 Forum Asia (All rights reserved)
Activists participating of the workshop "Future of Human Rights and Democracy in Asia", held in Thailand on July 2015
---
In the last several decades, the human rights movement in Asia has gone through a roller coaster of ups and downs that have included growth, hopes, threats and challenges. Recent years have been characterised by a crackdown on activists and shrinking space for civil society, which have forced the human rights movement to adapt and evolve.
In 2016, as part of the 25th anniversary campaign of the Asian Forum for Human Rights and Development (FORUM-ASIA), 85 human rights defenders reflected on challenges and learnings from past efforts, agreeing that we cannot underestimate the importance of solidarity. As a movement, we have made strides in being more organised and connected, not only on a national level, but also at the regional and global levels. Coordinated efforts, to influence policy and decision makers on a national level, or to assure the voices of Asian human rights activists are heard in the global arenas, such as Geneva and New York, have been challenging but fruitful.
For example, in 1996, FORUM-ASIA was part of the establishment of a new initiative, the Alternative ASEAN Network on Burma (ALTSEAN-Burma). One of the key strategies ALTSEAN-Burma utilized from the beginning was to aggressively pursue media coverage throughout the Association of Southeast Asian Nations (ASEAN) region whenever anything happened in Burma/Myanmar, including during ASEAN Summits. This forced ASEAN leaders to speak out on a neighbouring country that they would have rather ignored. In 1998, ALTSEAN-Burma facilitated a group of 18 activists, who became known as the Rangoon 18, from different countries to take to the streets of Yangon – formerly known as Rangoon – to hand out leaflets to commemorate the 1988 uprising. All 18 were arrested, detained for five days, sentenced to five years of hard labour and deported to Thailand. The media attention the activists received meant that their governments could not ignore what had happened, but the differences in responses of the governments whose citizens were among the 18 varied greatly. While the USA and the Philippines condemned the way its citizens had been treated, Thailand and Indonesia only reluctantly defended its people. Malaysia criticised the actions of the Rangoon 18, but in the end did undertake efforts to free the Malaysians involved.
In these efforts, it has been crucial to remain firmly grounded with those we presume to represent. While anyone can claim to be a human rights defender, you can only truly become one by getting involved and by joining the human rights struggle, not by studying it in a book.
In an attempt to find this balance, from 2-5 September 2017, FORUM-ASIA and its members from Mongolia, the Centre for Human Rights and Development and Globe International (GI), consulted and met with a range of stakeholders on human rights issues in Mongolia. It was the third time such a gathering was organised in an attempt to create a national platform for the protection of human rights defenders in the country. Giving local human rights defenders the opportunity to come together every year means they have the chance to build relations and trust, update each other on progress in their work, and enhance their knowledge and skills. The first two days were dedicated to local human rights defenders meeting among themselves, both from within and outside of Ulaanbaatar, to assess the progress and outstanding concerns related to human rights protection mechanisms in the country. The remaining days were filled with meetings with a range of other stakeholders, including political parties—among them the ruling Mongolian People's Party (MPP) and the Democratic Party—and the Mongolian National Human Rights Commission (MNHRC), which gave the local human rights defenders the platform to speak directly to some of the key stakeholders in the country on their concerns and recommendations, rather than others communicating for them.
"While anyone can claim to be a human rights defender, you can only truly become one by getting involved and by joining the human rights struggle, not by studying it in a book".
However, activists must also be wary of focusing only on major centres of power and influence, because the rights and violations we talk about are not so centralised. On a global level, while engaging in international political fora such as Geneva and New York has been paramount to enhance the voices of human rights defenders, when we get caught up in the UN bubble, we become separated from the reality on the ground. All we say and do there must be grounded in the needs and interests of the people.
As members of the human rights movement, we need to be amplifiers or translators for those local communities that do not have the capacity or opportunity to engage in political fora. But eventually, we should not be needed in that role. An example of this shift is the Asia-Pacific Coalition on East Timor (APCET), which resulted from a series of meetings with advocates between 1992 and 1993, shortly after the Santa Cruz Massacre in East Timor put the attention of the international community squarely back on the Indonesian occupation. Given the repression in East Timor, advocating on their behalf was crucial. Among others through the continued media coverage that APCET garnered, it forced ASEAN leaders to confront the limitations of their "non-interference" policy. These meetings additionally helped Timorese independence activists to build their advocacy and campaigning skills, while news of the work of APCET gave those oppressed in Timor itself a sense of hope. Once independence was gained, Timorese activists did not need APCET anymore as an interlocutor, so the network was transformed to support other struggles. In 2015, the now independent country of Timor Leste recognised this contribution by awarding APCET an award, together with other activists, "for their contribution and support for Timor-Leste's self-determination struggle".
In processes such as these, it is important for the human rights movement to prepare communities for the challenges ahead when standing up for human rights, so that they understand that the work for democracy and human rights is not a sprint or a dash, but a marathon. We must teach communities that they need to be patient and persistent. People expecting a quick fix will be sorely disappointed.
The long journey for justice of the people of Sri Lanka underscores this point. One of the longest running conflicts in modern history, from 1983 until 2009, caused an unimaginable amount of gross human rights violations, including in the form of enforced disappearances, extra-judicial executions, mass displacement, and forcible recruitment, including of children. And even beyond the war, human rights violations and thus the struggle for justice continued. For many involved, particularly for the victims and their family members, this journey was and continues to be excruciating. In these cases the regional and international solidarity and support from human rights defenders is crucial, but it needs to come without false expectations of easy solutions.
After decades of activism, the main lesson is that the struggle for human rights is not linear, nor one-dimensional. It requires patience, endurance and many friends, partners and colleagues. It is a long-term balancing act of being globally connected and locally rooted.