What Bolsonaro means for human rights in Brazil
Under the leadership of president elect Bolsonaro, Brazil must be poised for increased threats to public security, the environment and democratic space.
---
---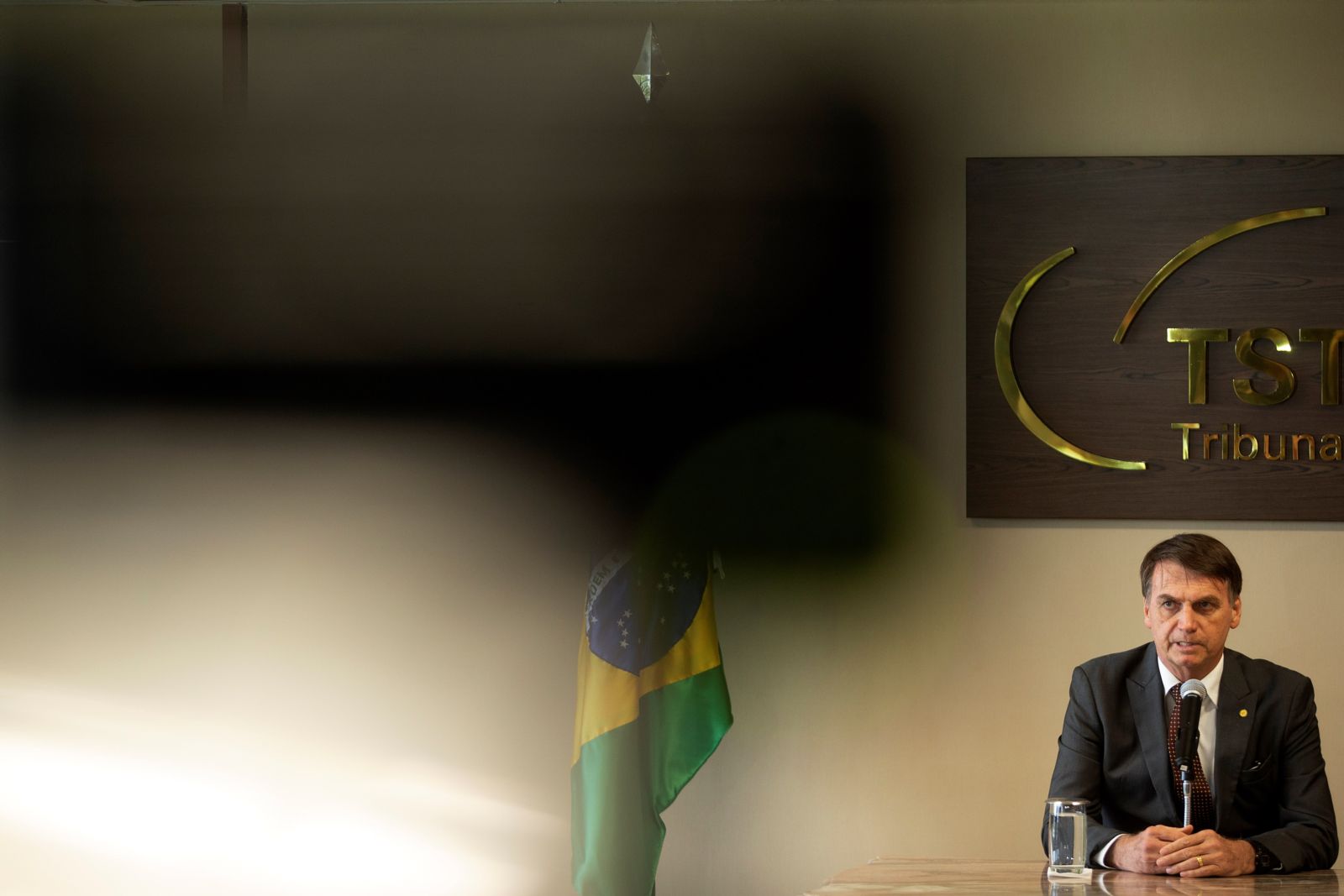 Photo: EFE/EFE Joédson Alves
---
The Tropical Trump? Duterte's Double? Jair Messias Bolsonaro, Brazilian's president elect, will enter the ever-expanding club of right wing, populist leaders when he assumes power on 1 January 2019. But where he falls within that spectrum of leaders—and what ultimately his presidency will signal for human rights in Brazil—is less clear, though worrying.
A recent Brazilian poll indicated that support for democracy in the country has never been higher. This seems to contradict Bolsonaro's election given his defence of the Brazilian dictatorship, and his limited appreciation for the Constitution. In this context, the main question we need to ask is: will he be a democratic president?
Much of Bolsonaro's manifesto is limited in detail, leaving us to base much of our analysis about how he intends to govern on his campaign speeches. Yet his rhetoric is often incoherent. To further complicate the scenario, his recent appointment of certain key ministers suggests there will be competing interests within the administration—from a liberal minister of finance, to a nationalist head of the military,a punitive minister of justice, an environment minister who does not believe in climate change and a conservative religious minister for human rights. We are yet to see which interest will be strongest.
By examining the information we do have, however, we can see that the threats to human rights in Brazil are likely to manifest in three main areas: public security, the environment and democratic space.
Bolsonaro's plans for public security raise particular concerns for human rights. He intends both to relax gun controls for citizens and to enable police officers to kill with impunity. The impact of this on human rights—in a country where homicide rates and police lethality are already amongst the highest in the world--is clear. Furthermore, Bolsonaro intends to reduce the legal age of criminal responsibility to 16 years of age and limit reduced prison sentences, despite widespread evidence showing the inefficacy of such measures to reduce crime. These proposals would only add to the already overcrowded prison system and result in more tragedies, such as the prison riots in 2017 where almost 100 people died in one week alone. The young, poor, and predominantly black communities already suffer disproportionately from violence—to the point that many refer to this trend as a genocide. These measures will only make this desperate situation worse.
Also of real concern is the potential for coordinated, yet informal collusion between state and federal security forces. The governors elect of Rio de Janeiro (Wilson Witzel) and Sao Paulo (João Doria) have both expressed their allegiance to Bolsonaro. As mayor of São Paulo, Doria oversaw heavy-handed tactics against drug users in the city's region known as Cracolandia. Meanwhile, Witzel has already visited arms manufacturers in Israel, together with Bolsonaro's son. They learnt about military technology in the country, including drones that shoot, and which Witzel suggested can be used in security operations in Rio de Janeiro.
The outlook for human rights related to the environment is just as concerning. In seeking to facilitate economic recovery, Bolsonaro has indicated that he is in favour of weakening environmental protections in the Amazon. This would have negative consequences on those communities who live near proposed mega-infrastructure projects, including mining and hydroelectric dams, which are currently on hold due to restrictive environmental policies. .
Indigenous peoples and quilombolas (descendants of Afro-Brazilian slaves who live in settlements called quilombos) are also under threat from Bolsonaro's assertions that he will not demarcate any new territory for protection. He is also threating to cancel 129 existing lawsuits for land demarcation. There is a concern that as the rights of these communities become increasingly weakened, violence against these people will rise. Brazil already records the highest number of deaths of environmental defenders.
Bolsonaro has also expressed his willingness to leave the leave the Paris Agreement that addresses climate change. This also raises wider questions about his commitment to the international order and other treaties to which Brazil is a party. He has even suggested that Brazil would leave the UN Human Rights Council.
When right-wing populists assume power, much of their focus is on restricting civic space. Bolsonaro has given us plenty of reason to be concerned in this area, too. His manifesto speaks clearly of using Brazil's anti-terrorism legislation against social movements that put pressure on the government for agrarian reform and access to housing. On the campaign trail, he also spoke explicitly about "putting an end to activism" in Brazil. It is not clear how he intends do this, but in recent weeks he has been talking to Hungary's Viktor Orbán and Israel's Benjamin Netanyahu. Both these leaders have championed legislation making it considerably harder for NGOs to receive funding from abroad.
Brazil's affirmative action programme, which offers guaranteed places to black and poor candidates at public universities and other publically funded institutions, is also under threat by a Bolsonaro administration. Any reduction of this programme would have a significant impact on the black population´s access to rights. Similarly, the president elect's proximity to some leaders of evangelical churches threatens freedom of worship, particularly religious traditions with African origins. His conservative moral agenda is also alarming for the future of sexual and reproductive rights. Meanwhile, it is already having an impact on the LGBT population. There was a high number of hate crimes against this population during the election campaign and other minority groups, perpetrated by Bolsonaro supporters.
Many of the proposed measures outlined above will need to be approved by Congress and, if approved, could be challenged at the Supreme Court. It is not clear yet how these two institutions will respond. Bolsonaro's own party (PSL) gained a number of seats in Congress, but not a majority. He will need to work closely with other parties to push controversial measures through. The alliances that are made within Congress will depend largely on who the next president of congress will be—as yet unclear.
Other measures will not need legislative approval. They can be achieved through executive orders or other bureaucratic changes. In this regard, the press and other control bodies will need to respond swiftly to any attempts to pass measures surreptitiously. While the roles of control bodies such as the National Commission for Human Rights and the Torture Committee have not yet been challenged, there is already a red alert in terms of press freedom. Bolsonaro has threatened to cut all public advertising from one of the country's largest newspapers, Folha de São Paulo, which published an exposé about his campaign financing.
For many years, Brazil was the focus of international attention for its progress in social and economic development. Now it is in the headlines for more ominous reasons. Maintaining this international attention will be critical in the coming years. It will be a crucial support to domestic civil society organisations in limiting the potential damage of a Bolsonaro administration, and in their efforts to construct an alternative for the next election in 4 years.
ORIGINALLY PUBLISHED: December 20, 2018
---
Oliver Hudson is the institutional development officer at Conectas, in Sao Paulo, Brazil.
Juana Kweitel is the executive director of Conectas Human Rights.
---