FIFA 2018: digital rights are (finally) playable
Mega events like the Olympics and the World Cup are bringing digital rights concerns under increased scrutiny.
---
---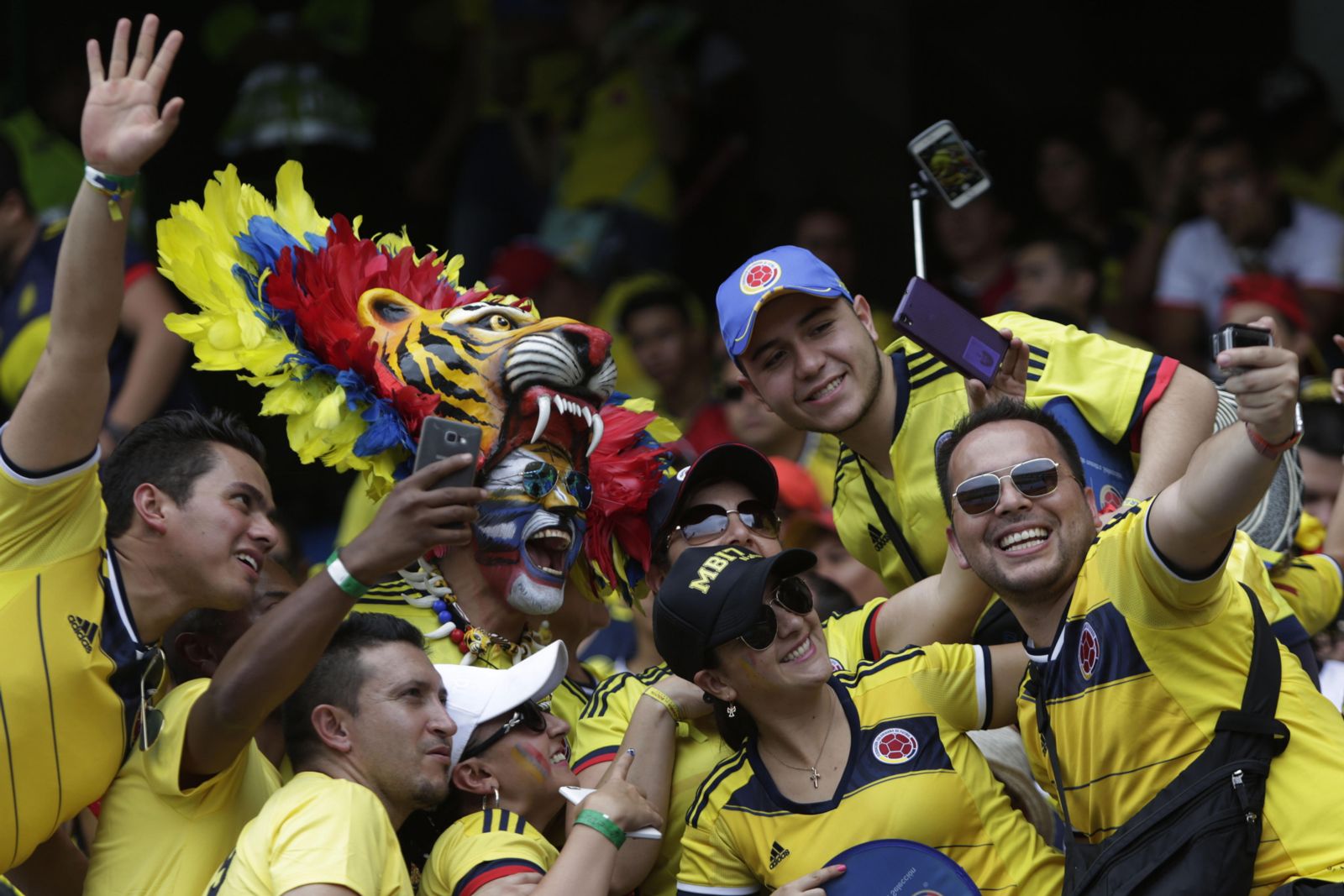 EFE/Ricardo Maldonado.
Fans of the Colombian national team during the last FIFA World Cup.
---
Ironically, important intersections of human rights and technology often come during largely offline, physical events like elections, natural disasters, and political demonstrations. When systems and people undergo disruptions, access to information becomes crucial to saving lives and determining the course of nations.
Despite their focus on feats of human strength and endurance, mega sporting events like the Olympics and the World Cup also raise similar questions around digital rights. With the FIFA World Cup starting soon in Russia, the time is ripe to bring human rights protections around mega events into the digital age.
As one example, security forces often grow their surveillance capacity before these mega sports events, affecting the human rights of attendees, players, and the broader community long after the games close.
Mega events also offer opportunities for journalists to dig deep into the host country's inequities, corruption, and other issues sensitive to elites. With fewer traditional media outlets, more journalists and media workers depend on the internet for free and open discourse. Government-ordered network shutdowns, arrests and censorship of bloggers and protestors, and network neutrality violations all impede access to information and harm free expression and association during large scale events.
In addition, as a private business, FIFA has a responsibility to respect human rights and prevent and mitigate abuses. Reeling from scandals involving corruption, labor abuses, and other violations to human rights, including the right to housing, in April 2016 FIFA revised its statute to highlight the organization's commitment to all internationally recognized human rights, and required human rights proposals in bids for the 2026 World Cup.
As part of the United 2026 bid—where the countries of Mexico, Canada, and United States would jointly host the 2026 World Cup—the bid committee engaged Access Now and others in a stakeholder consultation to produce its "United Human Rights Strategy." This document was sent to FIFA along with environmental and governance proposals, as well as an independent report; FIFA chose not to publish them, but United 2026 did.
The proposal sees many threats that mega events pose to digital rights, and marks red lines and sets plans to respect privacy, freedom of expression, and freedom of assembly, online and offline.
The United 2026 bid acknowledges that sporting events often bring increased surveillance and that the infringement of privacy rights commences at the border. During the 2014 Winter Olympics in Sochi, for example, surveillance reached such unprecedented levels that the US government warned individuals traveling to Sochi not to expect privacy rights.
Also, surveillance technology purchased in anticipation of mega sporting events are often used after the culmination of these events. For instance, in preparation for the Olympics, the Brazilian government spent USD$8 million to purchase four surveillance balloons, which monitor real-time traffic for an area of approximately 160 square kilometers. And Mexico is already one of the world's biggest clients of private surveillance tech companies. Journalists in particular suffer repressive surveillance, as the Independent Report accompanying the bid makes clear, and there is frequent violence against media workers. Impunity reigns in many of these situations, with few killers brought to justice.
For its part, the US government is weighing policies demanding social media information in visa applications. Meanwhile, at immigration checkpoints, travelers may be required to provide immigration officials with access to their electronic devices as a condition for entry. These measures unlawfully restrict both privacy and freedom of association and assembly, and Access Now has adamantly advocated against proposals that seek to collect social media account passwords. For example, to oppose measures that require travelers to disclose their online passwords as a condition for entry into the US, we formed the FlyDontSpy.com coalition along with other digital rights organizations.
In response to such concerns, United 2026 proposes that FIFA "advocate that no social media information be collected for travel to any of the host countries and that devices not be searched at borders or points of entry, and establish a privacy and civil liberties board to discuss security preparations for the event." The United bid also calls on organizers to "ensure security plans address prevention of discriminatory arrests of protesters and journalists," and policies allowing journalists to carry out "cross reporting of sport with politics and other issues." Bidders promise to respect the privacy and other human rights of attendees, participants, and protestors. We add that civilian oversight boards should control any procurement or installation of surveillance technology, and any government surveillance should comply with the Necessary and Proportionate Principles and safeguards that we've recommended.
Not just governments, but companies may also undermine World Cup participants' privacy rights, and the United 2026 is seeking to address this challenge by embedding privacy measures into their procurement process. Extending standards from Europe's General Data Protection Regulation (GDPR), and requesting all commercial partners of this sporting event to sign-up to a data protection code, would help safeguard all users.
Finally, to ensure freedom of speech and a diversity of opinions, the winning bidder should promise to keep the internet on during the events, and even boost capacity to handle the additional traffic. More governments see shutting down the internet or blocking services like WhatsApp as a way to protect public order during events. However, using your phone to locate health and medical services, connect with loved ones, and get information becomes more important – not less – during such events. Organizers should even consider adding network capacity to handle congestion from so many connected devices.
Fortunately, there's good news: alternative models to the way organizers handle technology and human rights at mega events are already being deployed. The Commonwealth Games Federation's chief highlighted how their Gold Coast 2018 event would be used to promote issues from "human rights, LGBT rights, and climate change, to female empowerment and indigenous reconciliation."
We've said before that major sporting events are a crucible for digital rights. That's only more true as digital platforms become the place to follow and participate in sports, and authorities rely on digital tools to govern the games.
Without safeguards, mega events could catalyze trends toward criminalization of information and communications technologies like the internet, and further marginalize at-risk communities through digital repression. For these reasons, the winning bidder for the 2026 World Cup needs to develop and implement standards that bring all aspects of the games under the international human rights framework. We invite all parties to convene at RightsCon Toronto, our event May 16-18, to discuss ways forward.
*** This article is part of a series on technology and human rights co-sponsored with Business & Human Rights Resource Centre and University of Washington Rule of Law Initiative.
ORIGINALLY PUBLISHED: May 16, 2018
---
Peter Micek is the general counsel of Access Now. Follow him on Twitter: @lawyerpants.
---