The battle for a caste free and equitable society in Nepalis ongoing and progress is slow, but women and the traditionally marginalized have started speaking up and taking action.At Tewa, we believe that women can become empowered and effective members of their community, and one way to achieve this is if they recognize their ability to become financially independent and have control over their resources. We want to empower women so that they can challenge and change power structures that oppress, discriminate and marginalize them. With this as our core belief, we are strong advocates that fundraising should be about far more than money.
Tewa means "support" in Nepali and is the only Women's Fund in Nepal. We promote philanthropy for women's empowerment, equitable justice and peace by funding registered women's groups while relying on local funding and building a culture of philanthropy. For example, after the earthquake in Nepal in April 2015, women took on leadership roles in their communities to help rebuild their neighborhoods. One of our grantee partners, Pan Maya, mobilized a women's group in Saithok, a three hour walk from Chautara, the district headquarters of Sindhupalchowk, which was a district badly affected by the earthquake. They started helping other villagers to organize the debris and dismantle the remnants of their fellow villagers' homes. Most of the male members had migrated for work in Gulf countries, so these women were able to cut through traditional patriarchy and, with financial assistance, they took on many of the roles that men would have taken. Natural disasters shake communities to their core, even traditional gender roles are transformed.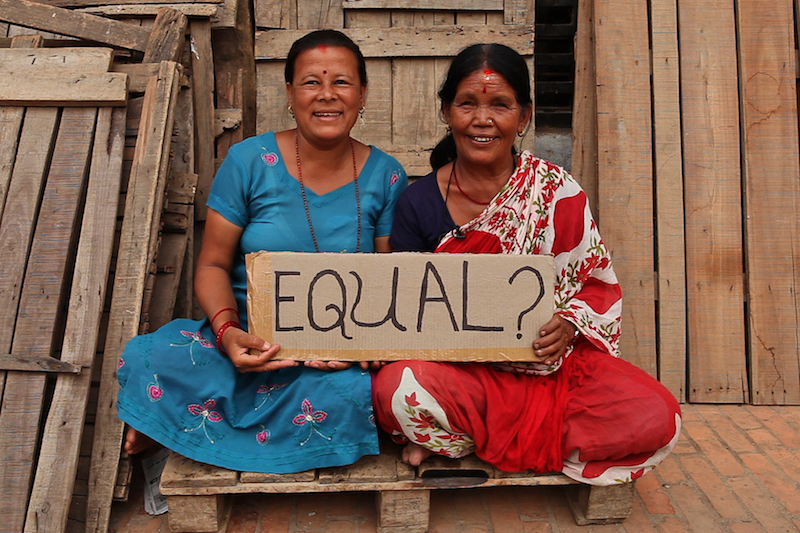 World Bank Photo Collection/Flickr/(Some Rights Reserved)
The battle for a caste free and equitable society in Nepalis ongoing and progress is slow, but women and the traditionally marginalized have started speaking up and taking action.
---
Local funding has been critical to our ability to help women like Pan Maya. Indeed, local donors contribute 55% of our grantmaking budget and foreign funders provide 45%. With creativity and persistence, we have been successful in raising an average of $25,000 every year from local resources to give grants to grassroots women's groups. We engage diverse individual donors (class, caste, ethnicity, geography, age, religion, all income groups) and raise money from all categories: individuals, corporate houses, diaspora and small businesses, using door to door solicitations, events, campaigns and context-based innovative techniques. We also use different strategies for different people: film shows, walk-a-thons, Deep Prajwalan (lighting candles in memory of loved ones) and raffles, as well as Tewa teas. Tewa teas are networks of trust relationships supported by people who care deeply about the world as a whole; the teas are a form of fundraising where handcrafted shawls and other items are sold during a tea hosted by Tewa "Angels" (friends) in the USA. Roughly, we raise 7% from events,13% from Tewa tea, 33% from donations, and 47% from campaigns.
One particularly important fundraising strategy we have used is engaging volunteers and building community capacity. We train, mobilize and educate fundraising volunteers on feminism and philanthropy to reach and engage diverse communities. This is not just about fundraising—it's about training feminists and social activists. Once trained, the volunteers reach out and spread the work in their own networks and develop individual plans for fundraising. Currently there are over 683 volunteers, of which about 250-300 are actively involved in fundraising. We engage these volunteers in our workshops and give them capacity training that they can use in other aspects of their lives. As a result, they genuinely care about the work we do and many of them are personally invested in our activities, having become donors themselves. Many volunteers have also started their own businesses and become mentors in their communities.
There have been lots of ripple effects from the volunteer program.
There have been lots of ripple effects from the volunteer program—many of them have said that being involved in Tewa has changed their own thinking and the way they interact with their families and communities. We do not advertise for our volunteers and they participate in the training by learning about it through previous or existing volunteers. This is a challenge but also shows the immense impact of the program. Fundraising, after all, should never just be about dollars raised—it must also be about raising awareness about women's rights and social justice. Many of our volunteers had never heard of rights or social justice or philanthropy before being involved with us. Now the volunteers have set up their own newsletter, created an endowment fund with which they conduct grantee visits, and distributed savings and credit as an initiative to help other women. In addition, many volunteers recently chose to donate towards the construction of the Tewa centre, a holistic, multipurpose venue which helps to generate income as a rental facility. We managed to raise about one-tenth of the funds to build this centre from local sources.
Beyond volunteers, we have engaged with banks and corporations, but these institutions are harder to raise funds from, as most have set up their own charity organizations. While we have had some success in receiving event sponsorship support from banks and corporations, engaging and working with smaller business and individual donors seem to yield higher prospects for longer term or sustainable support as the possibility of aligning values and objectivesare higher. For example, through engaging a small cosmetics company and explaining what we do, we managed to secure a partnership through which they donate a small percentage of their profits to Tewa.
However, local fundraising is definitely not easy and donor fatigue is a major problem. For 19 years we accepted only local donations to provide grants (with external donors providing core support for staff salaries and organizational administration), but as we expanded the demand for grants far exceeded our supply. The post-conflict transitions, the recent earthquake, and the internal unstable political situation have led to further aggravations of the socio-economic situations and have made local fundraising challenging. As such, since 2014, we have also taken matching funds from foreign donors so that we can expand our grantmaking, since the demand and need is immense. Relying solely on local fundraising, we would not have been able to give bigger grants to more grantee partners. However, receiving foreign support has not diminished our own fundraising drive and effort—we are continuing to increase our local fundraising through annual donation drives as well as corporate partnerships.
Local philanthropy has allowed us to continue to support women like Pan Maya, who is an inspiration for us all. This philanthropy at the grassroots level is what Tewa stands for and we do not do it for the religious gains in another life, but for the real and tangible changes that it can bring in the present. Because of the way we train our volunteers, we have built a growing generation of advocates and empowered women taking leadership roles in their communities. Philanthropy is about creating trust, building assets and enabling capacities so that it is twice blessed; it blesses the one who gives and the one who receives.