Challenges and opportunities in a changing world
Emerging powers are starting to wield some clout on global rights but they need to do much more says Amnesty International's Secretary General.
---
---
There are many themes on which Amnesty International might disagree with India's powerful national security adviser, Shivshankar Menon. But on one point the human rights organization and the national security adviser can agree to agree. In Menon's words: "Power is much more evenly distributed today... We see multiple balances of power and it is being changed rapidly as several powers are rising simultaneously." In Menon's view: "This very fluidity offers an opportunity."
If it is true that the fluidity of the world offers opportunities in geopolitics, it is even truer when it comes to making an impact on human rights violations.
Brazil, India and South Africa are global players more than ever before. These countries – together with Indonesia, Turkey and Nigeria and other emerging powers - enjoy large and growing political clout. If they speak out loudly on human rights issues around the world, they can have powerful impact.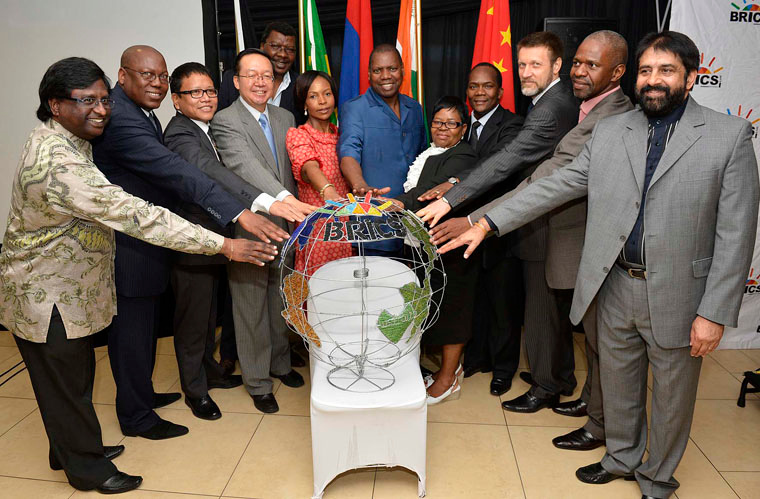 BRICS road show in Durban, KwaZulu Natal. Flickr/GovernmentZA. Some rights reserved.
Sadly, we have so far seen too little readiness to leverage those opportunities.
Old-fashioned western double standards have, of course, never gone away. The United States remains reluctant to speak out on human rights violations in Saudi Arabia or Bahrain. Washington supported President Mubarak almost to the very end, apparently judging him to be (to quote the old US presidential phrase, used originally in the context of Latin American dictators) "a sonofabitch, but at least he's our sonofabitch".
But western hypocrisy, old or new, cannot be a reason for emerging powers of the global south to follow that unhealthy lead. If countries see themselves as global players, they must play a global role – including in defence of human rights.
Governments which like to wrap themselves in the righteous rhetoric of the global south – and which have suffered terribly from human rights violations in the past – have too often been ready to turn away from severe human rights violations and crimes against humanity all over the world today.
Take just one example, where the similarity of approach between a government of racist repression 50 years ago and its democratic successor today is unsettling, at best. The similarity should give us all pause for thought. On 21 March 1960, South African security forces killed 69 people protesting against the injustice of apartheid pass laws, in what came to be known as the Sharpeville massacre. The killings caused outrage around the world.
The Burmese government was among those which demanded that the UN Security Council speak out on the Sharpeville killings. The apartheid government was furious, insisting that paying attention to South Africa's internal affairs would create "a most dangerous precedent". Fortunately, the Security Council dismissed the ambassador's angry bluster. Security Council Resolution 134 passed on 1 April 1960, criticized the "large-scale killings of unarmed and peaceful demonstrators" and called for the South African government to abandon racial discrimination and apartheid. In short, common sense and humanity prevailed.
Cut to the scene almost half a century later. A combination of South African courage and international solidarity meant that all South Africans had in the meantime triumphantly gained their freedom. In 2007, the new South Africa was welcomed as a new member of the Security Council, with high hopes for what it might achieve.
On 12 January 2007, a draft resolution came before the UN Security Council, condemning repression and violence in Burma (Myanmar). The South African government did not, however, give back to the Burmese people the same global solidarity that the people of South Africa had benefited from, in the apartheid era. Instead, Pretoria joined forces with Moscow and Beijing to shield Myanmar's military junta from international scrutiny.
Using language that was unsettlingly close to the indignant responses by his apartheid predecessor in 1960, the ambassador of democratic South Africa argued that condemning the junta's violence "does not fit with the Charter mandate", because of its focus on internal affairs. This, the ambassador explained, was a "fundamental" reason for voting the resolution down. The government boasted afterwards that its stance at the Security Council proved it had been "true to itself".
South Africa is not alone among the emerging powers in appearing to treat global solidarity as none of its concern. India prides itself on its role as a founder of the Non Aligned Movement, created in an era where the US and Soviet superpowers seemed to believe that the globe belonged to them and them alone. Far too often in the meantime, however, "Non Aligned" has become a synonym for "turning a blind eye to abuses commited elsewhere".
But, despite the obvious challenges, I feel convinced that history is taking us in a different direction today. Civil society clamours for the leadership to take a more ethical stance, in a way that governments have failed to do in past years. Sometimes, the victories are remarkable.
Trade unions forced a humiliating retreat by the South African government in 2008, so that a Chinese ship delivering weapons to Mugabe's Zimbabwe was unable to unload its cargo in South Africa. The South African government said yes; the people said no. And the ship, after vainly attempting to offload its cargo elsewhere, was forced to return to China.
In contrast to its role on arms for Zimbabwe in 2008, South Africa played a positive role in talks leading up to the agreement on a historic new global Arms Trade Treaty in April 2013. The new treaty, which opens for signing on 3 June, can block the sale of arms to countries where serious human rights violations are likely to occur.
India, too, shows signs of shifting its stance. Four years ago, India played a shameful role in helping push through a resolution on Sri Lanka at the Human Rights Council in Geneva which did not just avoid criticizing the Sri Lankan government. It went out of its way to praise the government for its conduct in the final stages of the war in 2009, including what a UN report later described as "a grave assault on the entire regime of international law".
By 2012, things had moved on. There was uproar in the Indian parliament in response to the revelations in the television documentarySri Lanka's Killing Fields . Not least because of the domestic pressure, India voted in favour of a critical resolution in Geneva the following week. The contrast with its stance in 2009 could not have been greater.
The pattern repeated itself this year. Amnesty International India gathered two million signatures demanding better accountability in Sri Lanka, ahead of the Human Rights Council session in March. India spoke out and voted for a critical resolution, which can be crucial in the lead-up to a scheduled Commonwealth summit in Sri Lanka in November.
Brazil, too, whose people suffered torture and violence at the hands of a military regime from 1964 to 1985, has in recent years seemed ready to ignore the suffering of those facing repression in other countries. But here, too, we have seen a significant shift. Thus, Brazil voted in 2011 for the appointment of a special rapporteur on human rights in Iran. In 2013, it voted for a Commission of Inquiry on North Korea. Both votes represented a small but welcome change from past practice of looking away.
Even on Syria, where Russia and China have played the most obvious role blocking strong condemnation from the UN Security Council, the IBSA countries – India, Brazil, South Africa – have partly changed their tone. All three countries were members of the Security Council in 2011, and South Africa and India were also members in 2012. The reluctance of those three countries to speak out helped give cover to Moscow and Beijing.
Here, too, however, we have seen a shift – again driven partly by homegrown pressures. A public campaign around the summit of the BRICS countries – Brazil, Russia, India, China and South Africa – in Durban in 2013 helped ensure that the BRICS included Syria in their final communique, including the call for full humanitarian access, currently blocked.
Most important of all, we have seen signs where the emerging powers do not just play a supporting role, but a leading role on human rights. In a historic development, Brazil and South Africa co-sponsored a key Human Rights Council resolution in 2011 on human rights violations based on sexual orientation and gender identity.
In proposing the resolution on lesbian, gay, bisexual and transgender rights, South Africa argued: "Everyone is entitled to all rights and freedoms without distinction of any kind." Brazil called for the Council to "open the long closed doors of dialogue." Especially in the context of widespread government resistance to such ideas, it was an important example of real leadership. That leadership had important benefits which continue to ripple around the world, including a series of regional meetings in recent months.
Reform of the Security Council so that its composition better reflects the 21st century world is endlessly discussed and delayed. But even before such reforms are agreed, the shifting power balance is clear. Around the world, we must hope for a greater understanding that new power also brings new human rights responsibilities. Defining your foreign-policy stance merely by what other countries don't want you to do is hardly a recipe for serious diplomacy.
What we now need – from all governments, north and south – is for governments to stop making decisions based on narrow political interests, but to think instead of those who will be most affected.
ORIGINALLY PUBLISHED: June 17, 2013
---
Salil Shetty became the eighth Secretary General of Amnesty International in 2010. Before joining Amnesty International, he was Director of the United Nations Millennium Campaign from 2003 to 2010. He played a key role in building the global advocacy campaign for the achievement of the Millennium Development Goals. From 1998 to 2003, he was chief executive of the international development NGO, ActionAid.
---