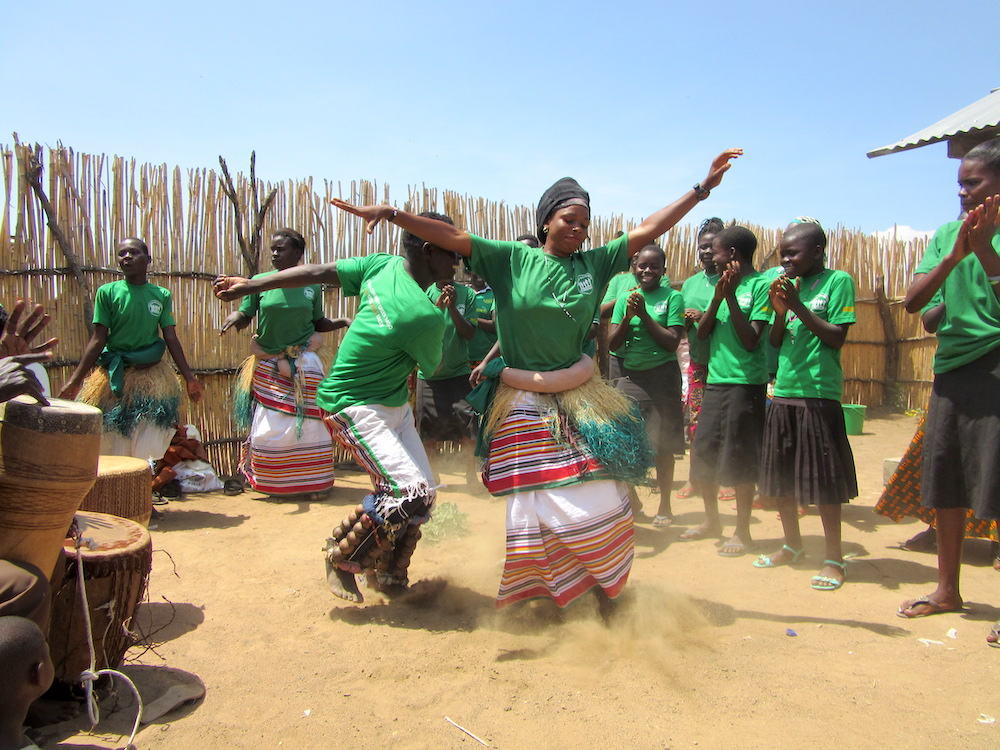 Kaiso Women's Group drama and dance group perform a Banyoro traditional dance. Photos: Wangũi wa Kamonji.
---
The Hoima-Kaiso-Tonya highway connects the Ugandan fishing town of Kaiso to Hoima town, the headquarters of the Bunyoro Kingdom and Hoima District. Kaiso is on the south-eastern edge of Lake Mwitanzige, in a region with an estimated potential three billion barrels of crude oil. The Hoima-Kaiso-Tonya road was built to enable access to the lake for oil prospecting and as an investment for future petroleum production, so the residents call it "Oil Road". For many, however, the road takes away more than it brings.
To carve out space for the road, the Uganda National Roads Authority took land from Kaiso residents. Valuation and compensation, handled by an outside consultant, were arbitrary and low (going by the number of doors on a house for example), without taking full account of past investments and future livelihood losses.
One resident affected by this low compensation is Constance Nyamusana, whose rental houses were destroyed when the land they were on was taken. The compensation she received was inadequate to purchase comparable space and reconstruct elsewhere. Due to this loss of income, her three children dropped out of school for lack of fees. Up to 300 other residents of Kaiso incurred permanent losses of homes, rental houses, and business space.
However, some residents who are members of the Kaiso Women's Group have successfully challenged these low compensations. This community-based group started in 2012 and has grown to include 68 members. Group members have had access to various trainings through support of other NGOs, including learning about their rights in the context of oil activities. In the past, seemingly all-powerful global corporations and governments would take advantage of such rural communities, but the trainings have emboldened group members to challenge them.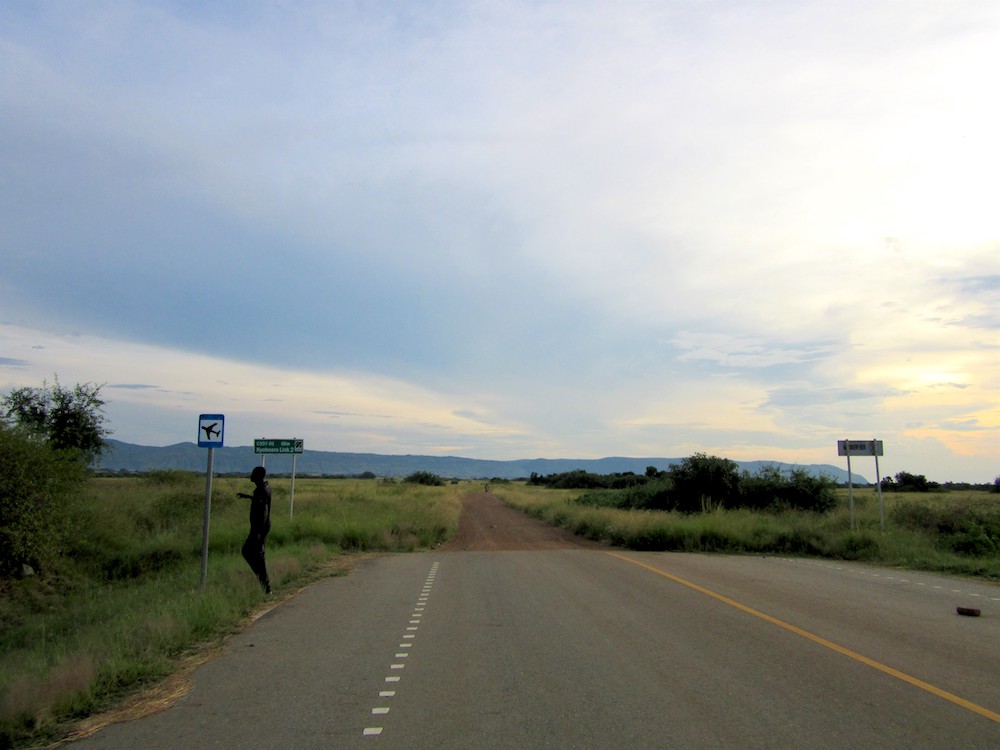 Oil road ends on the other side at the airstrip managed by the Uganda Wildlife Association.
One resident, Betty Bagadira, dramatically recounted how she challenged the compensation representatives. She had been offered UGX 7000 (USD $1.90) as compensation for a 50x50 acre plot and a house—this amount is the price of a bottle of soda, which she bought and then poured out to demonstrate her disgust. Empowered by being a member of Kaiso Women's Group, Betty's complaints resulted in compensations for a total of UGX 1.1m (USD $299).
An obvious gap, however, is that compensation for losses in such projects is individualised and momentary. No compensation is paid for disruption to community life and relationships, and none for the future harm enabled by the Oil Road.
On its other side, Oil Road ends abruptly at an airstrip managed by the Ugandan Wildlife Association (UWA), which is in a public-private partnership with South African hunter and businessman Bruce Martin. The airstrip and Oil Road eases entry for foreign tourists who pay $75 per night to stay at the Lake Albert Safari Lodge located within Kaiso Game Reserve and $1,400 per day to hunt in the reserve. Due to this arrangement, Kaiso residents are no longer allowed to access meat for food from the reserve, and they can only collect firewood for fuel on two days of the week—at a weekly cost which most cannot afford. Local women also fear beatings and sexual violence from UWA park rangers, should they take the chance to go collect.
In this way, Oil Road further opens up Kaiso for extraction and enjoyment by non-residents while restricting the lives of Kaiso locals.
In the face of extraction for the pleasure and profit of non-local interests, what options do Kaiso residents have to continue to thrive?
When a British company, Tullow Oil, drilled oil wells in the lake, for example, Kaiso residents were forbidden from fishing for a week, and this prohibition meant no food—obviously a significant strain for everyone in the fishing town, several of whom described the lake as their garden. The drilling, whose precise nature local residents were not informed about, resulted in dead fish floating on the lake and lower fish populations. Bombs accompanying the drilling also desecrated two sacred natural sites used for prayer and healing.
In the face of extraction for the pleasure and profit of non-local interests, what options do Kaiso residents have to continue to thrive? Uganda is not an easy place to be an activist, as the jailing and torture of musician youth politician Bobi Wine and feminist scholar Stella Nyanzi have demonstrated. Those challenging oil activities are also under threat. Ugandan activists who have brought a suit against French oil company, Total—which holds interests in Ugandan oil alongside Tullow Oil and CNOOC, a Chinese company—were detained and intimidated on return to Uganda.
Considering the threat to physical safety for protecting land, lake and one's means of livelihood, Kaiso residents often said resignedly, "We can't refuse. We can't stop the government."
Kaiso Women's Group members, however, build their power through learning and engaging in communal activities that open up alternative sites of possibility, in which they refuse the extractive nature of oil activities and demonstrate their determination to continue their lives.
With the artificial scarcity of fuelwood created by UWA park rangers, for example, group members have learnt to build earthen stoves which are more fuel efficient and therefore reduce fuel expenses. Members also repurpose their kitchen peels from vegetables into briquettes to use as fuel. These alternatives also prevent Kaiso women from having to risk violence when they collect firewood.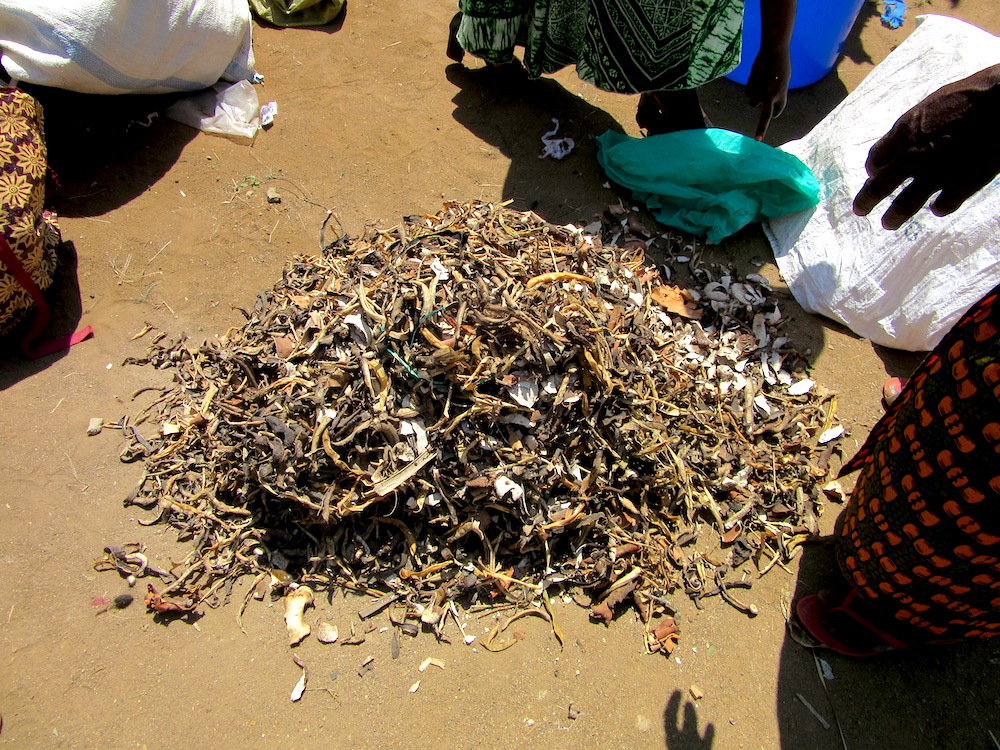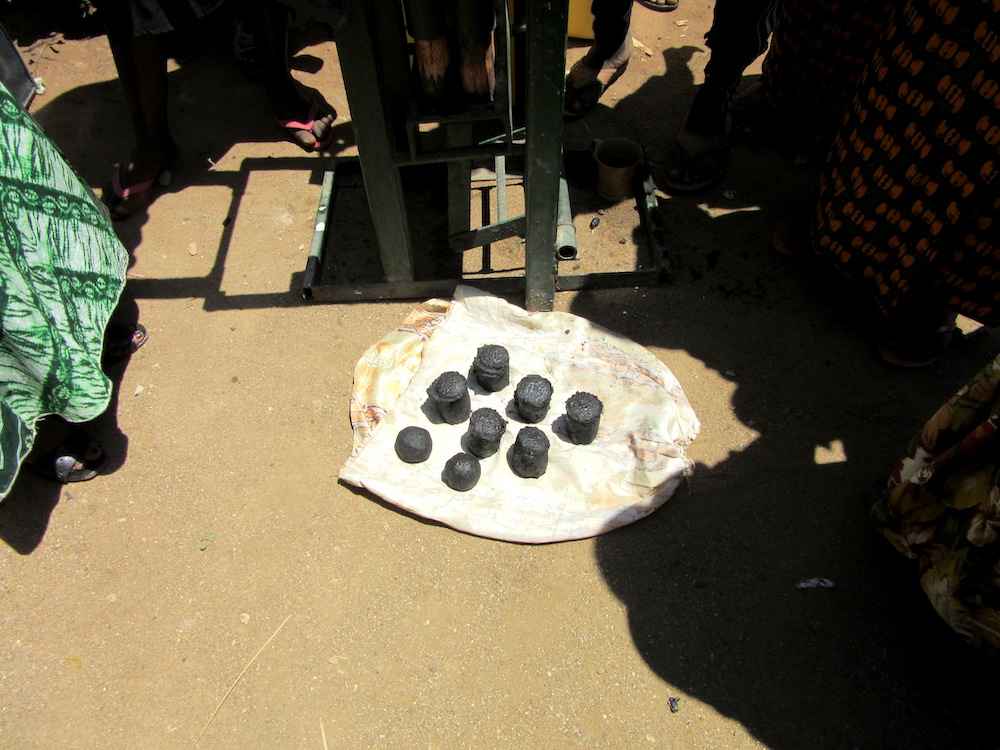 Dryed kitchen peels are charred, mixed, and pressed to create briquettes of fuel.
Members also participate in alternative income generating activities—such as making soap and weaving baskets—to boost declining incomes from fishing. Sylvia Kemigisha, the founder of Kaiso Women's Group, explained that everyone in the group learns together so that each one has these skills and can share them.
Oil prospecting, possible production and the infrastructure around them in Kaiso have another more subtle face of what they take away: hope, peace and assurance. Decisions are yet to be made about oil pipeline and refinery locations, and compensations; about who owns what stake in Uganda's oil industry as Tullow Oil seeks to sell; or about when oil production will start, if it ever will. This waiting and not knowing, while industry and government make decisions that potentially overturn lives is not only disempowering—it is a form of structural violence.
Kaiso Women's Group after the drumming and dancing.
Betty shares her fear of a future of oil spills and gas flares, adding, however, that what breaks fear for her is being in community. Kaiso Women's Group is well known in the region for their dance and theatre performances. Joyful song, drumming, ululations and rhythmic movement are the group's chosen (and effective) media for sharing stories about the challenges they face. They sing about Kaiso custodianship of land including of the oil underneath the ground and encourage those listening to work together to face the negative effects of oil industry.
Moving rhythmically in unison reduces embodied trauma, and helps us to build connections. Both Ayesiza and Immaculate, two group members, assure me that when they dance, they feel good. It is evident that to break through the solitude of fear, waiting and silence, Kaiso Women's Group has found a solution in coming together to learn, speak, act and move in community.
Like the oil road, "business as usual" in the form of continued oil prospecting during a climate crisis, seems unstoppable, taking from frontline communities for the benefit of industry and national governments. What Kaiso Women's Group demonstrates is that solidarity, community and the determination to sustain generative ways of life can be equally unstoppable, even in the face of these ongoing struggles.