COVID-19 exposes why access to the internet is a human right
COVID-19 has exposed the underlying reality that not everyone has internet at home.
---
---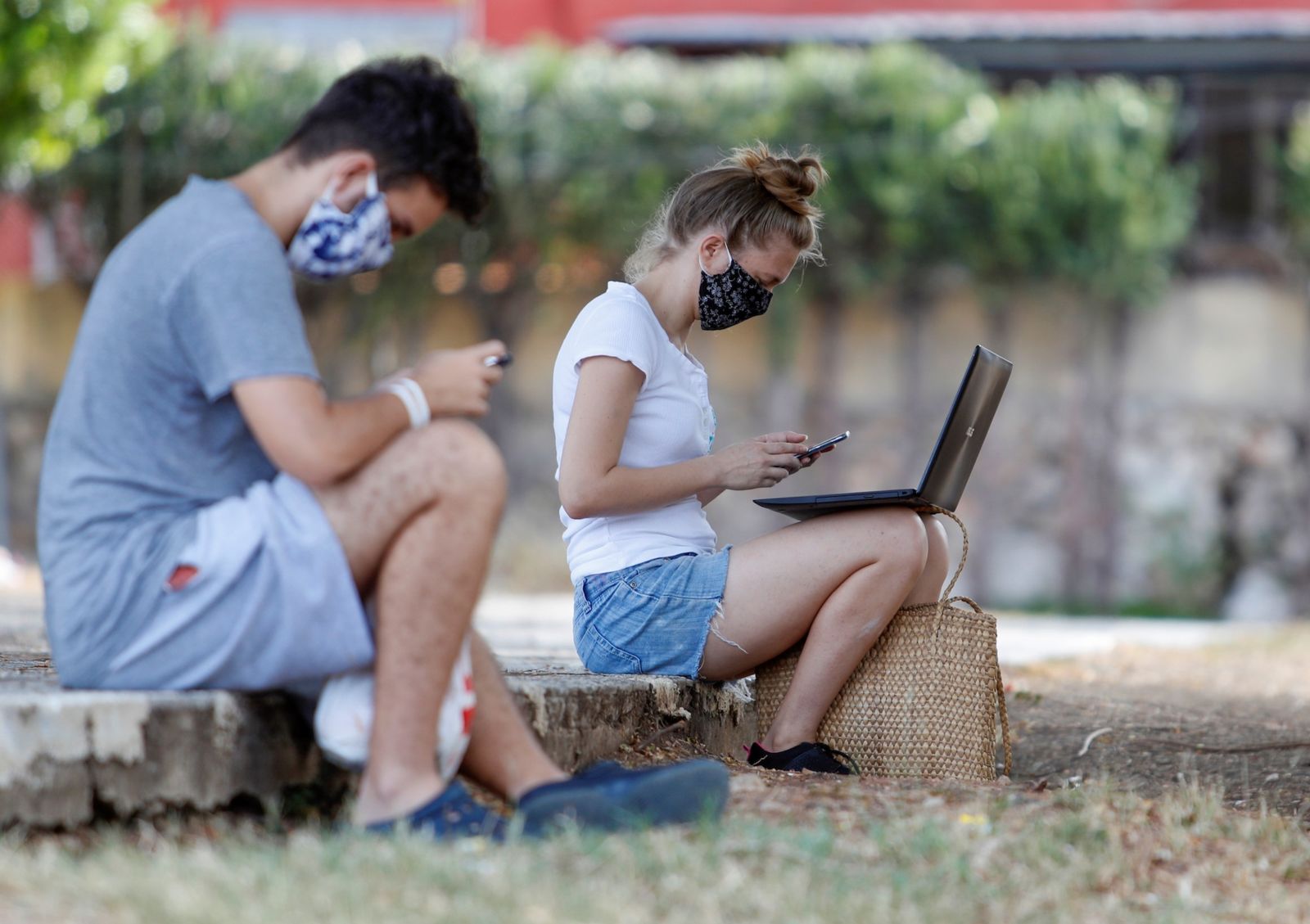 Two young people in La Habana, Cuba connect to the internet in a public park with wifi. Yander/EFE.
---
Beyond its tragic outcomes for global health, the COVID-19 pandemic has also caused governments to impose travel restrictions, quarantines, along with orders that people work and study at home. The internet has been championed as the remedy for those forced to stay home. And for many it has certainly been a savior. Yet COVID-19 has also exposed the underlying reality that not everyone has internet in their homes—including millions in the wealthiest countries in the world. My research shows that internet access should be a human right provided by the government as without it, other human rights—including the right to work and the right to basic education—cannot be adequately realized.
In 2016 the UN General Assembly passed a non-binding Resolution that "declared internet access a human right." This created inspirational headlines around the world, but the Resolution did not address governmental responsibility to provide access to all. Instead it focused on stopping governments from "taking away" access. Furthermore, the Resolution was derived from Article 19 of the Universal Declaration of Human Rights, and is considered "soft law" as opposed to "hard law", meaning that nation-states do not face significant penalties for not adhering to it. COVID-19 is truly exposing this as a limited approach by the UN towards internet access as a right.
Overwhelmingly, studies around the world show that internet access is now vital for access to jobs, to education, for improving worker rights, and to ensure freedom of expression and access to information. In a quantitative analysis of 120 countries, and a detailed comparative case study of internet use in the Mexican cities of Guadalajara and Puebla, as well as rural indigenous villages in the state of Oaxaca, I also found access to be vital in realizing these rights.
Internet penetration rates only just surpassed the 50% threshold globally.
Now in the age of Coronavirus, access to an internet free from "big brother"—with more equality in terms of gender, color, and representation from the global South—is needed more than ever. In fact, access to information could be the difference between life and death for many as the world battles this pandemic. Charts showing the importance of flattening the curve have been going viral in an effort to increase knowledge aimed at slowing the spread of the virus. Governmental websites show where the virus is spreading and list numbers to call for help, or information on where to get tested. Yet, as many people still lack access to the internet, these online efforts will not reach everyone.
Despite countries agreeing to uphold the 2016 UN Resolution, millions of people still do not have internet access. In fact, according to 2017 data internet penetration rates only just surpassed the 50% threshold globally. A lack of access is not only a developing world problem: 5% of US citizens are not internet users—around 14 million people—and 24 million lack broadband at home, which will hamper ability to work and attend classes in this new age of Zoom meetings and online submission of homework. Income is far and away the primary determinant of access proven by study after study around the world. However, under current human rights law governments are not obligated to provide access for those that cannot afford it. Nor are governments particularly incentivized to provide access for free in public spaces. And the already scant public spaces with access, such as libraries and schools, are being shut down by governments taking measures to stop COVID-19. Compounding this problem, many students (including university students) do not have access to computers without open public facilities—clearly the digital divide is multifaceted, involving access to devices as well.
In addition, the right to equal access to work is already codified in the International Covenant on Economic, Social, and Cultural Rights. However, in reality is it possible to achieve equal access to work when many jobs have online only systems in their application processes? The same problems arise in online only platforms supposed to guarantee rights, ranging from applications for public housing to healthcare applications.
If the UN is to get serious about bridging the digital divide and create stronger binding human right laws declaring access a right, I argue that governments must take a more proactive role. How so? Simple answer: provide more avenues for low income people to get access. Once physical distancing measures are lifted this could be in the form of public computers at already established community centers, libraries, and schools. Until then, those without access at home will continue to fall further behind. Countries could follow the lead of Finland which declared broadband access a legal right back in 2010 with an aim to cover the remaining 4% of the country without access at home through subsidies. Other options abound such as providing free WIFI in towns/cities—pioneered in towns as small as Amherst, Massachusetts, to much larger municipalities such as Helsinki, Finland. Another avenue is subsidies for low income people to purchase refurbished or used devices via private-public partnerships. In the US, simply designating the internet as a public utility regulated like phone lines would go a long way towards forcing telecoms to provide access to rural areas.
The Mexican government has been rolling out policies across its sprawling rural areas to get access to low income households and communities.
Perhaps most exciting are developments in the middle-income country of Mexico which, through a first of its kind 2013 Constitutional Amendment, declared internet access a human right specifying that the Mexican government provide access to those that cannot afford it, including building public access facilities for those without devices. Adhering to this domestic human right law the Mexican government has been rolling out policies across its sprawling rural areas to get access to low income households and communities. Albeit slowly, various policies have been implemented through a multipronged "National Digital Strategy" which includes targeted plans ranging from providing community centers and schools with access, to subsidies for lower income residents to buy access at home. Clearly, options are plentiful, and context specific approaches to access are needed around the globe.
Lastly, I argue that it is vital that the digital divide not be considered in simple terms of an access or no access binary; instead, essentially it is really a "gradations of access" divide affected by the type of language one uses, educational levels, income, and level of technology available. In other words, the digital divide is multifaceted: as must be the approach to combat it. This finding echoes what others in the field have found, yet I further posit that governments should be the provider of last resort when markets fail.
Now is the time to demand direct action from nation-states, like Mexico's Constitutional Amendment, declaring access a human right with governmental responsibility to provide access for low-income people. The resulting policy response must address the primary difficulty facing many: a lack of income. Meanwhile millions around the world are stuck at home during this pandemic without access to the now vital World Wide Web. The internet has become simply too vital in its ability to disperse information on how to stay safe during this crisis, its ability to allow many to work from home, and in helping us educate our children at home, for anyone to go without.
ORIGINALLY PUBLISHED: May 26, 2020
---
Jack J. Barry is currently a postdoctoral research associate at the University of Connecticut and will soon be a postdoctoral associate at the Center for Public Interest Communications at the University of Florida. He is the author of the book, Information Communications Technology and Poverty Alleviation: Promoting Good Governance in the Developing World (2019), which addresses the impact of ICTs on the poor in developing countries.
---