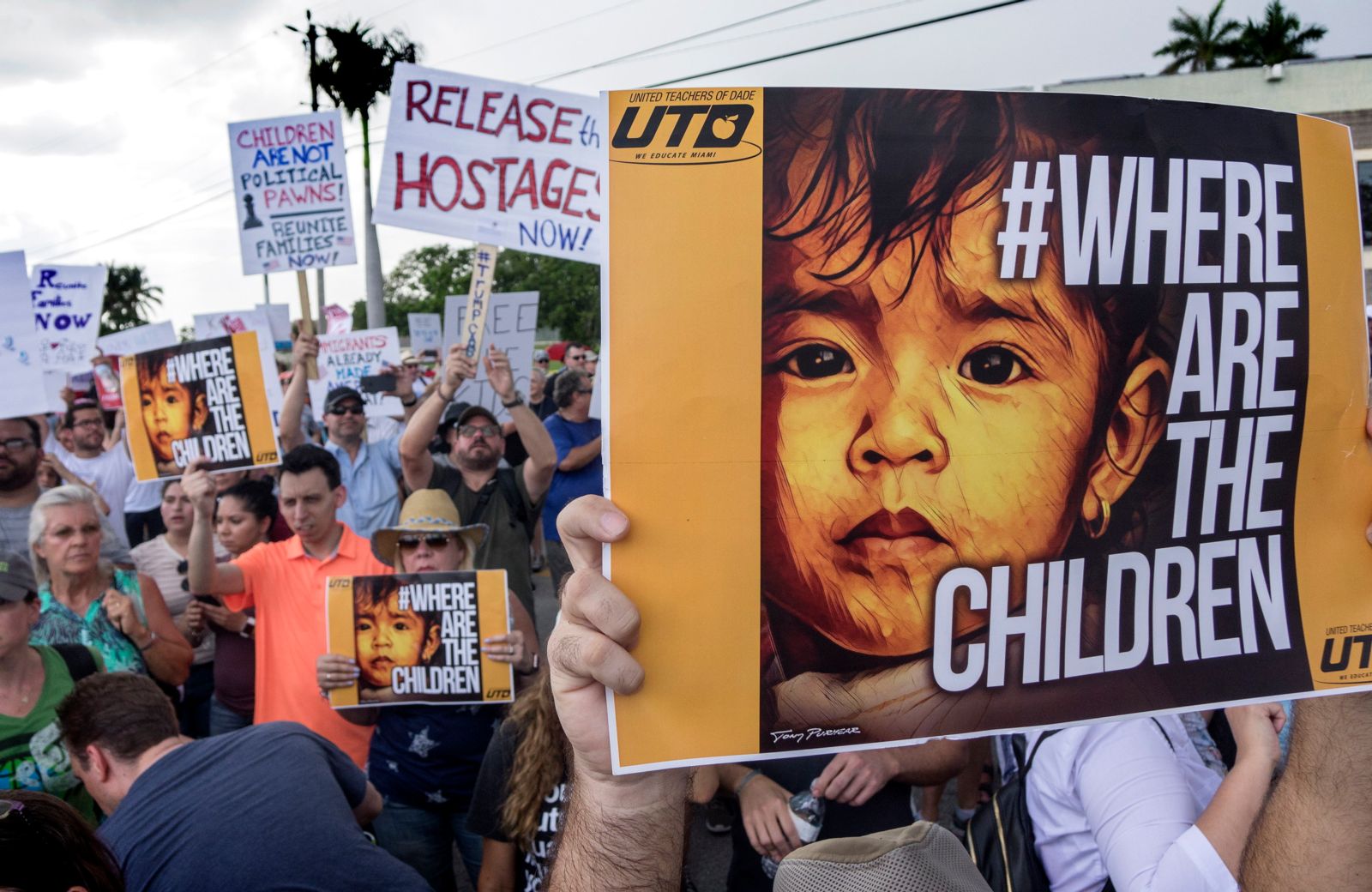 EFE/EPA/CRISTOBAL HERRERA
Immigrant & Community Leaders participate in the rally outside the Homestead Temporary Shelter for Unaccompanied Children in Homestead, Florida, USA on 23 June 2018.
---
Following a substantial increase in the enforcement of the Trump administration's policy to separate migrant children from their parents, anti-immigrant policy and rhetoric hit a flashpoint last week. Images and audio of toddlers crying and children in cages triggered outrage and widespread protest, with political leaders, religious bodies, and human rights organizations denouncing the practice—which is clearly traumatizing to both children and parents—as a clear violation of human rights.
The pressure on all sides did not go unheeded. Last week, the president appeared to cave to the rising criticism and signed an executive order ostensibly designed to cease his own policy of family separation. Border Patrol agents have reportedly stopped handing over migrant adults for prosecution who have crossed the border with children. Though this puts an end to one egregious practice on the border, it also marks the beginning of another. The executive order threatens prolonged and indefinite detention of children with their families. The administration has released no plan to reunify separated families of asylum-seekers who wish to pursue their claims, and the media has reported several cases in which detained parents have been coerced into signing deportation orders in exchange for reunifying with their children. Now is not the time to look away.
Compare these events, for example, with Trump's executive order "travel ban". When the travel ban was initially signed, hundreds of thousands of legal residents in the United States suddenly became terrified of leaving the country for fear that they wouldn't be able to return home. Human rights advocates and concerned citizens worldwide spoke out, inspiring mass protests along with pro bono legal clinics that popped up in airports throughout the country. While the government was forced to rewrite the ban due to these unprecedented demonstrations and successful court challenges, an altered version of the ban remains in place today and the debate has all but gone away.
Without doubt, the modified version of the ban, upheld this week by the Supreme Court, represents several significant gains for human rights advocates: the list of countries was reduced, existing visas are being honored, and Syrian refugees are no longer barred indefinitely. But the government learned from this defeat. They modified the ban to make it harder to challenge in court, and much of it is now enacted overseas—before the people affected by the ban ever reach the United States. Aside from the organized #NoMuslimBanEver coalition, popular resistance to the ban has died down, and the restrictions have largely become normalized. Out of sight, out of mind?
Both the travel ban and the family separation and detention policies are symptoms of a much larger global issue: how receiving countries treat migrants, who are often fleeing unstable and/or violent situations. The family separation policy is cruel. But it is happening at the same time as the Italians turn away boats, and Mexican authorities appear indifferent to the violence and intimidation from criminal gangs that asylum-seekers suffer as they travel north. With over 200 million migrants in the world, and that number set to double in next two decades, it's urgent to find broader solutions. The Global Compact on Migration, now being negotiated at UN, offers some hope, but it will not work if many countries continue to see the issue purely in terms of border control. In addition, this compact will have little effect on an American president who seems to hold contempt for the idea of international cooperation.
Both the travel ban and the family separation and detention policies are symptoms of a much larger global issue: how receiving countries treat migrants."
Situations of inhumane treatment and abuses of power are where we need human rights the most—but activists must find new ways to use human rights law effectively in the face of those who disregard such laws and norms. By basing rights in our common humanity, not citizenship or some other trait, international human rights law is key in challenging the anti-immigrant sentiment which precisely seeks to limit rights to privileged classes. Trump's language on illegal migrants coming to "infest" the US is part of this dehumanizing.
Rights advocates must seize the popular outrage against family separations to push for further reforms and reject the current normalization of mass immigrant detention—whether of adults, families, children, or asylum-seekers. The new executive order maintains a hardline stance on immigration, stating that its new policy of maintaining family unity will only be applied "where appropriate and consistent with law and available resources". There are also no specific details on how or when the separation process will end, and a "fact sheet" issued by the White House over the weekend only says it will effectuate reunifications for the purpose of deporting the family together. But a federal court judge has now issued an injunction temporarily halting the separation of parents and children, and ordering that those already separated must be reunited within 30 days.
Last week, the Department of Justice filed a motion to modify a decades-old court settlement that limits the ability of the government to detain migrant children for more than 20 days, asking the court to allow the government to detain children with their families indefinitely. And there is continued evidence that the administration is limiting access to legal ports of entry for asylum seekers, driving them towards informal border crossings.
The "solution" to family separation in the Trump executive order is anything but that. Detaining families means jailing children. Even if children are held with their family members, locking them up presents serious concerns for their physical and psychological health. This executive order will place more vulnerable people into a dangerous detention system with inadequate medical care and serious due process failures.
Asylum seekers should not be detained—prosecution of asylum seekers is in violation of the Refugee Convention (to which the US is party), which clearly says that no refugee should be criminally prosecuted for entering a country illegally. Domestic law in the United States already allows for asylum seekers to be released under measures that ensure their appearance at hearings. No asylum seekers, but especially families traveling with children, should be criminally prosecuted for entering the country illegally. Prosecutors should be issued national guidelines to ensure this does not happen in the immediate term. Trump supporters will argue that many of these migrants are not refugees, and that if people do not want to be separated from their children—or imprisoned with them—then they should not come into the country illegally. But it is impossible to know who among the asylum seekers are genuine refugees, so the only acceptable policy is not to prosecute any of them criminally.
If the Trump administration ends its zero-tolerance policy, it could refrain from mass prosecutions and allow the exercise of prosecutorial discretion for criminal prosecutions for illegal entry. The practical result of this would be far fewer prosecutions of parents traveling with children.
If prosecutors have good reason to prosecute persons who are not asylum seekers for illegal entry, they should keep family units together by ensuring that the non-citizen adults, who are often receiving sentences to time served (a matter of hours or days in custody), are placed in a custodial setting that is close to the CBP facilities in which their children are held for 72 hours, facilitating family visits and reunion as soon as possible. Proper measures need to be put in place that allow children and their parents to be quickly reunited, and to ensure that parents are not deported while their children are held in custody.
Finally, Congress needs to act to reform US immigration law to respect the rights of people seeking asylum, children, and families. Activists must ensure that abusive practices do not simply go underground where we cannot see it. They must not be normalized. Criminalizing families, and traumatizing children, should never be the tactics of any government, much less a democratic one.