Genocide óiyede hókumot ór, Ar masala yean or gawab O ar hodún hókumot to diya foribóu
Burma ar hókumot or kaanuni karbai gorá foribóu. Kiso mansoura alomi adalatot (ICC) hokum goittóu zai hóde, Bur mar hókumot a ray zimmadar gorá forebode hotá ian azé zaibou.
---
---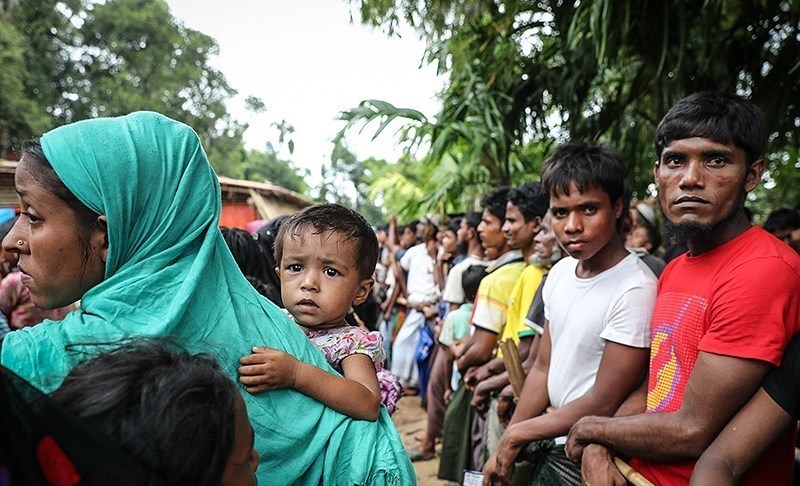 Photo: EPA/EPA
---
Bur mar Rohingya ókkolór háalot ehón zat basibá ar háalot. Ítarar ore ehón genocide choler. Bicí bosór dóri itararay zulúm gorí, mari félai, duk debar notiza, aijja Arakan ót 15% Rohingya tákibou da. August 2017 foray 750,000 Rohingya giyói, ze tará Bangladesh ot hóraf háalot ot asé. Ar zin dash oat asé, ere 1/3 híssa (140,000 Rohingya Ma nosh) Bongoijjá camp ot asé, are baki Rohingya O bicí mosibot ot asé. UN or fact-finding commission, UN or nomainda are baki zadon alomi edara ar NGO asé; tará fottízon a hoói day, Rohingya ray zulúm goijjé day ian taftish goillé, Rohingya ore genocide óiye.
Genocide goijjé da ma nosh zin ache itararay hámaká sáñza diya foribóu. Kiso tokrir-rot zalim ór name, ziín militiri commander ar ítarar sati ziín asé, ítara fottízon ore sáñza dibellá hoiyá.
Lékin, a zalim ókkol ray alomi adalatot sáñza debar hotá ar maze, aró hodún sáñzar hotá zin UN are hodún dash a tulle, in azé zargói.
Sáñza bana kiso ma nosh ore di lay Rohingya ar hoq no faibo, lékin Bur mar hókumot ore O sáñza diya foribóu.
Bana kiso ma nosh ore sáñza delay genocide or zai ittifaqiyah asé, ian hótom oi no zaibói. Genocide or ittifaqiyah ar bacon ton basi zoruri hotá wailo day, hókumot ar zimmadari.
Hókumot ar zimmadari; ar kiso ma nosh ore sáñza don, ek hotá noó. A hotá gán O yiad raká foribóu day, hókumot bicí taakot wala. Alami kanoon ot, ekkán dashy nizor síasot ar kanoon banai farái. Genocide bana kiso ma nosh aái, goittóu chai lay gorí ná farái, lékin zalim ma nosh gooney ekkán kirdar adai gorá. Kho lasa hotá, kiso ma nosh a bana, ítara zulúm goittóu chai lay gorí ná fray. Mesál di lay, honó a zon ma nosh, citizenship di nofaré, loi O nofarí – Ian ekkán hókumot or ham. Rohingya re citizenship no don, ar itararay zulúm goróon, ar ítara zai zulúm dickey, in bák ooloon ian buzá day hókumot aái ian báfi hóde goijjé are Rohingya ray genocide goríbélla goijjé.
Aró, Tatmadaw óiye day Burma hókumot ar militiri, je taráre hókumot ai power diya are hatiar O diya, public or tía lói. Militari góndha o noói, daháit o noói. Ítara hókumot (córkar) to alok O noói, bol kay ítara hókumot ór ekkán bicí zoruri híssa.
Otollá zai zulúm goon ítara plan gorí goijjé, in bana kiso General ol zimmadar no, ze tarár name report ot leikké, bol kay fura Burma hókumot zimmadar. Haas gorí, August 2017 zai beçiyáin zulúm óiye, eke woktót basi fará are basi zagat, ian honó, hodún kiso ma nosh aái gorí ná farái. Bol kay Burma ar hókumot ay itararay zulúm goríbélla ejazot; ar zulúm goillé honó sáñza nodibóu day ian hoiyá day, otollá ado on ma nosh ore militiri fous-okolay zulúm goijjé. Ar beçiyáin zulúm gorí hámil goijjé day; ian O Rohingya ray nash goríbár ekkán plan. Ar ian ore Genocide ho day.
Bur mar hókumot fura ham gán saái hóde goijjé– No oily bicí ma nosh ore éndila zulúm gorí nofaittóu – ar aijja foijjonto zulúm no óitou. Kho doon dashy ian genocide hoiyá. Ehón, 150 dashy genocide or ittifaqiyah sign goijjé – ere Burma O asé, Duniyair 1/3 dash asé. Ittifaqiyah ian ór 9 nombór article ot hóde, zodi hókumot ókkol na-ittifaqy oilay, maamela ian Alami Hoqoor court (ICJ) tulí diya foribóu. ICJ maze Bur mar maamela zodi kiso dash melee hóde goillé, basi gaum óibou. Age O éndila maamela ICJ tulle ar genocide bon goríbélla court a rai diya.
ICJ maamela tuillá ian síasot ar kaanuni hisha-bay basi gúm óibou.
Síasot hisha-bay, ekkán mojlis óibou zará Rohingyar genocide ore kúla hóde ar tafsilot tazkira gorá zaibou.
Ian goríbár dóra, Burma ar business ot asór aibóu ar be dashi company, Bur mat investment no goríbou. Kiso ma nosh ore adalatot tulle lay, alomi shodor okelay átor dór gorí no saibóu, lékin dash ray maamela gorí lay ian alomi shodor okoloto asór aibóu. Otollá ICJ fáisela ray duniyai maná.
Adalatot kiso power asé, ziyán or fiydah foyati foyati óibou. Ar Burmato, adalatot jowab diya foribóu, no oily Burma aró duk ót foribóu.
Ar Burma dash or la casé goillé, Bur mar zalim ham Duniyair age basi aibóu.
Notiza his bay, Rohingya okal ítara nizor gorát zaigói faribóu, ítarar zaga, foisá ar izzot ór luksan ode in or gonagari faibo. Ian bana, ICJ tu oi faraday; ICC mazé kiso ma nosh ore hokum oi fary, ar basi bosór lage. Mazloum or hoq nofait O fari.
Kho Lasa Hotá, ICJ maamela dash ay chi lay ehón gorí faribóu, asán O asé, ar ian basi kham or are powerful óibou. Ara ar dai go no faijjoum, ar no mate tai O no faijjoum. Otollá, zai kaanun asé, ian gorí zon zoruri. Ian bana Rohingya bicíbár la noó, zodi O bana Rohingya bicíbár la oilay O ian gorá foribóu. Lékin ian alomi qanoon, ar insaniator hoq basai balah O ekkán gorá foribóu. Añár are sinta gorily no óibou, genocide or samna goríbélla ar báfi bar thaim nái.
ORIGINALLY PUBLISHED: April 24, 2019
---
John Packer óiyede Neuberger-Jesin ar professor zannwá aái Alomi maramari hal gorá day edarat ham gorá. Edara iín Ottawa Jama ar waqalati fora day ian or híssa.
---