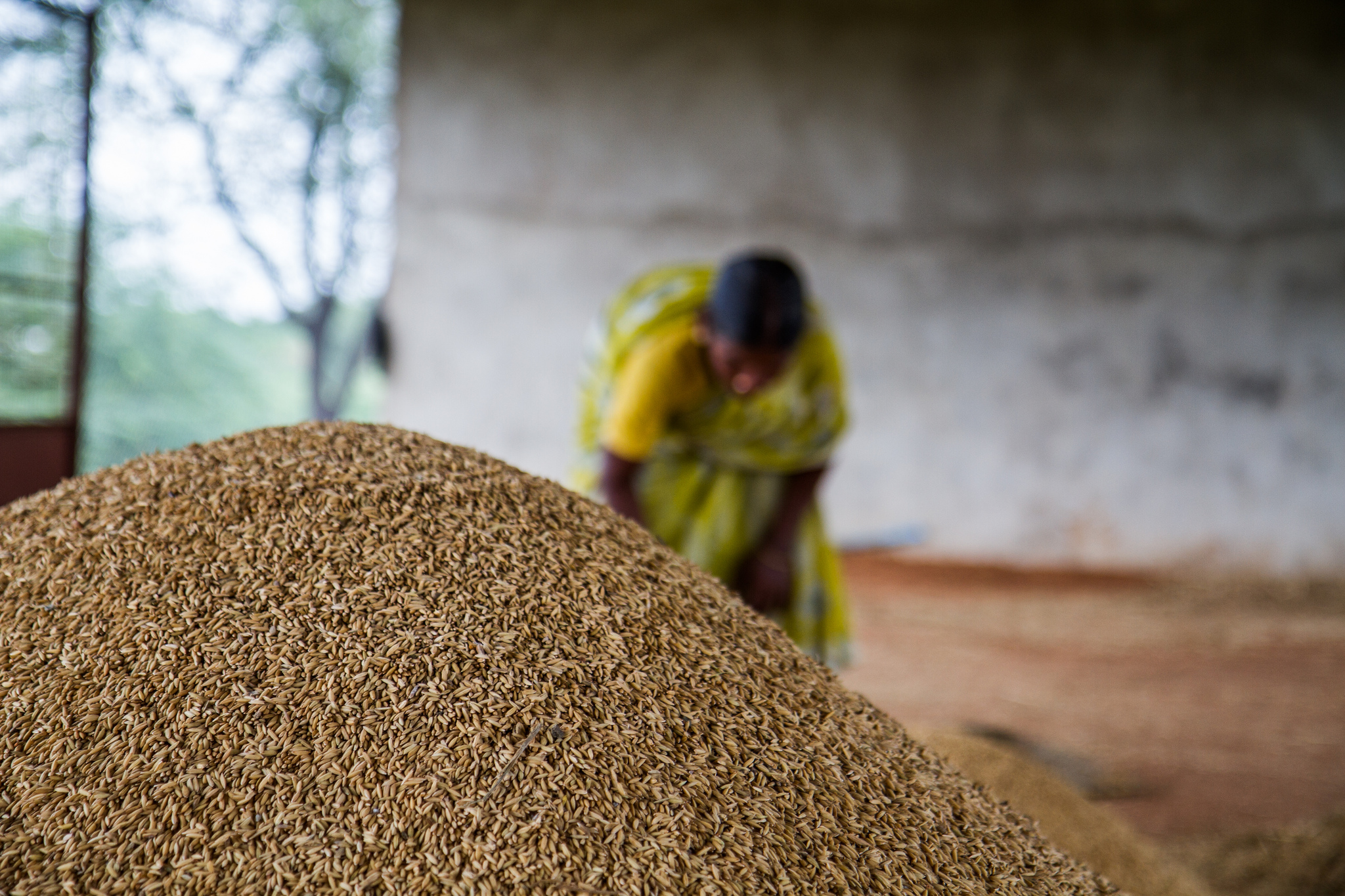 Photo: Flickr/Climate Change, Agriculture, and Food Security (Some rights reserved)
A woman assesses her harvest in Andhara Pradesh, India.
---
Experts have long debated the pros and cons of legal mobilization around economic and social rights (ESR). Skeptics such as Jacob Mchangama caution that constitutionalizing ESR rights won't help, and may even make things worse. It could privilege people with better access to justice, and pit different ESR advocates against one another in a scramble for resources.
Yet Mchangama and others ignore academic work demonstrating the opposite. More importantly, they miss this crucial fact: scholars in the growing ESR literature acknowledge the risk of middle-class bias, but do not dismiss the broader utility of legal mobilization. When used appropriately, legal change can expand the boundaries of what the poor can demand from the state and society.
When used appropriately, legal change can expand the boundaries of what the poor can demand from the state and society. My own research on India's decade-long right to food campaign demonstrates that constitutionalizing ESR is a crucial first step in meeting basic human needs. Elite legal advocates litigated directly in the Indian Supreme Court on behalf of people blocked by insufficient caloric intake from enjoying their legally protected "right to life". The advocates' aim was to move the legal interpretation of the right to food out of the Indian constitution's "Directive Principles", which are non-justiciable, and into the constitution's "right to life" section, which is justiciable under Indian law.
Grassroots activists also worked to educate poor people in India on their right to food, strengthening their capacity to demand improved access to public nutrition programs. The campaign also invested considerable energy in pushing for legislative reform of India's national food security policies, culminating in the 2013 passage of a National Food Security Act.
Importantly, India's right to food activists focused on local interpretations of rights, rather than on international standards. Rather than referring to universal covenants, Indian activists reinterpreted the country's constitution and pressed for better implementation of existing food delivery systems. They also skillfully fanned public anger over the scandal of public food-stocks rotting in government warehouses amidst widespread hunger.
The activists' multi-pronged strategy hasn't been uniformly successful, of course. For example, gains in the legal arena have outpaced ongoing grassroots mobilization, and many activists criticize the 2013 National Food Security Act as too stingy, unbalanced and hard to monitor. The act focuses only on those poor people defined as "below the poverty line," rather than making subsidized food universally available. The type of food provided under the act is limited mainly to cereals, moreover, rather than including pulses or other nutritious and culturally appropriate foods. The actual amounts of grain involved, moreover, are not sufficient to counter malnutrition.
We still can't know whether the hard-won legal gains of India's right to food campaign will actually protect the country's most vulnerable groups, especially as the country's political winds change. As of this writing, India's new government, headed by Prime Minister Narendra Modi, has put the food policy reform on hold. The program had been the pet project of the past head of the Congress Party, Sonia Gandhi, and became law just months prior to the national electoral cycle. Modi was elected by a landslide in May 2014. His party didn't oppose the act outright, but after the election, found itself responsible for implementing a program mandated to be up and running by July 2014. When only a third of India's states reported to have implemented reforms by June, Modi announced a three-month extension. That deadline too has passed, leaving the future of the act unclear.
At home, the right to food campaign continues to agitate for a more comprehensive law. Internationally, Modi defends subsidized food in the face of stiff opposition in the World Trade Organization (WTO), where internal debates rage over whether or not India's subsidized feeding programs are an illegal "barrier to free trade." The Modi government has insisted that the passage of consensus rules on trade and development be contingent on the preservation of public food security stocks—a position that many other developing countries may support despite opposition from the US and other industrialized nations. The WTO's director general characterizes the standoff as potentially the "most serious situation that this organization has ever faced."
By focusing on public feeding programs rather than overhauling macroeconomic policy or global trade rules, right to food campaigners may have missed the deeper structural reasons for India's food insecurity. And neither constitutional protections for food—even in the world's largest democracy, India—nor access to public food will lift all poor people out of poverty. Nevertheless, this campaign has moved questions of hunger from the margins to the center of political debates in India and beyond. The notion of "rights" has been key to this strategy.
It makes no sense to blame right-to-food advocates for using India's constitution to try and forge a more effective national food policy. Elite-level legal strategies, moreover, support the harder, grassroots work of expanding popular consciousness and improving service delivery. What are the alternatives? How could Indian reformers otherwise address their country's massive under-nutrition problem? UN data show that the number of hungry people in India increased during the country's years of peak economic growth (1988-2006), with nearly half of all children remaining undernourished since 1998, decreasing only one percent over the past 15 years.
Noted international law expert Philip Alston argues that making claims in the name of economic rights changes the status of poor people from "supplicants" seeking to have their needs met, to "rights-holders" demanding a remedy. Human rights in and of themselves don't solve problems; people do. Poor people and their advocates will need every tool at their disposal to address the ongoing reality of hunger amidst plenty. The law is just one of those tools, but it is a vital one.