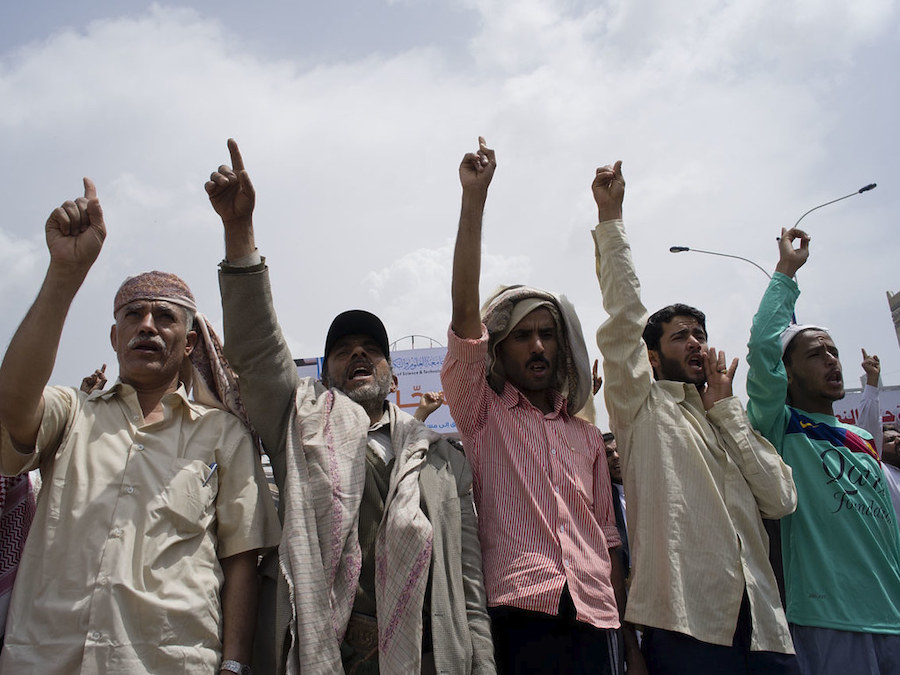 Photo: Aljazeera English/Flickr (CC BY 2.0)
---
In early 2011, following the wave of protests that swept through the Middle East and North Africa, including in Tunisia and Egypt, Yemeni youth started a revolution in February 2011 against the regime of then-president Ali Abdullah Saleh. The 2011 revolution tested civil society, but Yemeni civil society failed to help realize the demands and aspirations of the people, due to significant political, social, and geopolitical factors that existed long before the revolution.
Our organization, Mwatana for Human Rights, has consistently fought against the closing space in Yemen, but it has required an unrelenting persistence and strategic changes to the way we work. This is not because there is no civil society in Yemen. In fact, according to the World Bank, the number of officially registered non-governmental organizations (NGOs) in Yemen increased from 7,000 in 2011 to more than 8,300 in 2014. But these groups have largely been unable to engender meaningful change. Instead, the opposition political parties, known collectively as the Joint Meeting Parties (JMP), transformed the revolution from a popular uprising into a political dispute between their parties and Saleh's regime.
Partisan NGOs are largely to blame for the failure of civil society to harness the energy of the young revolutionaries. Opposition parties established NGOs under Saleh's regime acted as vocal proponents against the regime. However, as the former opposition coalition JMP came to power, those partisan NGOs began to work on behalf of the new President Hadi.
Partisan NGOs are largely to blame for the failure of civil society to harness the energy of the young revolutionaries.
The country entered a new cycle of armed conflict when the Houthis and forces loyal to former President Saleh seized control of Sanaa by force on September 21, 2014. Six months later, in March 2015, Saudi Arabia launched a military campaign with a coalition of nine Arab states against the Iran-backed Houthi-Saleh forces. Rather than their publicly declared purported purpose to "restore legitimacy in Yemen," the Saudis were solely interested in engaging in a proxy war against Iran.
Other age-old issues, including the lack of strategic planning and capacity to manage donor funds and interests, hindered civil society's effectiveness. And as a consequence of this ongoing war, the public space for NGOs, media entities, and political activism has progressively shrunk. The Houthis have conducted a massive campaign against their opponents, including the closures of many local organizations, and all sides have launched smear campaigns against journalists. Most of the active local organizations have had to shift focus to emergency and humanitarian assistance.
Mwatana has been consistently targeted with threats, detentions, and smear campaigns. Even though the group was established in 2007 (as "Hewar Forum"), it was not given a permit by Saleh's regime due to Hewar's critiques of the government and we were not officially registered until 2013.
Given Mwatana's core pursuit to document human rights violations of all parties to the conflict, our organization's staff work under difficult circumstances on a daily basis. For example, on March 4, 2016, the Houthis confiscated the passport of Abdulrasheed Alfaqih, Mwatana's Executive Director, at Sanaa International Airport, when he was returning from an international solidarity conference in Jordan with Yemeni journalists.
On June 14, 2018, Alfaqih was detained for around 10 hours at Bab al-Falaj security checkpoint, in the Marib governorate, which is controlled by President Hadi's forces. Just four days later, on June 18, 2018, the Saudi-led coalition and authorities of Seiyun Airport in the Hadhramout governorate confiscated the passports of Radhia al-Mutawakel, Mwatana's Chairperson, and Alfaqih, and later detained them while they were traveling for a workshop with the European Union. They were finally released after 12 hours of detention and intense local and international pressure.
Despite these immensely difficult circumstances and continued threats and attacks from all parties of the conflict, Mwatana has remained steadfast in its mission through strategic changes and creativity. In March 2015, when the armed conflict in Yemen began to escalate, Mwatana had a mere seven members; now, in 2018, it has expanded to around 70 full-time staff spread across 20 of Yemen's 22 governorates.
Mwatana depends on investigative research methodology, which means gathering and investigating information about human rights violations (committed by all sides) from primary sources including victims, relatives, eyewitnesses, and health workers. This methodology helps in building accurate cases based on concrete facts. We also gather any available supporting documents such as medical reports, and birth or death certificates of victims, and we take our own photos to document remnants of weapons and their impact on the communities. Evaluating security issues, however, is challenging because they are very dynamic, and the field team staff has sometimes found themselves trapped in areas under sudden air or ground attacks happen.
Mwatana does not receive any support or grants from groups, sides, or governments involved in human rights abuses in Yemen.
To circumvent the typical problems local Yemeni NGOs face and the impacts of the conflict, Mwatana has undertaken key changes in its strategic and day-to-day operations. These changes include enforcing the organization's code of conduct, including the concepts of transparency and participation, which have helped gain the trust of our donors and partners. More importantly, they have had positive impact internally of making staff members believe in Mwatana's work and believe that they are part of it. For example, Mwatana created other supporting units and management teams to focus on administrative and financial matters. These staff members do not necessarily have human rights experience, but their professional experience in management and resource administration has greatly bolstered the work of the researchers.
A newly created Project Unit focuses on fundraising and maintaining relationships with local and international donors and partners to secure funding and financial support for Mwatana's activities. Each unit's delineated mandate has enabled a cohesive organizational structure that promotes the sustainability of the work. One of the consequences that we never regret is related to the financial capacity. In our code of conduct, Mwatana does not receive any support or grants from groups, sides, or governments involved in human rights abuses in Yemen. We have rejected grants and partnerships several times because of this commitment—including grants fully funded by the US or UK governments, due to their support of the Saudi/UAE coalition—even when the organization was in need. While it was a hard decision to reject funds, we feel proud that our code of conduct is not just an accessory.
As a result, Mwatana has been internationally recognized, including a 2017 briefing at the UN Security Council, the first local Yemeni organization to address this body. In the briefing, Al-Mutawakel described the situation on the ground and set important demands related to the humanitarian and human rights situation.
There is no magic in Mwatana's particular strength. Instead, Mwatana's efforts have been the result of concerted, strategic decisions about how to operate effectively in a co-opted, nearly non-existent, civil society space. The organization's independence, commitment to accuracy, and adherence to the principles enshrined in its code of conduct have enabled Mwatana to continue effective and meaningful work, not only strengthening a weak civil society, but also holding warring parties accountable for their human rights violations.
An earlier version of this article was first published on Dejusticia's Blog.