Supreme Court breaks new ground around conscientious objection in South Korea
A Korean Supreme Court decision demonstrates long-overdue recognition of religious rights and the right to conscientious objection over military service.
---
---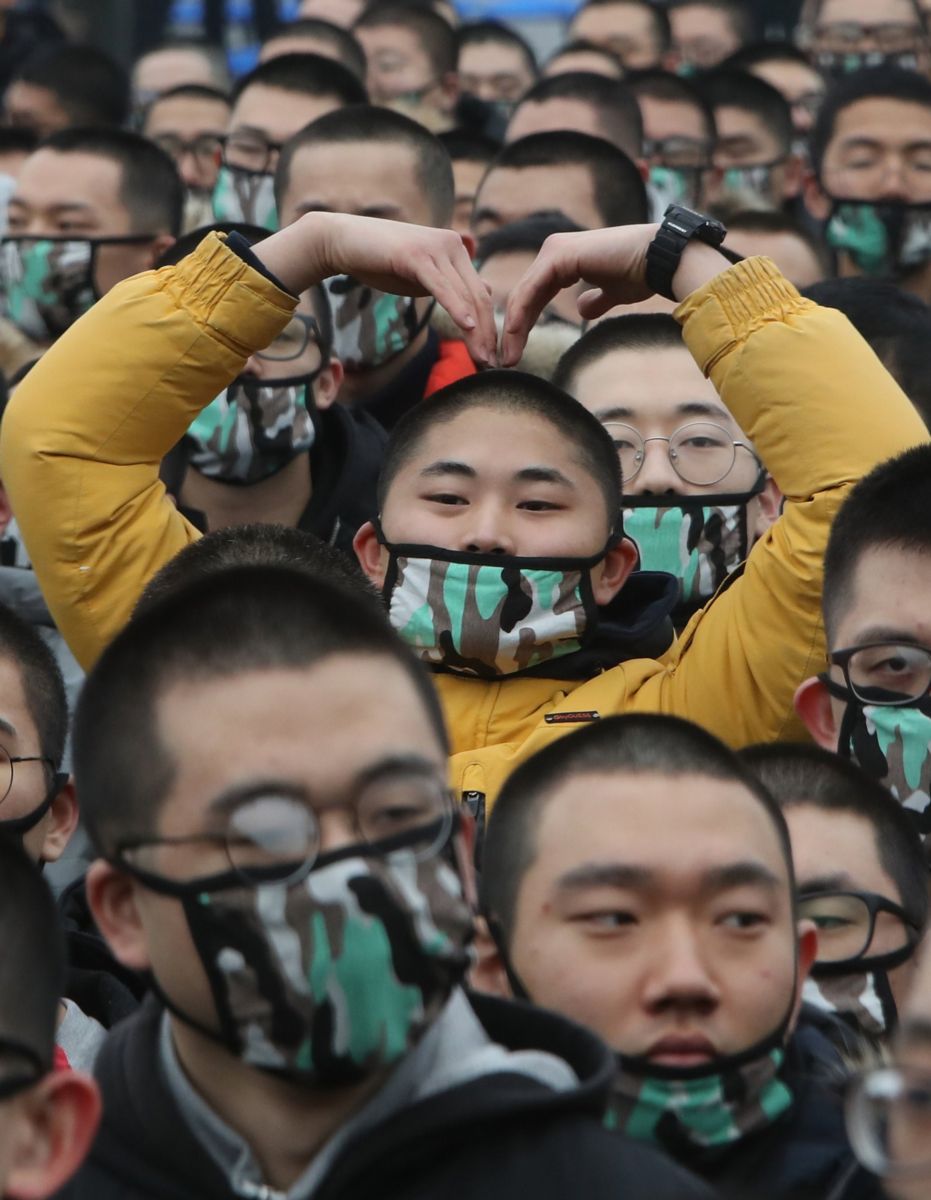 A new conscript forms a heart with his arms during a ceremony at a boot camp in the city of Nonsan, some 213km south of Seoul, South Korea, in January 2018, to mark the camp's reception of recruits for the first time this year. All able-bodied South Korean males are required to serve almost two years in the military. EPA/YONHAP SOUTH KOREA
---
Similar to the United States Declaration of Independence, under which all men and women are endowed with certain inalienable rights including life, liberty and the pursuit of happiness, under article 10 of the Korean Constitution, "(a)ll citizens shall be assured of human worth and dignity and have the right to the pursuit of happiness. It shall be the duty of the State to confirm and guarantee the fundamental and inviolable human rights of individuals."
These inviolable or inalienable human rights require that no citizen be subjugated to unwarranted discrimination or persecution based on, for instance, ethnic, racial, or religious grounds. Despite this overarching principle of equality, discrimination does exist in Korean society. For instance, in a recent survey, almost 70% of the non-Korean respondents stated they had experienced subtle and overt racial discrimination in Korea. In addition, in the realm of religious freedom, male Jehovah's Witnesses in South Korea faced jail time until recently because of their faith-based refusal to engage in violence, which in turn had led them to object to the country's compulsory military service.
Against this backdrop, as of 2015, the total number of those imprisoned for conscientious objection in Korea exceeded 18,000, while the vast majority of these inmates were identified as male Jehovah's Witnesses. This situation thus could be seen as a normative clash between one's freedom of religion or conscience, on the one hand, and one's duty to perform military service, on the other.
Previously, in 2004, the Court ruled that, unlike sickness or other causes beyond one's reasonable control, conscientious objection to the nation's mandatory military service on religious grounds did not constitute an exonerating "justifiable cause" under the Military Service Act (MSA). In addition, the highest court noted, permitting otherwise qualified males to dodge military service on the ground of conscientious objection alone would prove a recipe for disaster in terms of homeland security. Carving out such an exception was also viewed as inconsistent with the public's overall perception of fairness. This is because all able-bodied Korean male nationals are required to do military service in accordance with the MSA.
In the 2018 ruling, on the contrary, the entire bench of the Court noted that freedom of conscience, as enshrined in Article 19 of the Constitution, as an essential ingredient to the maintenance of human dignity, amounts to a "justifiable cause" under the MSA. Especially in the military service context, such an exonerating cause would permit one not to participate in military training or bear arms on moral or religious grounds. Being fluid in nature, the Court noted that a "justifiable cause" may only be ascertained on a case-specific basis by examining, among others, the specific, individual circumstances of a petitioner.
This situation thus could be seen as a normative clash between one's freedom of religion or conscience, on the one hand, and one's duty to perform military service, on the other.
In this regard, what influenced the Court's decision the most was the realization that conscience is not an amorphous concept but a tangible one, that can be expressed through one's words and deeds. In the context of conscientious objection, according to Korea's highest court, conscience primarily hinges on whether a petitioner's moral or religious belief is devout, firm, and sincere. This threshold issue can be verified by examining the petitioner's overall tracks of life, including his "family environment, childhood, school life, and social experience".
Moreover, considering Korea's current economic prowess and defense capabilities, giving the green light to conscientious objection was determined not to be detrimental toward preserving homeland security. On this point, the Court took into account the overall military strength of Korea, which boasts one of the largest standing armed forces in the world, the number of conscientious objectors in the country, which on average stands at roughly 600 males per year, the feasibility of establishing and managing a reliable screening system to identify rogue draft dodgers, and salient features of modern warfare as characterized by information and network centric tactics and strategy.
In the recent aftermath of the judgement, the Korean government pardoned 1,879 men who refused to perform military service for religious or other legitimate reasons. In addition, the MSA has been recently amended to provide for an alternative to military service, under which qualified applicants may engage in "36 months of alternative service at local correctional facilities, instead of joining the military". Meanwhile, according to a 2018 Gallup poll, while approximately 67% of the local respondents found it difficult to grasp the rationale behind conscientious objection to military service, 77.6% nonetheless supported introduction of an alternative to military service system. Given this transformative effect of the ruling, the 2018 decision is considered to be a long-overdue judicial recognition of the right to conscientious objection over military service as a constitutionally viable and noteworthy right.
In holding in favor of the petitioner, the Court considered collected opinions from all walks of life and comparative studies, including advisory comments and observations of the United Nations Human Rights Committee under the International Covenant on Economic, Social and Cultural Rights, among others. Based on such consideration, the Court noted that constitutional democracy may duly function only when the principle of majority rule is balanced with the protection of minority rights. The Court has thereby acknowledged the "freedom to differ" and evinced respect toward religious minorities.
What was envisioned in the 2018 landmark ruling is no doubt in conformance with core values cherished in a free and democratic society. Going forward, human rights actors now hope that the decision will serve as a useful normative platform to celebrate the universality of human rights and to embrace those members of not only Korean, but global communities with differing views and beliefs.
ORIGINALLY PUBLISHED: October 20, 2020
---
Joe Cho is a writer, thinker, and lawyer from Seoul, Korea. This piece is in loving memory of the author's late father who enjoyed often hearty, fireside chats around two Latin maxims, "Cogito ergo sum" and "Pacta sunt servanda".
---