Ultra-conservative speech as political capital: Chile's "Republican Party"
Chile has long held a moderate political tradition in Latin America, but recent trends point to alarming support for an ultra-conservative leader who will undoubtedly claw back human rights.
---
---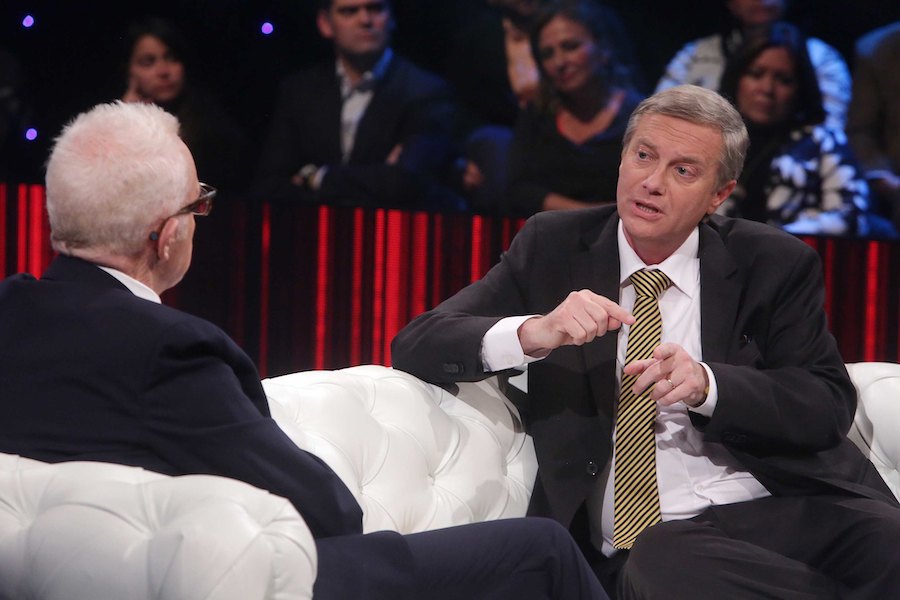 Photo: Fotos TVN/Flickr (CC BY-NC-ND 2.0)
---
Thirty years after the fall of the Berlin Wall, humanitarian rhetoric shows evident signs of exhaustion, and in some places it even seems to prompt rejection. Indeed, human rights instruments went from being a tool for progress towards peace and social justice to being the "scapegoat" ensuring that "criminal groups enjoy greater guarantees than honest people", that "migrants have more rights than nationals," or to "degenerate the traditional family", among many other such phrases.
Such disrepute has been capitalized by certain political groups—especially those who propose the return to a "heavy hand" approach—as the best way to correct course after so many years of instability.
Although Chile is considered a country with a moderate political tradition in Latin America, this tendency towards ultra-conservative rhetoric is not alien to our current political landscape. During the first days of June 2019, the so-called "Republican Party" was registered before the Electoral Service of Chile (SERVEL), thus taking the first step to becoming a legally recognized political party in the country.
This party is headed by the current parliamentarian José Antonio Kast, who consolidated his leadership as a political figure in the last presidential elections of the year 2017, surprising the public opinion by obtaining almost 8% of the electoral universe and fourth place overall. With this, Kast managed to overcome candidates representing parties with a long history in the country, such as Carolina Goic, representative of the "Christian Democratic Party", who barely earned 6% of the votes.
Under the slogan "a right without complexes", he declares himself an open supporter of Augusto Pinochet and affirms that he would pardon military members who are serving sentences for human rights violations.
After the elections, Kast continues to gain strength and today his political movement is poised as an increasingly relevant actor. Under the slogan "a right without complexes", he declares himself an open supporter of Augusto Pinochet and affirms without qualms that, under his mandate, he would pardon military members who are serving sentences for human rights violations perpetrated during the dictatorship. He also has no problems in boasting his restrictive vision towards migration or the initiative to repeal the law that allows abortion on three grounds, approved in the last period of former President Bachelet. In the same way, Kast proposes to militarize the conflict zones where the tension between the Mapuche people and the government is on the rise due to land disputes, and to eliminate any curricular content allusive to education with a perspective of gender and sexual diversity in schools, among others.
Meanwhile, all these ideas that shape what we could dub the "Kast Formula" are far from being his exclusive discourse. One needs only look at the global trend: Trump, Bolsonaro, Duterte, the Vox Party of Spain. These are all different labels for a common product: the return to ultra-conservative discourse as political capital. Those ideas that once seemed "dormant", or the legacy of a marginal group of people, are today able to mobilize millions of voters around the world.
However, the impact of this tendency may not be found only in foreign policy. Even the current Chilean government, led by Sebastian Piñera, seems to have found in this formula an "oxygen tank" in the face of growing disapproval of its administration.
Indeed, in this second period of President Piñera, the balance of his policies seems to have tilted from the center-right toward a more radical right. Gone are the days when the president shut down the "Penal Cordillera"—widely questioned as being a privileged detention center for military officers convicted of human rights violations—or allusions to the "passive accomplices" of the military regime, referring to those who had maintained an acquiescent attitude before the massive violations of human rights during that period.
Those ideas that once seemed "dormant", or the legacy of a marginal group of people, are today able to mobilize millions of voters around the world.
Proof of this ostensible change of heart is the current government's decision not to ratify the "Global Compact for secure, orderly and regular migration" and to refrain from supporting the investigation urged by the United Nations on one of the most controversial cases of human rights violations of the last time, related to the more than 27,000 extrajudicial executions under the Duterte government in the Philippines. In this way, and even when the ruling party has labeled Kast's political proposals as "extreme", what is certain is that the measures adopted by the executive power seem increasingly close to this ultra-conservative discourse.
At this point, we must ask: should this shift raise some red flags? After all, Jose Antonio Kast reached 8% of the votes in his presidential career, a percentage that, although surprising, remains a minority. On the other hand, democracy is just about that: anyone who has an idea should also have a legitimate space to defend it.
Although this last statement is correct, democracy must set boundaries and those limits should be given, precisely, by respect for the rights inherent in human nature. For this reason, ultra-conservative political movements are dangerous for current societies, because they are based on ideas incompatible with the space that other groups have won: they jeopardize people's freedom (whether regarding their reproductive rights or their freedom of movement), they delegitimize the status obtained by sexual minorities, and they defend totalitarian regimes that violated human rights in the most diverse ways during the previous decades. In other words, these movements engage in politics from a perspective that divides, that feeds "superiorities" based on belonging to a nationality, a race or an ideology, configuring a "them and us" divide from a vertical view.
Furthermore, and in the particular case of Chile, today it is hard to imagine that the apex of Kast's political career is represented by the success he obtained in the presidential race of 2017. On the contrary, far from being the ceiling of its movement, it seems to be a platform for a future that we cannot fully predict: the last poll on the 2021 presidential elections granted him 11% of the preferences, placing him in second place.
These are serious red flags indeed. It is imperative to be aware that these shifts are in our hands, and we cannot ignore the warnings. As believers in universal human rights, we must uphold the values of tolerance and historical memory, assuming responsibility for keeping us in constant reflection about the society we want to build. This is a task that involves us all.
Otherwise, the world could be nearing the point of no return towards the horror of yet another human disaster, such as those we witnessed throughout the 20th century.
ORIGINALLY PUBLISHED: August 27, 2019
---
Beatriz Romero Cruzat is a lawyer with a degree in Legal and Social Sciences from the University of Chile. She has worked as a consultant to the United Nations High Commissioner for Refugees (UNHCR) and as a legal consultant in the Department of Immigration and Migration (DEM).
---