Waorani women resist Ecuador's extractive agenda in the Amazon
Indigenous women in Ecuador are standing up to an extractive industry that has displaced vulnerable communities and concentrated land ownership in the hands of the wealthy and multinational corporations.
---
---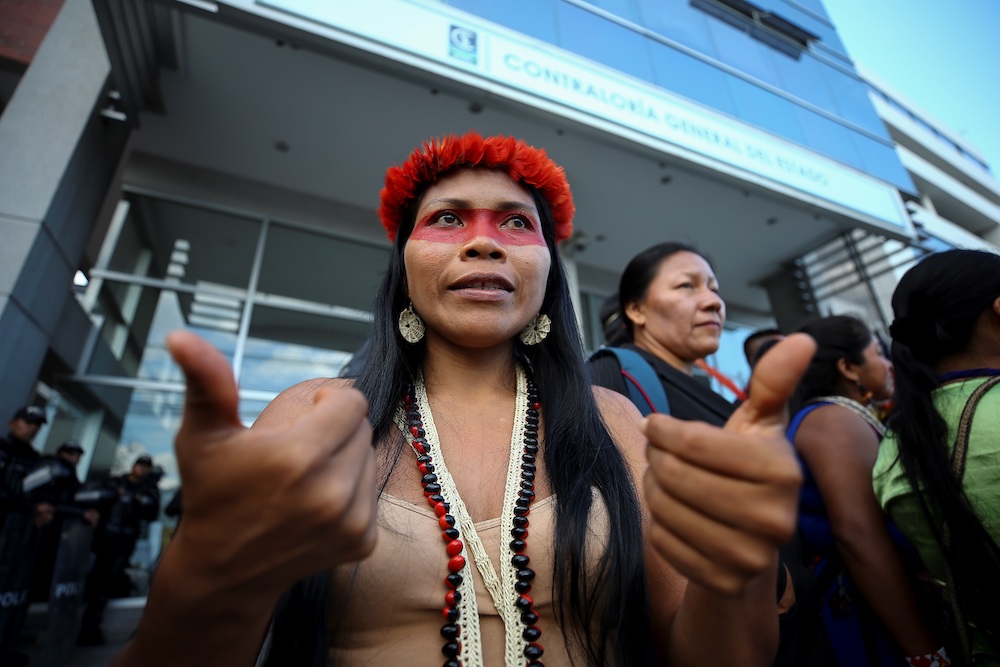 Jose Jacome/EFE
---
In September 2019, officials from seven Amazon countries met in the Colombian city of Leticia for the Presidential Summit for the Amazon. They had been summoned by President Iván Duque from Colombia after the Brazilian National Institute for Space Research reported a dramatic increase of 84% in wildfires in the so-called "lungs of the Earth". Presidents and high-level officials delivered speeches affirming their unwavering commitment to protecting one of the world's most critical ecosystems. Paradoxically, earlier that year, the Waorani people in Ecuador, led by Nemonte Nenquimo, sued the government to stop oil extraction in "Block 22", an oil site overlapping with 16% of their ancestral lands in Ecuador's portion of the Amazon.
So, how much impact do presidential speeches on commitment to the Amazon's conservation really have?
Amazon countries have been great advocates of extractivism for several decades. In the late 1990s, as neoliberal globalization brought about the elimination of trade barriers, the deregulation of the private sector, and the ease of labor and environmental standards in the global South, Latin American countries' dependency on raw material exports deepened. Large portions of land were cleared for extractive activities, from mining and oil extraction to large monocrop plantations and logging. By 2008, Ecuador had 35 oil blocks in its portion of the Amazon; between 1990 and 2006 soy production in the Brazilian Amazon tripled; and by 2010, at least 50% of Colombia's oil extraction activities took place in their Amazon share.
Extractives have been major drivers of deforestation, biodiversity loss and water pollution in the Amazon. They have also caused the displacement of ethnic and vulnerable peasant communities from their territories, resulting in the concentration of land in the hands of big landowners and multinationals. In fact, Latin America is the region with the most unequal land distribution in the world.
"It is time to stop acting as victims. We must all take responsibility for what is happening," avowed President Lenín Moreno from Ecuador at the Summit at Leticia. Yet Amazon governments have done a lot to avoid taking up responsibility for the Amazon's ecological and social crisis. This has inspired indigenous groups to take action to expose extractivist agendas.
In Ecuador, despite the latest governments' opposing ideological stances—Rafael Correa being a self-proclaimed Marxist and socialist, and Lenín Moreno openly embracing economic liberalization—they have both fostered extractivism in the Ecuadorian Amazon while creating their own exculpatory storylines to avoid being held accountable for deforestation and human rights violations.
Both Correa and Moreno fostered extractivism in the Ecuadorian Amazon while creating their own exculpatory storylines.
As he promoted a constitutional reform that embraced indigenous and nature rights, in 2012 Correa launched the "XI Southeast Round", a bidding process leading to the adjudication of 13 of the 21 oil blocks in the southern Amazon, adding to the already operative 35 oil blocks. "The most prosperous will be the people and communities, since not a dollar will go out until we have overcome poverty," said Correa at the Round's launch event, responding to those who pointed out the inevitable incoherence with his socialist, anti-imperialist discourse.
On the other hand, Moreno has disparaged indigenous groups' opposition to extractives, alleging they are co-opted by Correa, against whom he initiated corruption investigations. This was his answer to the massive indigenous-led protest that arose in October 2019, after he eliminated fuel subsidies as part of an austerity package agreed with the IMF. By doing so, Moreno dismissed indigenous people's demands to end years of economic injustice, corruption and land appropriation for oil exploitation.
In the face of such narratives to conceal responsibility for the Amazon's dramatic ecological state, Nemonte Nenquimo, a Waorani leader, along with a group of Waorani elders representing 16 communities from the Pastaza region, confronted the Ecuadorian government in court. In February 2019, they filed a lawsuit before the Pastaza Provincial Court claiming that the 2012 consultation process to adjudicate the Southeast Round's "Block 22" violated their rights to self-determination and to a free, prior and informed consultation. In July, after months of tumultuous proceedings and hearings, the Court issued a landmark ruling in favor of the Waorani, declared the 2012 consultation void and suspended the adjudication of Block 22.
It is not a coincidence that the lawsuit had a woman as the main plaintiff. Waorani women have been at the forefront of their community's struggle to protect their ancestral lands, and this victory against the Ecuadorian government's extractive policies in the Amazon was not an exception.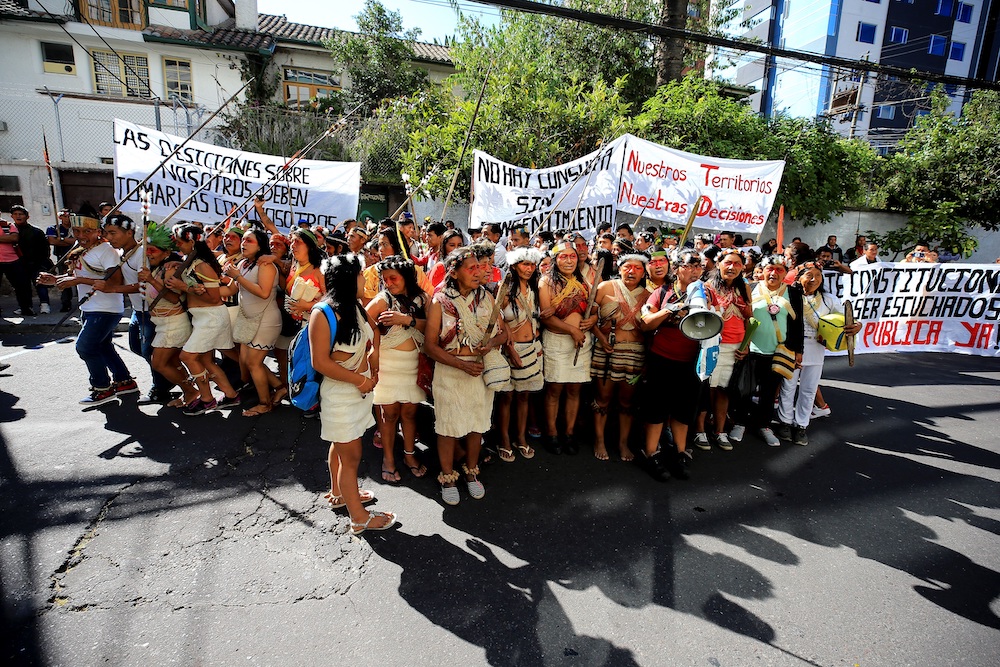 Waorani women protest in the course of the litigation. Photo by Jose Jacome/EFE.
The litigation was launched after years of "territorial mapping", an instrument with which the Waorani created their own maps, accounting for all the diverse forms of life that would be endangered by oil extraction. These maps not only were crucial pieces of evidence in court but also exposed the narrowness of government maps, which portrayed indigenous territories as polygons and conveniently ignored all non-human life and ecological networks present in the Amazon rainforest.
Waorani women have been at the forefront of their community's struggle to protect their ancestral lands.
To produce such maps, Waorani communities learned to use different information and communication technology tools—from video cameras and tape recorders to GPS and mapping programs—and spent months doing fieldwork deep in the forest. Women, as caretakers of the family and the forest and holders of ancestral knowledge, played different key roles: they provided the care work that made the long stays in the forest possible, while also leading and participating in the mapping expeditions. "Men hunt and know a lot about the territory, but we have been the compass along the journeys", says Norma Nenquimo, a Waorani woman and active participant in her community's territorial defense process. This has inspired more women to participate in territorial mapping expeditions. Alicia Salazar, from the Siona people, notes that in the territorial mapping being currently conducted by her community, women are increasingly interested in taking part in the fieldwork, and as they learn to master technological tools, they have gained new ways to raise their own voices to defend their territory.
The courtroom was also a field for Waorani women's resistance. Faced with unfair and discriminatory treatment by the judge in appellate proceedings, Waorani women interrupted the hearing to stand up and sing, carrying their palm-woven baskets and clay pots, until the hearing was suspended and they were heard. "In our resistance, women are at the frontline because we are a voice for peace, we are mediators with other nationalities and authorities", Norma clarifies. Indeed, the peaceful but unyielding act of singing amid the ritualism and formality of a judicial hearing is a clear demonstration of how Waorani women have taken the lead in their communities' fight to protect their territories.
The Waorani people, with women at the forefront, have laid a fundamental bedrock for indigenous resistance to extractivism in the Ecuadorian Amazon. Their successful litigation has empowered the Kichwa and Sapara people to defend their territories and has put the whole Southeast Round into question. This historic win not only represents indigenous peoples' long-standing fight against neglect and colonialism—it is also a reminder of how much present and future generations, whose lives amid a climate crisis depend on the Amazon's ecological functions and services to the world, are in debt to their resilience.
ORIGINALLY PUBLISHED: March 17, 2020
---
Vanessa Daza Castillo is from Colombia, based in Bogotá, and works as an environmental justice researcher at Dejusticia, a human rights think tank, and as a feminist activist with Siete Polas.
---