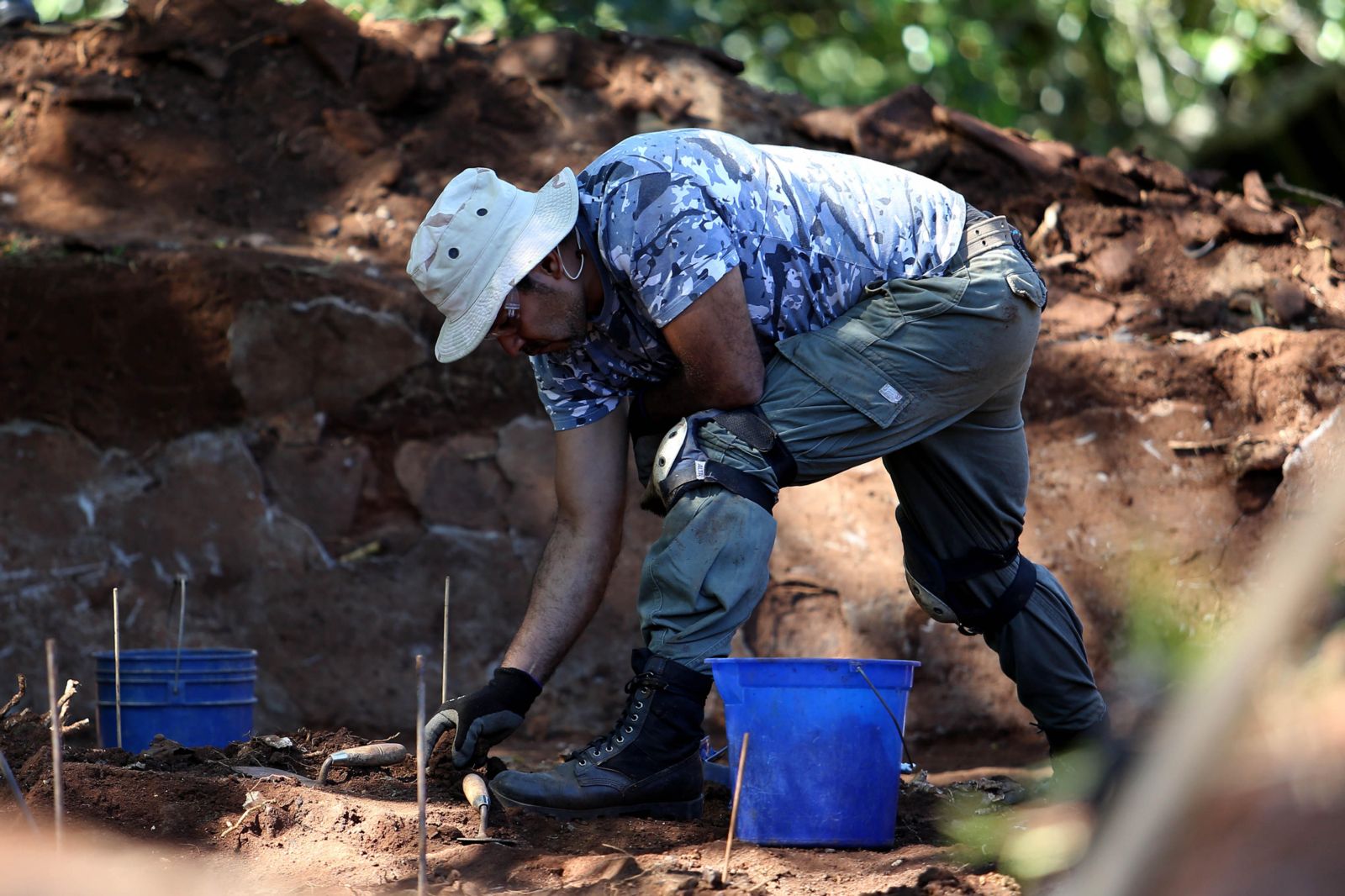 Foto: EFE/RODRIGO SURA
Exhumations of about 50 victims of a massacre perpetrated by the Salvadoran Army in 1981.
---

Advocates and scientists have long partnered to develop standards for documenting exhumations or torture, but demands for more data and the need to document complex violations are pushing researchers to find new ways to establish facts. The introduction of novel methodologies into fact-finding and advocacy has brought new opportunities for advocates to collaborate with researchers and scientists in academic disciplines—from hydrologists to anthropologists, geologists, and geographers. The resulting partnerships help advocates apply new methods and draw on specialized knowledge.
Collaboration between scientists and human rights advocates can be daunting, however, due to different methodologies, standards of proof, and research goals. These partnerships require awareness of the unique challenges of bridging university-based and practice-based research. Drawing on the experiences of On-call Scientists, an initiative of the American Association for the Advancement of Science, and the Human Rights Methodology Lab—a project that workshops research methods and practices—we discuss four challenges of these collaborations and provide recommendations.
Collaborating on research questions
Despite the many ways in which research and advocacy could benefit one another, human rights practitioners may not know how academic researchers could support their work—they may know when they need a water-quality expert, but might not as readily see the benefits of partnering with a social scientist or a biostatistician. Economists, for example, can help advocates assess the potential budgetary impacts of policy changes. But human rights researchers must first be aware of the kinds of questions economists can answer. Scientists, in turn, will not be able to design research agendas that benefit advocacy unless they are aware of practitioners' needs and priorities.
Partnerships between academic and practice-based researchers require open, dialogue-driven research question development in which advocates can explain the kinds of challenges they encounter, and scientists can talk about the kinds of questions they can answer. For example, a human rights group may initially seek one kind of scientific expertise, but after consultation find using a different type of expertise would have more impact. Early dialogue will also maximize the impact of the research by creating a shared understanding of the inputs needed for research and how the research will be used.
The experience of On-call Scientists also indicates that advocates appreciate opportunities to get informal advice from and brainstorm with experts, before (or instead of) committing to a long-term collaboration. Based on this feedback, AAAS has now created a Hotline that allows human rights advocates to consult with a core group of experts for specific one-off questions or informal conversations.
Understanding research impacts
Academics and practitioners may also see themselves as pursuing research for different purposes. Academics are often hypothesis-oriented while human rights practitioners are focused on advocacy, which leads to different forms of impact assessment. Although both will emphasize informed consent, practitioners are also focused on the impact the research will have on their advocacy and on the community or groups it is designed to serve. Academic researchers, in contrast, assess and manage the risks of research based on harms to research subjects and may not be attuned to the impacts the research might have on the larger community and on advocacy goals. In some fields, academic researchers may also worry that the advocacy context could politicize their research.
These challenges can be addressed by discussing the project research responsibilities, stakeholder involvement, and possible positive and negative impacts early on. Successful collaborations have developed innovative solutions such as an ethics review board that includes both ethicists and esteemed people in the community.
Managing use and control of information
The different ways in which human rights and academic researchers think about the purpose of their work will affect expectations about how information is shared. Scientists and advocates want to share their research, but advocates may need information to be shared in different venues and at different times. Academic researchers typically publish results after the research is complete, while practitioners may want to share results with the media and other constituencies in ways that complement their advocacy timeline. Affected communities, in turn, will want to maintain ownership and control of their data and be centrally involved in discussions about sharing the results of research. Successful partnerships will develop a strategy for use and control of information in advance.
Timing
Another issue that academic-practitioner partnerships must address is the timetable and rhythm of research. Grant deadlines, court dates, and government timetables often drive an advocate's research agenda. These plans may also be interrupted at a moment's notice in order to respond to unforeseen deadlines or opportunities. Scholars, in turn, typically plan their work up to a year in advance to secure funding and resources; they also operate on an academic calendar, which can affect their availability and that of their students. Academic deadlines are also often much more flexible than those faced by practitioners.
These tensions can be minimized by advance conversations about expectations and timing. Each partner should understand the scheduling needs of the other; together, they should discuss a proposed timetable, plans for unanticipated changes to that schedule, and contingencies that might limit available resources, such as student help, outside of the academic year.
Recommendations
We suggest three things that can help navigate collaborations between practitioners and academic researchers.
1. It can be helpful for someone to be the "knowledge broker" or intermediary between the advocates and academic researchers, and potentially also with affected communities. The role of a knowledge broker is increasingly common in both academic and practice-based research for structuring communication and feedback with communities affected by research. Several successful On-call Scientists projects have involved one or more people skilled in building trust and facilitating communication between researchers, advocates, and community leaders. For example, in 2017 FIDH, the Pico Bonito National Park Foundation (FUPNAPIB) and the Honduran Center for the Promotion of Community Development (CEHPRODEC) published their collaborative research and recommendations aimed at preventing the negative human rights impacts expected of a proposed hydroelectric dam. FIDH coordinated the efforts of a consulting pro bono scientist, Cecilia G. Flocco, to frame the research questions related to environmental impacts, then incorporated the information into the joint work of the NGOs and affected communities in Honduras.
2. Advocates and academic researchers should negotiate roles and responsibilities before undertaking a partnership. AAAS provides guidelines that offer a framework for these discussions. Communicating clearly at the outset, and maintaining those channels of communication, will help partners to tackle problems as they arise.
3. Academic institutions can promote partnerships with academia by rewarding service work by their researchers. Recognizing and rewarding this work will help increase the ability of academic researchers to meet the research needs of practitioners.
As the examples above illustrate, academic-practitioner partnerships have already generated innovative ways to document crimes against humanity, address environmental harms, and close gaps in official data that marginalize vulnerable populations. Understanding the potential challenges and addressing them early will allow the partners to dedicate more of their limited time and resources to solving human rights challenges.