Digital activism: empowering women, creating change and demanding human rights
Movements like #MeToo demonstrate the power of solidarity and collective digital action, but they also reveal that feminist activism is not a monolithic movement with a shared mission.
---
---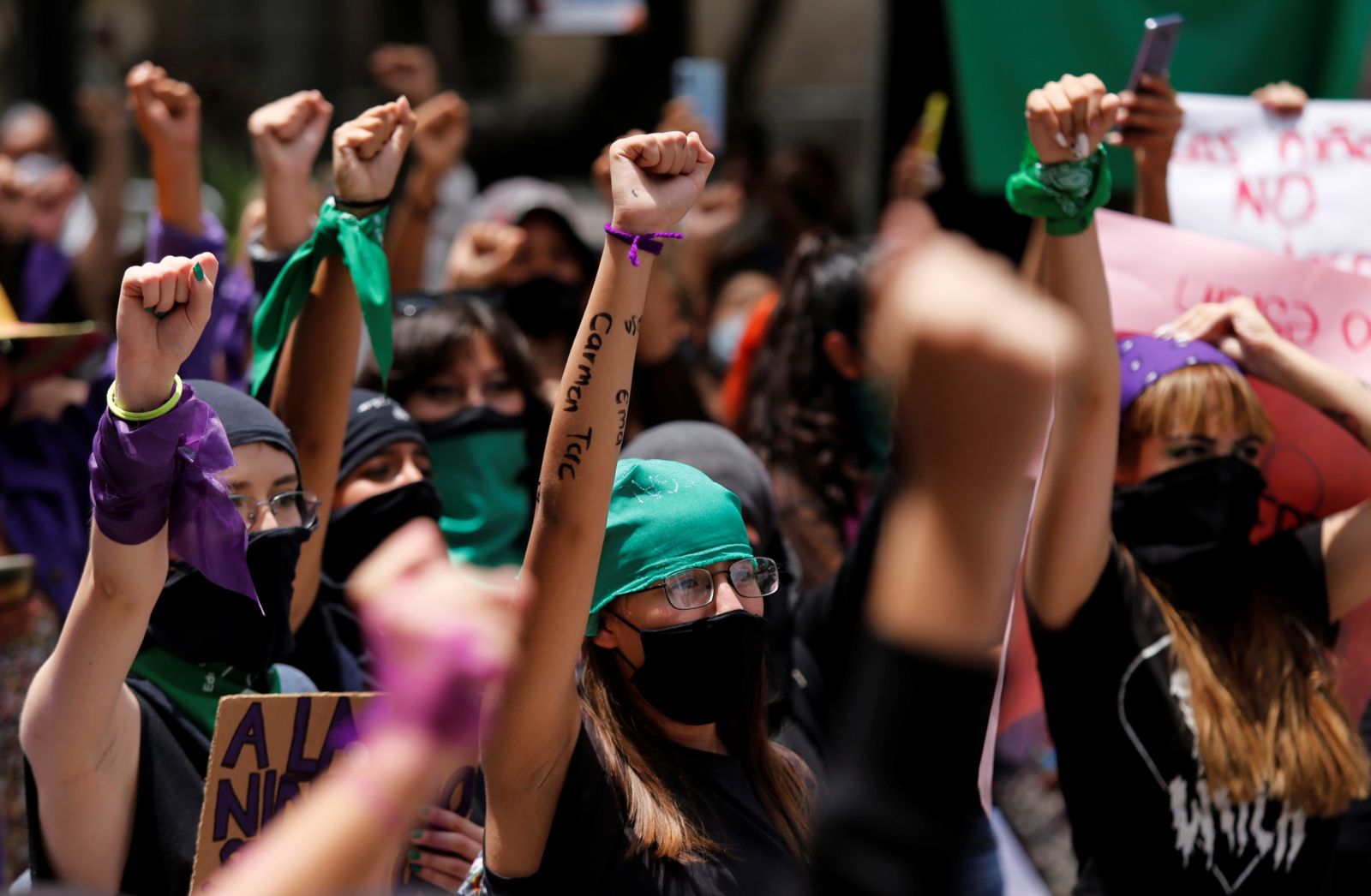 In Guadalajara, hundreds of women called for justice with an antigrita as they marched through the city streets on Aug. 20, 2020. The antigrita movement spread throughout the country digitally and in person to protest sexual violence and demanded for justice a 10 year-old girl who was sexually absused by a member of the police force in Puerto Vallarta. EFE/ Francisco Guasco
---
"There's nothing that men fear more than the anger of any woman…"
-Baroness Helena Kennedy, Women, Peace and Security Conference,
Binghamton University Keynote, 23/4/20
The last decade has seen huge growth in the use of digital technologies supporting the activist endeavours of many individuals and organisations. Such activism has taken numerous forms, from raising awareness about specific issues, advocacy, and mass mobilisation, to a call for action and creating reaction. In particular, women and girls worldwide of all ages have taken the digital mantle to create movements and advocate an array of messages promoting, and demanding, their rights. Moreover, Covid-19 has seen the proliferation of such digital activism in a unique era of colossal global virtual dependency at a time where the world sees physical lockdowns and restriction of movement.
This online revolution is part of a phenomenon referred to as networked feminism or cyber-feminism: propagating and mobilising the rights and voices of women and girls across the globe via a range of digital platforms. These activists are leveraging the digital world to capture the intersectionality, diversity, multi-lateral, and nuanced range of feminist agendas. For many, online platforms have become an integral and evolving space for both activism and feminism to come together and manifest. The feminist praxis of inclusivity, voice, empowerment, sisterhood, and engagement is at the heart of this digital generation of feminist human rights activism.
The power of digital activism is profound, providing an avenue for women and girls to come together, connect, expand, and share their vision. Digital networks allow for low cost, swift, inclusive, and far-reaching campaigns that span the globe. There have been a whole host of digital campaigns led by trailblazing feminists, leading to an array of victories. Clearly, one of the most influential and widespread digital campaigns of the last decade has been the #MeToo movement, started in 2006 by Tarana Burke, an activist from the Bronx who wanted to break her silence about sexual assault and provide a space where victims could find solidarity and support. A decade later in October 2017, the movement grew exponentially to expose the widespread allegations against Harvey Weinstein. The campaign has proliferated to over 85 different countries from the global North to the global South and has changed key discourses on sexual harassment and assault. The movement has left a legal and advocacy footprint that has involved all genders in the debate about sexual harassment and assault as well as consent.
These activists are leveraging the digital world to capture the intersectionality, diversity, multi-lateral, and nuanced range of feminist agendas.
While the #MeToo movement illustrates digital activism that galvanised change, the movement has been disparate in its scope and impact globally. Many critics argue that such campaigns damage the fight for more rigorous implementation of the rule of law, gender equality, and ending gender-based violence. Some also argue that the movement lacks intersectionality, limiting the voice of the young and those from the global South, as well as not fully understanding the wide range of victim experiences. Whilst such movements demonstrate the power of solidarity and collective digital action, they also reveal that feminist activism isn't a monolithic and collective movement with a shared mission.
Whilst digital activism has empowered many women globally and created positive change, it has also provided a vehicle for global voyeurism and spectatorship, where digital citizens observe, comment and make judgements inciting prejudice, hatred and violence. Just as digital activism has grown, so too has cyber-hatred, trolling and bullying, which have devastating effects on the individuals as well as a campaign. Feminist campaigns bring with them the anti-feminist backlash of vitriolic and pervasive reactions.
It is important that digital activists do not become absorbed into a virtual vacuum that is disconnected from the physical world of activism. There is a wonderful world of grassroots activism that is being undertaken by courageous individuals across the globe whose stories are never captured. Moreover, there are many marginalised and vulnerable people living in abject poverty and conflict that don't have access to a digital world to highlight their plight and fight for their rights. In addition, approximately 41% of the global population still do not have regular access to the internet, illustrating the limited reach of digital activism in campaigns like #metoo. In these communities, grassroots, physical activism is vital in fighting for the rights of the most vulnerable global citizens and must not be forgotten.
Whilst such movements demonstrate the power of solidarity and collective digital action, they also reveal that feminist activism isn't a monolithic and collective movement with a shared mission.
Feminist digital activism demonstrates the powerhouse collective of bright, determined, and impassioned women who aren't afraid to take up causes. However, much more is needed to ensure that this form of activism is sustainable and truly promotes an enduring commitment to fighting for rights of women and girls. Such digital campaigns must strongly align to grassroots causes, communities and activism. There is power in creating sustainable strategies that sees a dynamic fusion of digital and non-digital platforms to champion the many causes of women and girls. At its core, activism has a social tangible fabric that nurtures its very grow and being, and this must not be lost, but captured by digital activism.
The year 2020 marks the twenty-fifth anniversary of the Beijing Platform for Action with a focus on the progress towards gender equality. However, COVID-19 has exacerbated the plight of women in all spheres of their lives. The women, peace, and security discourse around COVID-19 clearly highlights the need for collective action and response to the varied needs of women and girls during the epidemic and beyond. UN Secretary-General António Guterres clearly stated: "put women and girls at the centre of efforts to recover from COVID-19".
It has never been so vital to position the female voice at the centre of all debates about the impact of COVID-19 on the lives of women and girls. The pandemic has heightened the reliance and importance of digital platforms as mechanisms for state accountability, visibility, connectivity, activism, solidarity and resistance as well as demanding action. The time is now to utilise those platforms to ensure global action and response to the plight of women and girls during and after this pandemic.
---
This article is a part of a series on Women, Peace, and Security (WPS) produced in partnership with the University of Binghamton, based on a conference held in April 2020.
ORIGINALLY PUBLISHED: September 22, 2020
---
Dr. Sunita Toor is a principal lecturer and head of human rights at the Helena Kennedy Centre for International Justice, Department of Law and Criminology, Sheffield Hallam University, UK. She is the leader of the Justice for Her project to fight gender-based violence in India.
---