Reflecting on the human rights situation in Asia has become a dismal exercise. While it is difficult to give exact numbers—since many cases go unreported—based on our meetings and interviews with human rights workers on the ground, enforced disappearances and extra-judicial killings seem to be on the rise. In addition, modern day slavery, inhumane treatment of refugees and the return of authoritarian and repressive regimes are common across the region. In that context, being allowed to say what you please and having the right to come together with others might not seem to be crucial priorities. But without freedom of expression and freedom of assembly and association, activists will never win the struggle for human rights.
This year the Asian Forum for Human Rights and Development (FORUM-ASIA)—a network of 58 human rights organisations in 19 countries in Asia—is celebrating its 25th anniversary. In preparation for the anniversary publication and campaign, we consulted and interviewed approximately 120 human rights defenders from across Asia and beyond. Many very serious human rights concerns came to the fore, but the challenge most often mentioned was the shrinking space for civil society, and in particular the need for the freedom of expression and freedom of assembly and association to counter it.
Threats and abuse of power, as well as the adoption of laws and regulations that limit these specific freedoms for organisations and individuals critical of those in power, have become common practice. Contributors highlighted that while the trend is worse in authoritarian regimes, several countries that claim to be democracies are also increasingly cracking down on civil society. Among the principal tools that governments use to silence civil society are the criminalisation of dissent and bolstering national security discourses.
Speaking in public and raising our voices in unison are often the only weapons we have in the fight for human rights.
New restrictive laws regulating non-governmental organisations include: obligations to register and constantly report on activities and finances, restrictions on funding from abroad, and limits on who non-governmental organisations are allowed to associate with. Governments have fined, prosecuted and expelled human rights organisations based on these laws. When organisations are not able to operate legally and/or have their funding removed, and authorities stifle individuals from speaking out, there is little to no ability to fight back.
For human rights defenders, speaking in public and raising our voices in unison are often the only weapons we have in the fight for human rights against those with more power and resources. But in Asia this comes at a high cost. Authorities across the region are recognising the threat of free speech and free assembly: countries like India, Malaysia, and Cambodia have all introduced laws and regulations that not only restrict the freedoms of expression, assembly and association, but also have made it nearly impossible for human rights defenders to do their work.
An increasing number of people also disappear or are killed for using their rights to speak up or gather together. Across the region, the number of enforced disappearances and extra-judicial killings that can be directly linked to people not allowing themselves to be silenced is increasing. Recent examples include bloggers in Bangladesh who are under attack, Sabeen Mahmud in Pakistan who was killed after hosting a public event on people missing in Baluchistan, and the murder of land rights activist, Chai Bunthonglek, in Southern Thailand.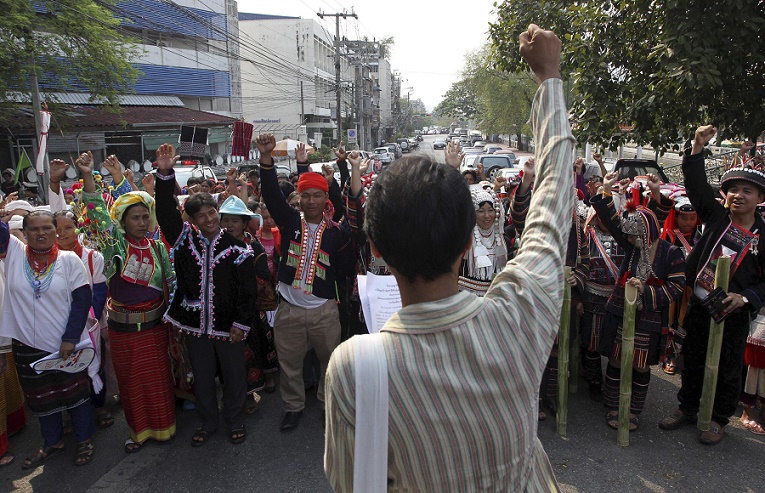 Press Association Images/Apichart Weerawong (All rights reserved)
Thai minorities demonstrate for government recognition and protection of land ownership in Bangkok.
---
Recognising these threats, one of the things we do at FORUM-ASIA is offer protection assistance to human rights defenders at risk. In 2009, we formed a Protection Plan that aims to provide timely and efficient assistance to human rights defenders at risk in Asia. We do this through temporary relocation and other types of urgent assistance, as well as trial observation missions. The assistance under the Protection Plan is temporary in nature, and the person applying for assistance must be from one of the member/partner organisations of FORUM-ASIA or must work on human rights issues together with FORUM-ASIA's members/partners organisations in Asia. In 2014, FORUM-ASIA assisted six human rights defenders/women human rights defenders and one community group at risk through this program, and in 2015 we assisted 18 individuals and one community group. Due to new funding and partnerships, we expect the number to be even higher for 2016.
We also encourage much-needed collaboration by bringing human rights activists together, by themselves or with other stakeholders, to share, discuss and address burning human rights issues, among them violations related to the freedoms of expression, assembly and association. Over the years, FORUM-ASIA has organised such meetings with participants ranging from indigenous peoples to UN Special Rapporteurs.
However, it is not enough to merely bring people together. It is equally important to ensure that human rights defenders have the knowledge and skills needed to claim their rights effectively, making full use of all the national and international human rights instruments and mechanisms at their disposal. FORUM-ASIA does so by increasing the capacity and knowledge of its members, partners and staff on their rights through trainings, publications and exchange programmes.
Everyone who supports human rights defenders must become much more concerned, observant and critical of situations in which free speech and the ability for activists to come together are being threatened. Other governments, donors, inter-governmental organisations, international human rights mechanisms, and most importantly, regular people, need to recognise the importance of these rights, and to speak out when they witness a crackdown on human rights defenders. For this purpose, FORUM-ASIA engages with stakeholders at the national, regional and international level to pressure decision makers to respect and protect these freedoms.
Standing up for the freedoms of expression, assembly and association might not always seem to be the most exciting of struggles, particularly in a context such as Asia where so many grave human rights violations occur. But failing to do so entrenches a pathway to further escalation of violations and the dismantling of democracy; curtailing these rights degrades people and takes away a part of their humanity. In that sense, free speech, assembly and association are some of the most fundamental and enabling rights, and we must fight to protect them.