According to a recent report by the Pew Research Center, violence and discrimination against religious groups by governments, as well as social hostilities by a variety of actors, have reached new heights in all regions except the Americas. This bleak picture is supported by the findings of the latest report on religious freedom by the US State Department, which concluded that 2013 saw "the largest displacement of religious communities in recent memory," with millions of individuals from all faiths "forced from their homes on account of their religious beliefs" in "almost every corner of the globe."
2013 saw "the largest displacement of religious communities in recent memory," with millions of individuals from all faiths "forced from their homes on account of their religious beliefs" in "almost every corner of the globe."
These problems are not new. Combatting religious intolerance and discrimination has been one of the international human rights system's top priorities since the very founding of the UN. However, the sensitivity of the subject matter has consistently acted as a barrier to progress. It took almost four decades of negotiation to agree on a (weak) international instrument - the 1981 UN Declaration on Religious Intolerance. However, the Declaration was never implemented and today remains largely forgotten.
Worse, at around the turn of the century, ideological differences between states over the nature of the problem of religious intolerance and the precise role of the UN, caused the international community to fracture into two opposing camps. One, led by the Organisation of Islamic Cooperation (OIC), sought to restrict freedom of expression when that expression would be used to "defame" religions or certain religious adherents. A second, led by the European Union (EU), sought to underscore the central importance of freedom of religion or belief as a central tenet (in addition to full respect for other core freedoms such as free speech) of international efforts to combat intolerance.
Against this unhopeful background, in March 2011 a group of OIC and western states came together to propose a new approach: a consensual approach premised on reconciling the positions of the two "camps". This became Human Rights Council resolution 16/18. Together with its intergovernmental implementation mechanism (the Istanbul Process) and associated efforts to understand the obligation to prohibit incitement (i.e., the Rabat Plan of Action), it provides the main UN global policy framework for combatting religious intolerance, discrimination, incitement to violence and violence against persons based on religion or belief.
Almost four years on, UN consensus around the 16/18 framework is at a breaking point. Rather than working together to implement the 16/18 action plan, states have returned to pre-2011 arguments over the nature of the problem, the correct role of the international community, and whether the solution to intolerance lies in strengthening the enjoyment of fundamental human rights or in setting clearer limits thereon.
These divisions have re-emerged, in large part, because of conceptual confusion among policymakers about what implementation of resolution 16/18 means and what it entails. Linked to (and indeed flowing from) this conceptual opacity, states—and especially states from the Western Group and the OIC—argue over whether resolution 16/18 is being effectively implemented or not and, if not, who is to blame.
A recent policy report by the Universal Rights Group suggests that expectations of measurable policy shifts in UN member states as a result of resolution 16/18 should be tempered by an understanding that the primary political impetus behind 16/18 was international ("the Geneva game") rather than domestic.
Nevertheless, the 16/18 framework and the Istanbul Process offer a useful and, in theory, a workable framework for combating religious intolerance. Indeed, our report identifies a number of concrete policy shifts, in western states, OIC states and elsewhere, which have occurred in-line with parts of the 16/18 action plan. This includes the establishment of government mechanisms to address inter-religious tension and promote understanding/dialogue; and an improved willingness, on the part of political and religious leaders, to speak out against incidences of intolerance (and an improved sophistication with which they do so).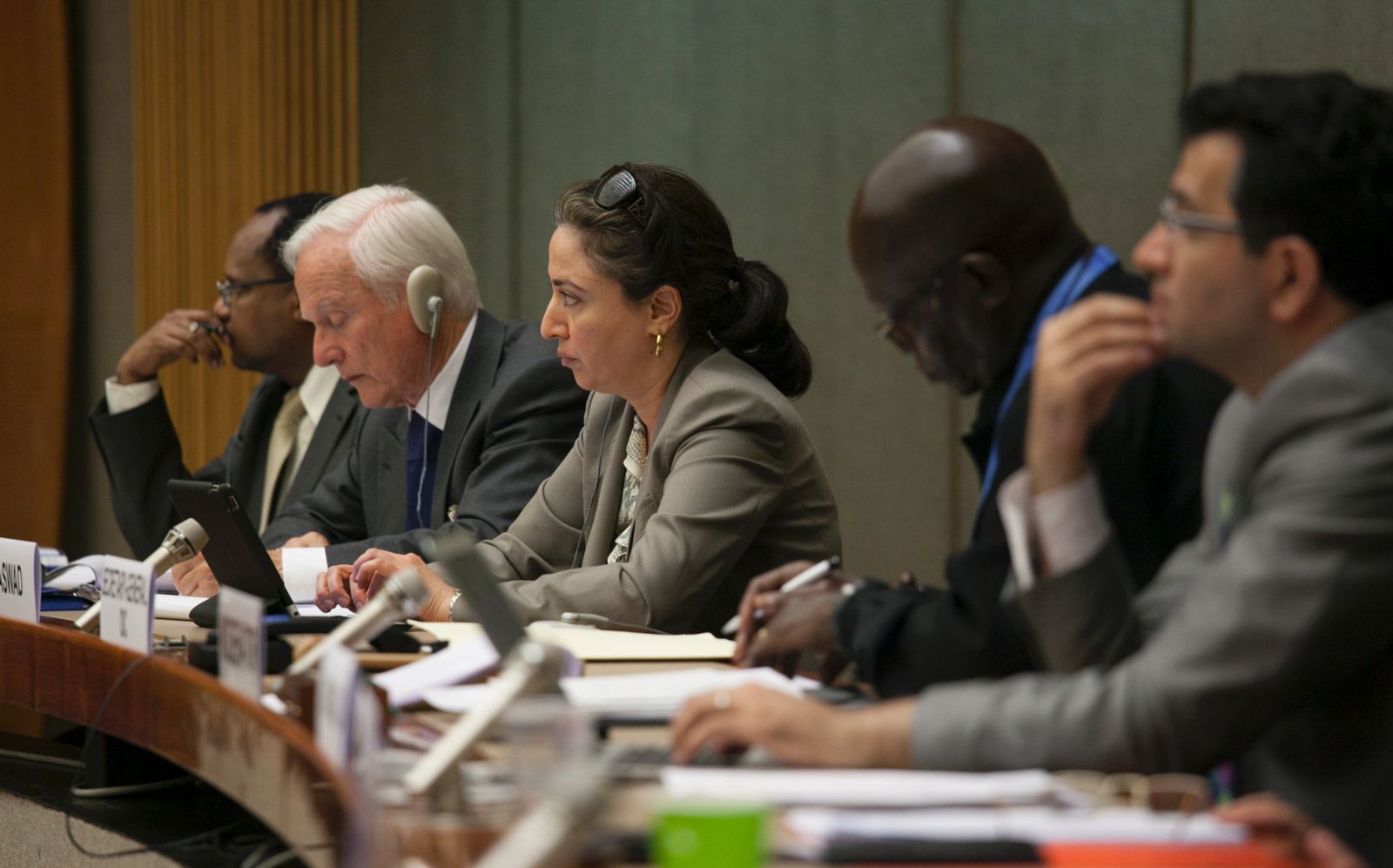 Flickr/United States Mission Geneva (Some rights reserved)
An Istanbul process meeting in Geneva. The 16/18 framework and the Istanbul Process offer a useful and potentially workable framework for combating religious intolerance.
---
Yet our analysis also shows that, despite these positive steps, religious intolerance and discrimination continue to get worse in almost all parts of the world. In 2012, the year after the adoption of resolution 16/18, social hostilities involving religion reached a new peak, with 33% of countries worldwide recording "high" or "very high" levels of intolerance—up from 20% in 2006/7.
When looking at the underlying causes of the continued spread of intolerance and violence related to religion or belief, our report offers two key findings.
First, we find a strong correlation between incidences of religious intolerance in a country, and domestic levels of freedom of religion and freedom in expression. States that place high restrictions on freedom of religion or belief also tend to place high restrictions on freedom of expression, and in states where both these core freedoms are restricted, incidences of religious intolerance tend, on average, to be much higher.
Second, promoting respect for these two fundamental rights is not, on its own, enough to effectively combat intolerance. For example, social hostilities in the EU increased by over 100% between 2007 and 2012, despite the bloc scoring well on both freedom of speech and freedom of belief. This highlights, in our view, the importance of states adopting a mix of different policy measures—as prescribed by resolution 16/18—if they are to strike a telling blow against religious discrimination and intolerance.
In March this year, member states of the Human Rights Council will come together to debate the effectiveness of the resolution 16/18 framework. Some states will argue that it is not fit for purpose and should be abandoned. That would be a historic mistake. The principal problem with current UN strategy is not one of policy formulation, but rather one of policy implementation. States should therefore seize the moment to recommit to resolution 16/18, the Istanbul Process and the Rabat Plan of Action, and reapply themselves to its full – and urgently needed – implementation.