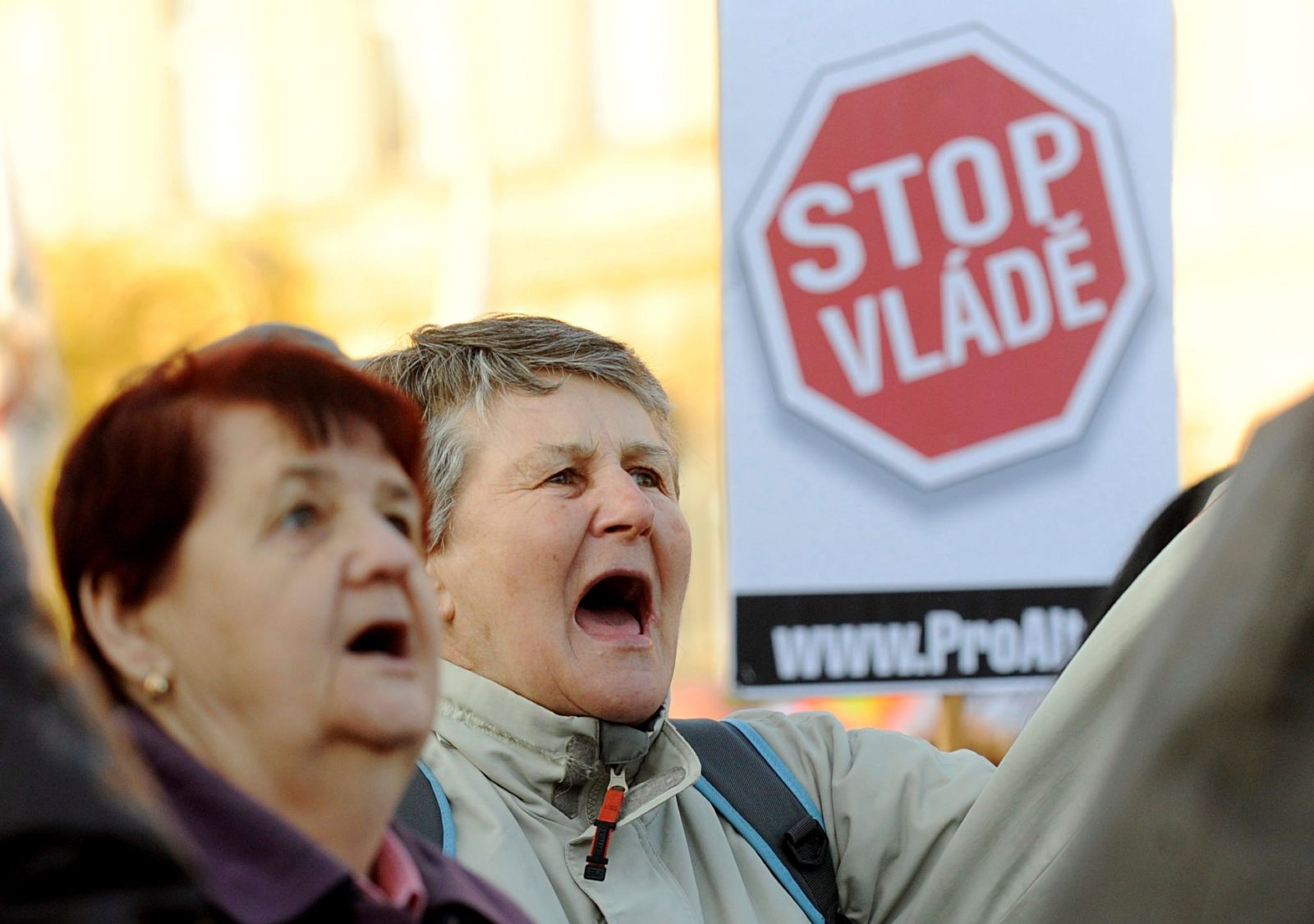 Photo: EPA/EPA
---
"The government is focusing on NGOs now, of course not in a good way", says Denisa Kramářová, a lawyer at the Czech NGO League of Human Rights.
She was responding to suggestions by some in the Czech Republic's government that a whopping €116 million (US$ 135 million) be slashed from annual funding to non-governmental organizations (NGOs). That represents more than a 20% cut in the yearly budget.
As elections approach in early October, Czech politicians from the governing ANO party and the far-right Freedom and Direct Democracy Party (FDDP) have made it clear that they want the cuts to be aimed at what they say are "NGOs with a political agenda". FDDP's Lubomír Volný also included in this category of "political" NGOs the organization People In Need, which is a Czech nonprofit well known for providing humanitarian support.
Increasingly, public figures across Europe are twisting the meaning of "political activity" by claiming that NGOs overstep the mark when they campaign publicly for social or policy change: that they somehow encroach on territory reserved exclusively for political parties.
This is a deliberate attempt to reduce space for NGOs and all civil society groups whose primary purpose is to amplify the voices of their constituencies. It's also a clear strategy to shield governments from criticism by organized sections of society.
Czech NGOs' concerns are shared in a growing number of EU countries where right-leaning governments are making similar noises about cutting funding to NGOs in some sectors.
In Austria, for example, a civil society umbrella group, IGO, recently warned of "unexpected and existence-threatening cuts in funding for well-established NGOs" working on sensitive issues such as women's rights and migration that, according to the right-wing Austrian government, do "not fit into this year's funding priorities".
In Slovenia, during the election campaign earlier this year, Janez Janša, a former prime minister and close ally of Hungary's illiberal firebrand Prime minister Viktor Orbán, took aim at NGOs, saying "they are planning to attack and try to destroy the nation, family, private property and private education".
Even in Estonia, a country well-known for its open democracy and positive engagement with civil society, a conservative opposition party has run a smear campaign against activists and NGOs who receive state funding.
Moves to cut funding to NGOs often go hand-in-hand with such public attempts to damage public confidence in civil society. In some countries, these smear campaigns have negatively affected the financial support that NGOs (and other, less formal kinds of civil society groups) receive through donations from the public.
Moves to cut funding to NGOs often go hand-in-hand with such public attempts to damage public confidence in civil society.
This endangers the sustainability of some parts of civil society—including those trying to protect the environment, promote social justice and defend women's and minority rights—because they are forced away from state funding, relying instead on sources which are often less stable and sometimes from outside the country.
The CIVICUS Monitor, a global platform that rates respect for civic freedoms, reports that almost half of EU member states are now failing to properly protect people's rights to form and operate civil society organizations, engage in peaceful protest and freely express their views.
Countries including Hungary, Poland, France, the UK and Spain are all caught up in this downward slide. As increasing numbers of EU governments elevate the fight against terrorism, build up their borders and downplay the need to uphold democratic freedoms, alarm bells are ringing.
These cutbacks, and the wider assaults on basic freedoms across the EU, should be of serious concern to everyone trying to stem the tide of regressive populism across the union. Targeting NGOs is not the answer to the many problems the EU faces, and will prove counterproductive in the long term. Pushing NGOs, including advocacy and human rights groups, to become muzzled, apolitical service providers would be a huge mistake.
Community-based voluntary organizations have long served the European cause by giving access to basic economic, social, cultural and environmental rights to all, in some cases also filling an institutional void. But alongside its essential work to deliver services, civil society is a vital driver of accountability as well as a rich source of expertise, innovative approaches and new thinking to tackle local, national and supranational policy debates.
Confronted with rampant mistrust in institutions, including national government and EU institutions, and falling faith in democracy, EU member states must recognize that organized civil society is a vital asset in any attempt to re-engage citizens, help them participate and re-imagine the system.
Civil society organizations across Europe, including those in small villages and bigger cities, are already mobilising ahead of the European elections to ensure people's pressing issues are adopted in candidates' manifestos. Civil society campaigns are also underway to encourage citizens, and particularly young people, to vote.
Public funding for these kinds of activities is vital. We need to heed these early warnings and see these attempts to defund "political" NGOs as the first step in a potentially very damaging downward spiral.
As Denisa Kramářová of the Czech NGO League of Human Rights, says "It is not difficult to figure out which organizations will suffer at the end—those that defend human rights and make sure that the government does not overstep certain boundaries".