Can commercialized healthcare systems help us adapt to the climate crisis?
The Paris Agreement calls on states to consider their human rights obligations in climate adaptation. This includes ensuring that the private sector respects the right to health.
---
---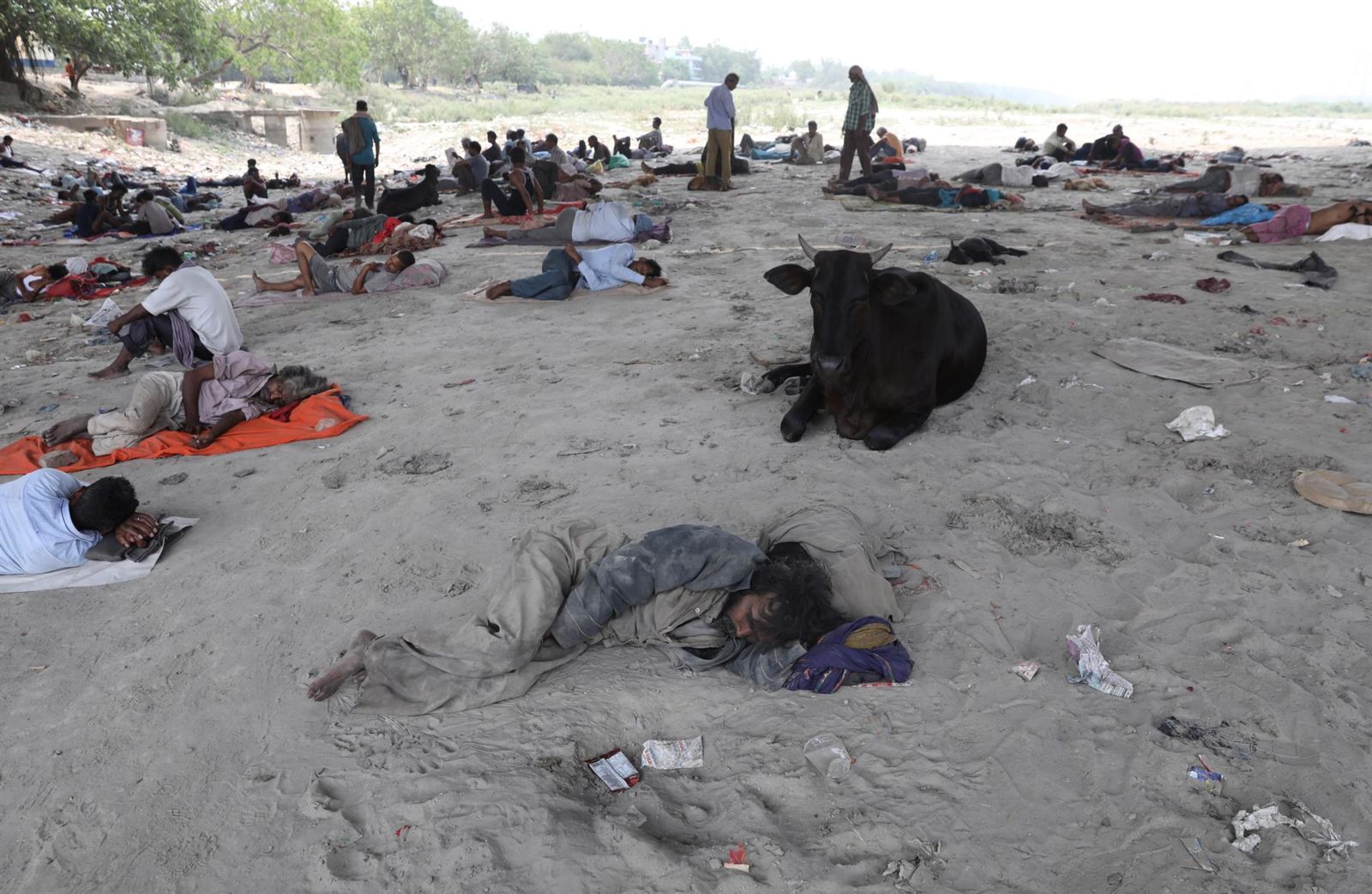 People rest under a bridge to avoid scorching heat in New Delhi, India, in May 2022. The heatwave spell is predicted to continue in Delhi and the National Capital Region according to the Indian Meteorological Department. EFE/EPA/RAJAT GUPTA
---
The record-breaking and prolonged heatwaves that India and Pakistan have been experiencing since the beginning of March remind us of the urgency with which we need to address the detrimental effects of the climate crisis on people's health. Recent initiatives at the international climate change negotiations, like the COP26 Health Programme, increasingly emphasize the importance of building resilient healthcare systems as an urgent and essential condition for climate adaptation.
However, today, there is no accountability mechanism to monitor whether countries progress toward such a goal in a manner consistent with their respective obligations on human rights, including the right to health—as the Paris Agreement's preamble calls for. This is a significant shortcoming, especially considering that governments may increasingly turn to the 'financially appealing' yet highly problematic strategy of partnering with private actors by commercializing healthcare services to address current deficits in healthcare provision.
As the subsidiary bodies of the UN Framework Convention on Climate Change (UNFCCC) meet in Bonn to advance discussions on the Glasgow–Sharm el-Sheikh work program on the global goal on adaptation, it is about time to discuss the implementation of the Paris Agreement's call for respecting human rights within and across all adaptation actions—including accountability in building resilient healthcare systems.
In other words, ensuring a human rights-based approach to health in climate adaptation is key for commercialization models not to hold us back from building climate-resilient development pathways.
Ensuring (private) healthcare: Ensuring climate adaptation?
While life-threatening temperatures have occurred—and are projected to occur—in almost every region of the world, their effects on human health fall disproportionately on populations whose vulnerability is higher because of their socioeconomic status and marginalized identities. Particularly, individuals who do not have access to quality healthcare services experience the effects of the climate crisis more acutely as they lack the means to prevent, treat, cure, and rehabilitate the health conditions arising as consequences of climatic events—and also those that pre-existed and are exacerbated by the climate variations. This is alarming, particularly considering that half of the world's population still lacks access to essential healthcare services.
Ensuring a human rights-based approach to health in climate adaptation is key for commercialization models not to hold us back from building climate-resilient development pathways.
One strategy that countries have increasingly deployed for expanding healthcare access among their populations is the commercialization of these services—which implies the involvement of the private sector. Global financial institutions such as the World Bank have advocated for this strategy by arguing that it helps tackle the long-standing public underinvestment in health professionalization and infrastructure.
But criticisms against the commercialization of healthcare services have been loud. Research on this issue in several world regions has pointed out how, by increasing administrative costs and putting the payment burden on the most vulnerable groups, the model has not improved access to health services for such populations.
The Paris Agreement: a bridge between climate change, human rights, and health law
In calling on governments to 'respect, promote and consider their respective obligations on […] the right to health' when taking action to address climate change, the Paris Agreement recognizes the importance of a rights-based approach (HRBA) to health in climate adaptation—which includes the provision of resilient healthcare services. Hence, states must ensure that the private sector observes such an approach in whichever way it is involved in healthcare services (human rights obligation to protect).
The relevance of the HRBA to health in the context of climate change is built on its foundation in international law, which supplies legitimacy and, crucially, on its potential for bridging climate change and health laws and policies. For example, in commanding action toward ensuring availability, accessibility, acceptability, and quality, the HRBA to health draws attention to the importance of resiliency in healthcare systems, which entails enhancing preparedness across all these systems' components—namely, health workforce, infrastructure, research, management, and financing.
And whenever governments fail to protect people from abuses (actions or omissions) of private healthcare providers related to climate mitigation or adaptation, the HRBA offers individuals a tool to seek redress before judicial mechanisms. Additionally, by adding an interpretative layer to the UN Guiding Principles on Business and Human Rights, the HRBA supplements this instrument's lack of attention to climate change. This could help clarify the responsibilities that private healthcare providers hold to respect human rights in climate adaptation.
Learning from the bad record
Human rights institutions and practitioners have documented how privatization has exacerbated inequalities in access to healthcare services when failing to realize HRBA to health. A recent report by the Global Initiative for Economic, Social and Cultural Rights shows that the development of market models in Kenya's healthcare, for example, has resulted in insufficient services, increasing access barriers for marginalized individuals, and the proliferation of unsafe and substandard clinics and treatments.
In India's case, a country actively pursuing privatization in the health sector, the average medical expenditure in private hospitals in rural areas is almost four times that in government hospitals. This and other detrimental disparities have motivated the UN Special Rapporteur on the Right to Health and the Committee on Economic, Social and Cultural Rights to recommend that the country regulate and monitor the private healthcare sector to ensure it delivers quality services for all.
The way forward in the international climate change regime
The climate crisis has brought us to a juncture where, on the one hand, access to resilient healthcare services has become pressing for adapting to a warmer world and, on the other, the involvement of private actors in the health sector is commonly seen as an effective alternative toward such a goal. If the Paris Agreement's human rights preamble is to be materialized, we must overcome the international climate change regime's current absence of an accountability mechanism to monitor whether states comply with an HRBA in their climate actions, including in building resilient health systems for climate adaptation.
Holding states and private actors accountable for their obligations and responsibilities toward the right to health could help us avert several of the problematic experiences denounced worldwide regarding the commercialization of healthcare services. The upcoming Bonn Climate Change Conference is a good starting point for this dialogue as it will advance discussions of the Glasgow–Sharm el-Sheikh work program and the global goal of adaptation.
ORIGINALLY PUBLISHED: June 8, 2022