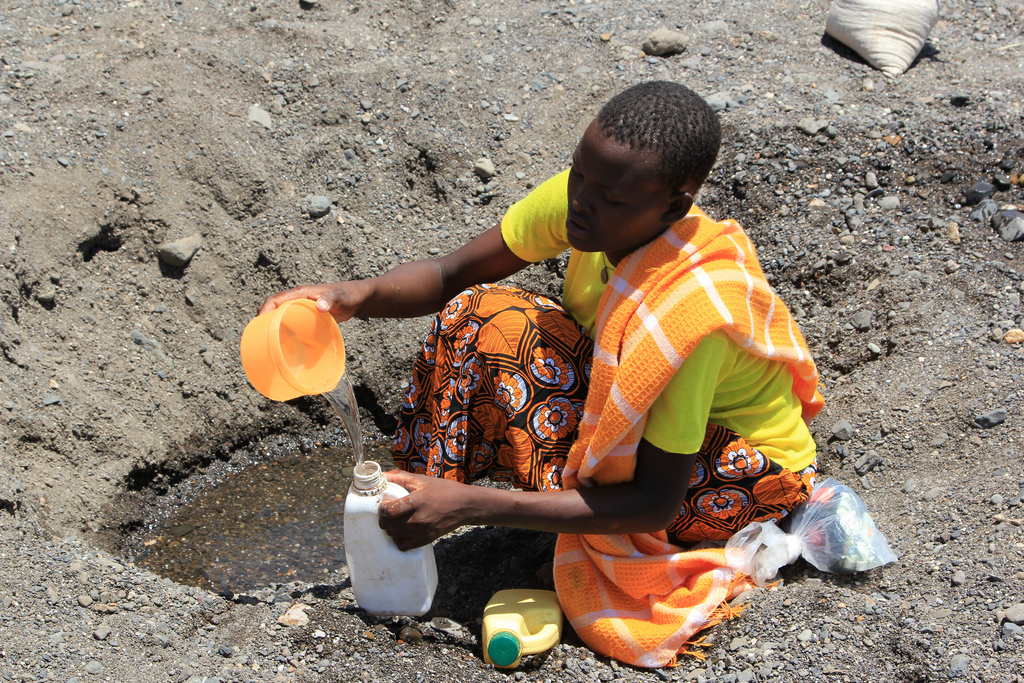 UK Department for International Development- Flickr - Some Rights Reserved (CC BY 2.0)
Water, sanitation, and the health sectors in informal settlements are now run by cartels.
---
Effective advancement of human rights can too often be harmed by the practice of gatekeeping—the process through which a few individuals determine the extent of information, participants, and places that a researcher or civil society actors can access. In return, these gatekeepers get financial gains and become the first contacts for any newcomer. Unfortunately, civil society organizations and researchers rely heavily on gatekeepers in their work with communities, and they often fail to engage in proper community participation and mobilization. As a result, gatekeeping becomes an impediment to the voices of the most marginalized, and NGOs must innovate their methods to overcome it.
In Kenya, this gatekeeper system is particularly problematic in poor, informal settlements (slums) in major cities. Residents in such settlements across the world often lack access to basic services, and due to limited government action, Kenyan non-state actors have moved into vacant regulatory roles. Water, sanitation, and the health sectors in informal settlements are now run by cartels who have stepped in as gatekeepers to fully control the prices, availability, and accessibility of basic services. These illegal groups also determine the amount of information that gets to residents, and information is sieved as it moves from one gatekeeper to the next. Cartels now decide what information gets to the next level, and crucial information that communities need—such as where and how to access resources, or how to seek recourse for flaws in the system—is held back and disappears. Even though there are government institutions mandated to deliver services and stringent laws guiding these sectors, the cartel problem controlling these sectors has become widespread.
"Some civil society actors end up inadvertently strengthening and sustaining these cartels"
Complicating questions of legitimate authority, civil society organizations seeking to work in informal settlements heavily rely on such gatekeeper groups for their community entry strategies. Researchers also similarly rely on gatekeepers, which can lead to inaccurate data collection and faulty conclusions if information is obscured or if researchers can only access certain segments of the population. Some civil society actors end up inadvertently strengthening and sustaining these cartels through funding their meetings, providing engagement platforms, and making them kingpins. Because the cartels act as central persons in disseminating critical information, they have effectively excluded communities from participating in decision-making processes of their own development priorities.
Building the capacity of social movements in terms of human rights, advocacy and the budget making in the community is thus key to ensuring that community groups meaningfully participate in resource allocation and decision making. Community mobilization, however, does not entail the identification of only a few individual representatives. It requires using organized community structures including local authorities, social movements, women's groups, and youth groups. Diversifying community entry approaches is critical to ensuring holistic realization of human rights through increased involvement of people, having structured participation and feedback mechanisms, and encouraging meaningful contributions to decision making.
Lessons from Hakijamii's community engagement strategy
Enhancing the capacities of communities and linking them with the appropriate government institutions enables them to coherently and aptly demand their own rights in the absence of the middlemen and the gate keepers.
Since its inception, the Economic and Social Rights Center in Nairobi, known as Hakijamii, has found a niche in community organizing for this type of effective action against cartel control. Our main focus is on having sufficient interaction with the community to understand the dynamics in terms of culture, social orientation, and economic patterns. This process, known as "insertion", further dissects power dynamics and provides insights into where decisions are made. It is a process fundamental to addressing suspicion within the community about legitimate and illegitimate actors and the control of resources, but it also provides an opportunity to learn the community structures, information flow mechanisms and the role of gender in a specific community's context.
Hakijamii further organizes the community into working groups with proper leadership structures and certification, which ensures they are recognized by the government through the relevant ministry. These groups work around thematic areas such as housing rights, water rights, and health rights, and with rising cases of terrorism and extremism, having a registration certificate gives them the confidence, freedom and the permission required to carry out their interventions. Smaller groups often consolidate to form larger social movements that advocate for their own rights in a more expanded manner.
Linking these movements with relevant government institutions increases their ability to negotiate with the government and have their needs and priorities incorporated in county development agenda. This strategy ensures that communities can—without middlemen—access the correct information. Training in social accountability has evoked the need to closely monitor taxpayers' money through community-based audits, community-led social accountability forums, and community project evaluation. These trainings target social movement leaders from different low income areas and are tailor made to suit the capacity needs of the groups, for example on social accountability, Human Rights Based Approaches (HRBA) to participation, rights to water and sanitation, as well as housing, among other issues. These trainings are crucial and equip communities with requisite skills to interrogate government budgets, programs, and implementation of projects. Communities have the capacity to drive their own agenda, and often they have audited county government projects and unearthed massive irregularities, including non-existence of projects whose budgets have been depleted.
Communication and engagement with these groups is done through the leadership structures, and groups are prohibited from discrimination, nepotism, and favoritism. No member of a group can attend two consecutive meetings to ensure everyone gets a chance to participate. Further, no member of any social movement gives out information on behalf of the movement unless they follow proper consultation procedures. This helps to reduce conflicts as well as controlling information flow.
To combat the illegal cartel control of water resources in Nairobi's Mukura area, Hakijamii works with Water Action Groups and formed Water Monitoring Teams. These two entities are community led to support the fight against illegal connections, cartel domineering and water and sanitation rights violations. Most NGOs and other partners now have a preference of using these two entities as their entry points in conducting studies and obtaining access to information because of their legality.
Through this strategy, Hakijamii is progressively eradicating cartel control of water resources and access to information without cohesion or use of force. However, this engagement is life threatening, as cartels are out to defend their livelihoods using any means possible. This work often poses a security threat to the water monitoring teams and the officials of the water company in charge of water supply. Finding effective security strategies remains a challenge.