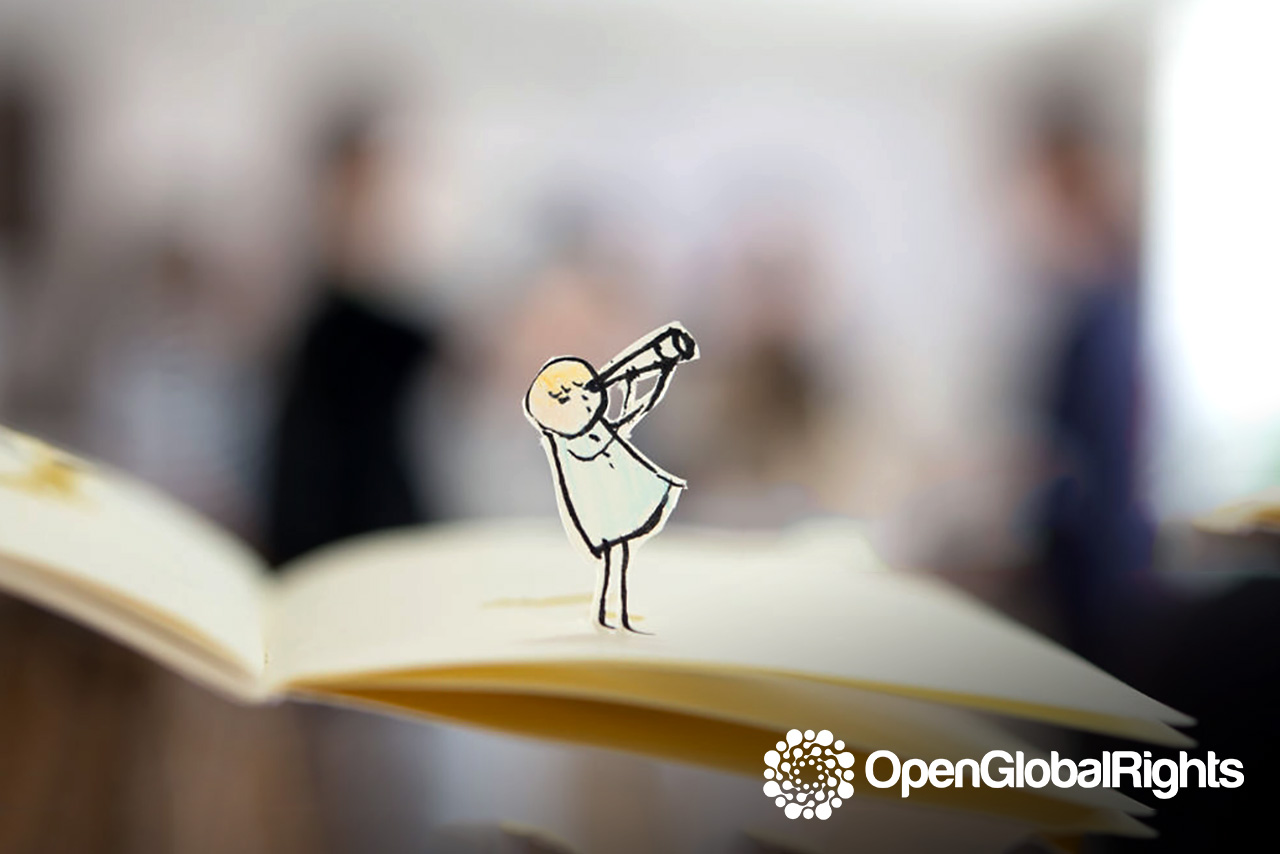 ---
Most non-governmental organisations (NGOs) define themselves through the specific issues upon which they work—climate change, human rights, international poverty—while remaining indifferent about the values to which they appeal for public support.
If they were to more explicitly articulate the role of values in their communications and overall strategies, diverse interest groups would find a lot more in common than they think, finally overcoming the issue silos that have for decades frustrated systemic responses to social and environmental challenges.
Imagine a world where, as now, there is widespread and growing public unease at the huge scale of challenges that we confront, and a growing frustration at the abject failure of our leaders in business and government to address these challenges. But imagine that, despite this public unease, civil society hasn't yet organised to address social and environmental challenges. In the absence of an extensive network of NGOs, nobody is sure how best to focus public appetite for change.
In this imagined world, where should we in the human rights community start?
We might begin by asking what we care about most in life. Were we to do so, we'd find that the majority of us—across diverse cultures—prioritise "compassionate" values: our communities, equality, social justice and protection of the environment.
This discovery might seem to offer great grounds for hope—"compassionate" values consistently predict support for action on social and environmental challenges, greater civic participation, deeper connection to community, and higher wellbeing.
But we'd also want to know how it has happened that these "compassionate" values are often so poorly reflected in how we organise our societies.
Deeper enquiry would show that our "compassionate" values are frequently undermined by our institutions—particularly our governments and businesses. Woefully, we'd see that these institutions have persuaded us to view each other as more self-interested than we are. And our perception that others are self-interested leads us to communicate with this in mind, which subtly reinforces this misperception.
We'd begin to organise to uphold these values where they are undermined, and we'd celebrate and promote them when they come to the fore. This would be in stark contrast to the competitive relationships between many of today's NGOs, which vie with one another for political influence, publicity and donors. In this imagined world, nobody asks whether climate change is more deserving of attention than human rights abuses. Nobody defines their contribution to working for a better world by staking out their "issue" and viewing others as "competitors in a marketplace". Such an approach would fail to work with the values that unite communities of concerned people.
As these new networks of concerned citizens formed, their attention would shift fluidly across different causes, focusing wherever their work is deemed most important. While these networks would draw on the expertise of specialists on different issues, the networks wouldn't be defined by a focus on particular issues. They would be defined by the shared values that they champion.
But back in the real world, of course, this is not how NGOs have evolved. Many have come to build brands around particular issues, and to view other NGOs—even those working towards the same ends—as competitors. In the "domain" I know best—"biodiversity conservation"—I have worked for NGOs that agonise over whether a particular issue falls under their remit, while seeking to establish public support through appeals to a wide range of different and sometimes opposing values.
Yet people support these NGOs in line with their values, rather than particular issues. To the staff of a conservation NGO, it may seem misguided for someone to phone in asking for advice about caring for an injured animal (and in my experience this can be met with derision). But conservation concern and concern for animal welfare are likely to arise from closely related values—to split them apart is simply an artefact of how NGOs are organised.
Conversely, when it comes to the specific issue upon which an NGO focuses, a very wide range of (at times conflicting) values are deployed in the course of seeking to establish wider public support. But invoking different values doesn't work additively. Research finds, for example, that texts on the inherent value of the natural world are more effective in eliciting support for conservation action, even among people oriented towards values of wealth and success. Adding messaging about the financial value of the natural world actually reduces people's motivation to support conservation.
Values-based messaging can create campaign synergies across broad progressive coalitions
If social and environmental movements could achieve greater clarity about the values they uphold and want to promote among other people, they would find it easier to shift focus across diverse campaigns, establishing new and inspiring synergies. For example, the Australian Conservation Foundation (ACF) reached out to its supporters during a period of public debate on same-sex marriage in Australia (see image below). They did so because they realised that their aims, and those of campaigners for same sex marriage, were united through the values for which they stood.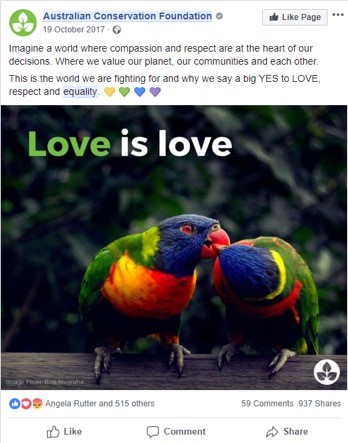 This strategy is potentially very powerful because people may be significantly more motivated by their important values than by particular causes. The power of "compassionate" values, in other words, cuts right across seemingly diverse issues like conservation and disability rights. No cause is an island.
By limiting our activities according to issues, NGOs are missing the bigger picture. The values that are most effective in motivating expression of concern about biodiversity are closely aligned, psychologically, to the values that will be most effective in promoting public engagement on human rights.
NGOs should be working together to strengthen the values upon which any movement for transformative change will need to be built—especially where this takes them beyond their specific issue focus. This does not mean they need abandon their specific causes, but rather that they work with others to strengthen the foundational values upon which support for their, and other, causes are built.
NGOs working on human rights should celebrate such boldness and encourage it among colleagues working for NGOs focused on other issues. But they should also, of course, begin to work reciprocally: building on shared values to link from human rights campaigns to campaigns on seemingly unrelated issues.
What might the implications of such an approach be for, say, Amnesty International's work, on climate change? Rather than building this work on an understanding of the immediate material threats that climate change presents to human rights, Amnesty International might choose to publicly recognise the strong alignment between the values which inspire people to take action in support of human rights (i.e., love for other people) and the values which will dependably inspire people to take action in support of climate change (i.e., love for people and all forms of life). Communications of this kind are likely to be more arresting, and thus more effective in deepening people's awareness of the shared values that provide the foundation for any systemic and durable commitment to making the world a better place.