It's time for development banks to start listening
The aid community often ignores the wishes of the very people it's supposed to be helping. The world needs a more bottom-up approach to development.
---
---
Almost a year ago, the United Nations set the Sustainable Development Goals, an ambitious blueprint for governments and financiers to use their political power and resources to end poverty, hunger, and disease.
But the success (or failure) of this effort won't depend on just the usual big players. Far more important than governments and international donors are the individuals and civic organizations that will help design, carry out, and monitor the development projects on which the whole scheme depends. Without vibrant civil societies, the Sustainable Development Goals are dead in the water.
Only the individuals and communities meant to be the beneficiaries of development know best what their needs are and how they can be met. And it is the civil society groups and activists who can make sure that development resources reach their intended destinations and achieve their objectives. It's the women's cooperative in Senegal that will show how to design an effective irrigation system. It's the community group in Bangladesh that will ensure that the schools promised in the government's education budget are actually built.
But the whole project of sustainable, participatory development is in danger. Around the world, groups and activists who work to improve development proposals, or speak out about problems with infrastructure or energy projects, increasingly find themselves threatened, intimidated, and even violently attacked by governments, investors, private security forces, and others who want to avoid scrutiny.
In the last month, we have mourned the killings of two women activists who stood up against hydropower development projects they saw as violating the rights of their communities. Lesbia Yaneth Urquia was an indigenous rights leader and member of the Council of Indigenous People of Honduras who had campaigned against the Aurora I Dam in Honduras. In Brazil, Nilce de Souza Magalhães, a leader of the Movement of People Affected by Dams, fought against the forced displacement of her community to make way for another dam. Her body was found in the dam's reservoir.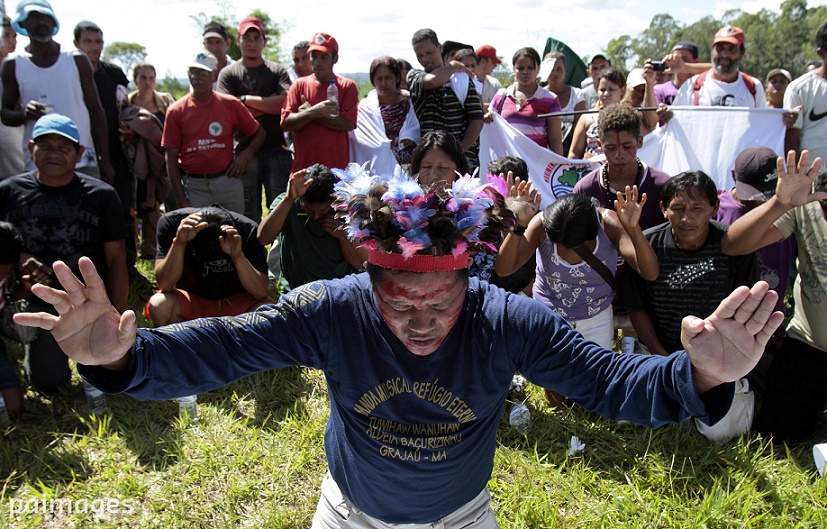 Press Association Images/Eraldo Peres (All rights reserved)
Indigenous activists protest the construction of a hydroelectric dam in the Amazon river basin. Development institutions like the World Bank often fail to incorporate the voices of local communities when planning and financing development projects.
---
Even as killings of land rights and environmental activists reach all-time highs, governments around the world are enacting laws that make it harder and harder for civil society groups to operate or to voice their concerns. According to research by CIVICUS, 2015 saw serious violations of freedoms of expression, assembly, and association in 109 countries: The Indian government cancelled the licenses of over 4,000 civic organizations under new legislation restricting receipt of foreign funds. A new law in Spain limited the right to gather or protest near legislative buildings. Civil society organizations in Cambodia were required to register with the government. For a time, Bangladesh banned protesting in Dhaka, its capital city, entirely.
As I have noted repeatedly in my work as U.N. special rapporteur on the rights to freedom of peaceful assembly and of association, civil society is an essential actor in sustainable development. When people's rights to assemble and associate are restricted—whether by an environment of fear or intimidation, or by laws that cut off funding of independent groups—we stand no chance of designing development programs that actually meet the needs of poor communities. In this environment of rapidly closing space for public participation, it is critical for development banks and their member countries to defend that role.
The World Bank and other development finance institutions' own research points to the importance of public participation for development projects to be effective. Yet too often these institutions fail to ensure basic access to information and participation by the very communities impacted by these projects. The World Bank's independent accountability mechanism recently identified weak or non-existent consultation, participation, and disclosure of information as common themes in cases involving displacement of communities. In a survey of 800 people affected by development projects across eight countries, 88 percent stated that they were not consulted during the planning phase for the project. Where government-led consultations did take place, 67 percent reported that a climate of fear prevents them from fully participating.
Last week, over 150 civil society organizations from around the world delivered a statement to the most prominent international financial institutions, calling on them to support an environment for public participation in which people can take part in crafting their own development agendas and in holding their governments, donors, businesses, and other actors accountable. The statement highlights seven areas for action, including identifying and addressing potential human rights risks and ensuring that people who raise concerns about development projects are protected from reprisal.
Banks should always ensure that human rights are respected, particularly the rights central to civic space.
The banks have various tools at their disposal to help drive this agenda forward, including dialogue with governments or the private sector, technical assistance and capacity building, and of course, the most powerful form of leverage: money. When funds are provided to governments or private companies to implement development projects, banks should always ensure that human rights are respected, particularly the rights central to civic space: the freedoms of assembly, association, and expression.
When governments or private developers try to restrict participation in development projects or attack human rights activists, development banks must react strongly. They need to investigate the issue, publicly condemn the actors involved, use diplomacy, and take other necessary measures to ensure that the banks' existing and future funding is not contributing to human rights abuses. In some cases, it may be necessary to cut off funding until improvements are made.
The Dutch development bank, FMO, and its Finnish counterpart, Finnfund, recently suspended financing for the Agua Zarca dam in Honduras after the company building the dam was linked to the murder of indigenous activist Berta Cáceres, who was a vocal opponent of the dam. Social movements in Honduras are calling for a definitive withdrawal by the banks.
Many development banks have taken important steps in recent years to improve participation and accountability. The adoption by the World Bank's International Finance Corporation of a requirement to obtain the free, prior, and informed consent of indigenous peoples when development projects take place on their lands is one example. The establishment of independent complaint mechanisms at all of the larger multilateral banks is another. But these policies and tools are only effective in an environment in which communities can seek information, participate in decision-making, or raise complaints without fear for their safety.
Sustainable development requires development banks to actively work to promote an enabling environment for community participation in their activities. Without this, the Sustainable Development Goals will remain mere aspirations.
This article was first published in Foreign Policy.
ORIGINALLY PUBLISHED: August 17, 2016
---
Maina Kiai is the United Nations Special Rapporteur on the rights to freedom of peaceful assembly and of association. He has more than 20 years experience working in civil society and human rights in Kenya, Africa and globally.
---