While Morocco was showcasing its human rights accomplishments at the UN headquarters in Geneva last June, journalist Ali Mrabet was on a hunger strike outside the front doors. He was protesting against the Moroccan Authorities' refusal to hand him a simple administrative document to renew his residence in Morocco. The authorities initially refused (though later acquiesced), claiming that he did not complete the required administrative procedures. In reality, however, he was declined for political reasons. Mrabet had been living outside Morocco for a decade after receiving a ten-year writing ban, after which he declared his intention to return to Morocco and launch an opposition newspaper.
One year earlier, the Ministry of Interior banned several activities organized by human rights NGOs that criticize the regime, ironically claiming that such activities discredit the state's efforts in improving human rights conditions. The ban came after the Minister of Interior's speech at the Parliament in June 2014, where he made a correlation between terrorism and human rights NGOs' criticism of state efforts to fight that terrorism.
It's important to note that there has been a positive, yet slow, improvement in the level of human rights and the freedom of expression in Morocco. But this improvement fluctuates back and forth as officials are reluctant to take firm action against some oppressive practices. Morocco has a fairly weak community of human rights activism, and there is not enough push from the public for officials to take action. Because Moroccan human rights activists don't have a strong popular base to appeal to or influence public opinion, they simply cannot sway decision markers. As James Ron and his colleagues have noted, local human rights groups must have some level of local support to succeed.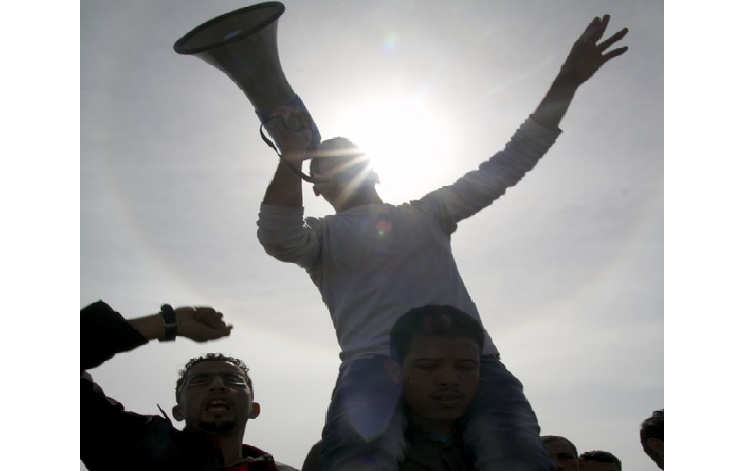 Demotix/alessandro parente (All rights reserved)
The Moroccan state strategically employs various techniques to limit freedoms within the scope of law, and journalists and human rights activists are often the target.
---
After the storm of political protests in 2011 calmed down, the state began to enact harsh policies against opponents to the regime. This affected a number of human right activists and journalists from both the secular and Islamist ends of the spectrum. In addition to the usual opponents to the regime from outside state institutions, such as the parliament and government, the state also cracked down on leading figures from the party of Justice and Development (PJD), the ruling party in Morocco, and former state officials.
There are two distinct forms of oppression that the authorities commonly use: "soft" oppression (temptations and psychological pressure) and "tough" oppression (criminal charges, arrests and prison time). Activists in the 20 February Movement (M20F) received the lion's share of these arrests, but the charges laid were (and still are) often not connected to their political activity. An activist may be caught using drugs (often hashish), or cheating on his/her spouse, or charged with supporting terrorism. Mouad Belaghouat (also known as El Haqed) for example—a famous rapper in the M20F—was arrested because of a brawl with another citizen and sentenced to one year in prison. But in reality, he was shut down for his political activity and his songs protesting against the regime.
The state strategically employs various techniques to limit freedoms within the scope of law, and journalists and human rights activists are often the target.
In terms of "soft" harassment, the state strategically employs various techniques to limit freedoms within the scope of law, and journalists and human rights activists are often the target. The state frequently resorts to slander in media, causing fear or panic among families by making arrests and creating accusations of moral and behavioral corruption.
For example, a slander campaign was launched against left-wing opponents, including Maâti Monjib, the director of Ibn Rochd Center, following a seminar that was organized about finding a common ground between Islamists and seculars in Morocco. The authorities also arrested a journalist close to Monjib on charges of marital infidelity, to scare him and force him to stop criticizing the regime.
For businessmen—in addition to using slander—the state also uses tax auditing and restriction of business activity. Prominent businessman Karim Tazi is one example: due to his support of the M20F, the Ministry of Finance and the Tax Department audited the taxes accumulated by his firms for years and obliged him to settle the legal status of his workers. These kinds of audits are most likely instigated by political considerations, rather than a desire to apply the law.
Interestingly enough, slander and legal persecution campaigns were also launched against figures affiliated with the PJD, or former state officials. This was certainly the case with Hassan Aourid—a former classmate of the king who assumed several high-level positions in the state, notably the first Palace Spokesman, the Governor of Meknes, and the Kingdom's historian. After he showed his support for the M20F, he became a target. He is currently being prosecuted by the Ministry of Interior on charges of obtaining a rural estate when he was Governor of Meknes that is actually the property of the state. The Ministry of Interior is demanding that he returns the estate, and Aourid has been stripped of any privileges he enjoyed when he was close to the monarchy.
Similarly, Addelali Hamiedine, a leader in the PJD, was the target of a wide-scale slander campaign by newspapers close to security services. This happened after he published an article criticizing what he described as the king's abuse of his constitutional powers and breach of the powers of the head of government.
But it's not all about punishment. The state often initially tries to win the opponents with incentives, by paying for trips, granting privileges and business connections, or promising to employ relatives, among other things. They used such strategies successfully with some of the 20 February Movement activists, where they were granted job opportunities or promotions at work.
These "carrot and stick" approaches used by authorities to silence critics are eroding an already weak public support base for human rights. In sum, the hope that Morocco might radically change after the 2011 protests is far from realization. Local human rights groups need to garner public support now if they want to fight against the regime's ongoing repression. How they will get that support remains the challenge.