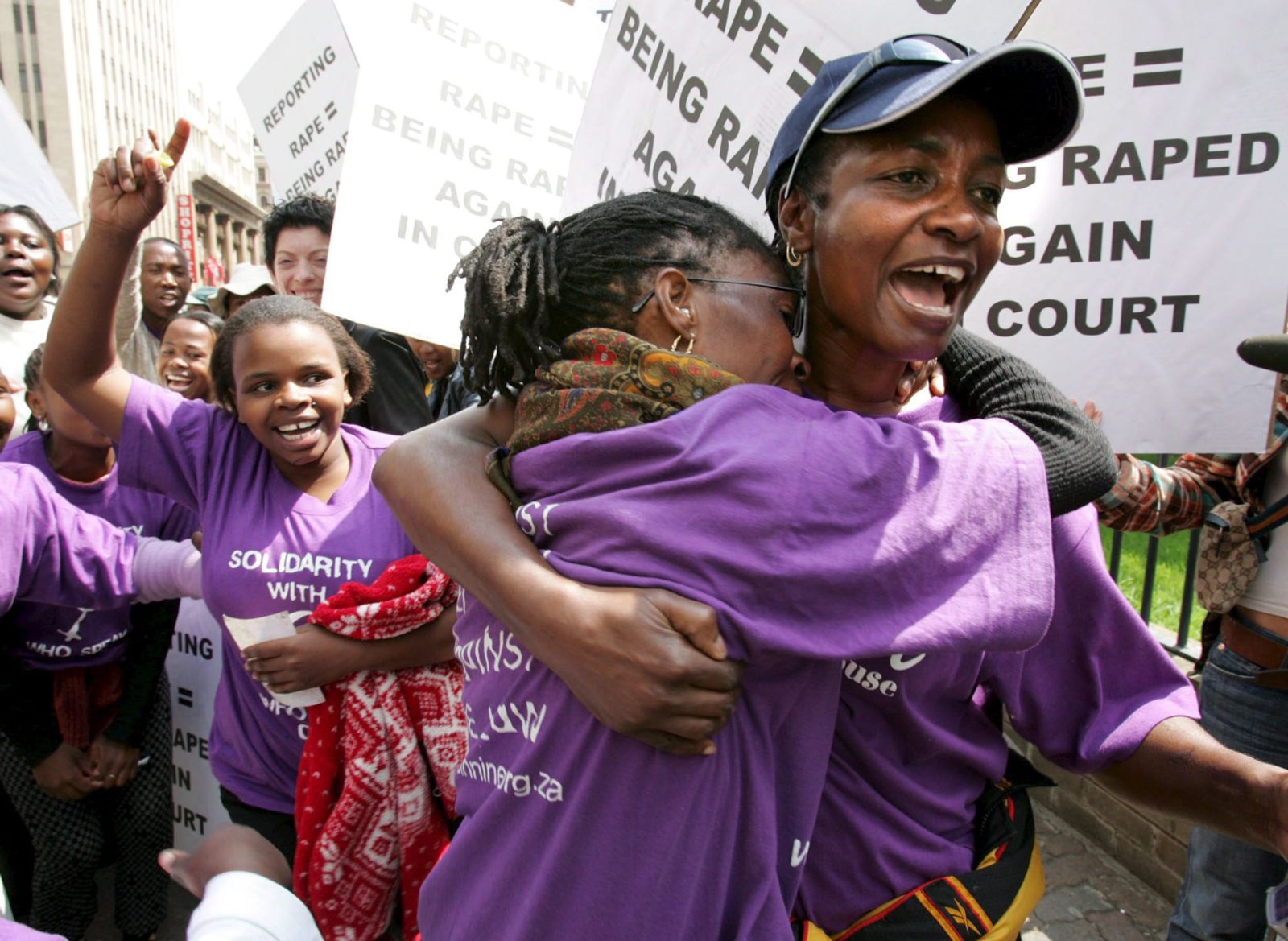 Foto: EFE/Kim Ludbrook
Civil society activists in South Africa have for the first time taken up issues of state building, and even more surprisingly, of public administration.
---

Tyranny, as opposed to despotism, refers to a form of government that breaks its own rules, a useful starting point for discussing recent South African political developments and civil society responses. The African National Congress (ANC) government under Jacob Zuma became increasingly tyrannical over the last decade, as it positioned itself against the constitution and the rule of law. This move to tyranny was not simply the result of corruption—it was also a political response to South Africa's racially defined inequality, which incorrectly identified the constitution as an obstacle to radical economic transformation. Zuma's actions justified a growing lawlessness in key parts of the government and enabled widespread corruption in the state marketplace. In response, largely to force the government to play by the rules, civil society has been reinvigorated and several new coalitions have emerged.
Turning against the constitution
From around 2010, the South African government started to introduce measures to control the diffusion of information and tacitly regulate the press. In 2011, in the face of impressive opposition, a majority of ANC members of parliament (MPs) passed into law the Protection of State Information Bill. The Act was especially controversial for giving government officials the right to classify as "top secret" any government information in the "national interest," while also criminalizing "whistleblowing" and investigative journalism. The definition of the "national interest" excluded virtually nothing from censorship, and the mandate of the South African intelligence services was so broadly defined that ordinary democratic activity could be construed as a national security threat. Eventually, President Zuma refused to sign the legislation, thereby halting its passage into law. Nonetheless, the law was symptomatic of a wider trend.
Controlling media and state institutions
The South African Broadcast Corporation (SABC) is the country's public broadcaster, which has significant influence given that public radio is most South Africans' primary news source. In 2011, Hlaudi Motsoeneng was appointed acting SABC Chief Operating Officer (COO), and under his supervision, the SABC effectively moved to prohibit reporting news that was either critical of or potentially embarrassing to the government. Critical or independent journalists were also purged. This coincided with the onset of a project of radical economic transformation that increasingly became antagonistic towards key state institutions and the constitutional framework.
However, in 2014, the Public Protector—an institution that protects the rights of citizens against governmental abuses—found that Motsoeneng had been illegally appointed because he did not hold the proper credentials. Communications Minister Faith Muthambi stood by Motsoeneng's appointment and, when the Supreme Court of Appeal removed him from his position, Muthambi intervened to find him another post.
As the Zuma administration radicalized and tended towards illegality and eventual straightforward criminality, it became dependent on managing increasingly complex relations, many of which involved people engaged in unlawful activities. At this time, the Zuma administration moved to establish control over key state institutions, especially those involved in criminal investigations and prosecution: The South African Revenue Services (SARS), the Hawks (high priority crimes unit of the South African police), and the National Prosecuting Agency (NPA).
Two imperatives were at play. First, as the project tended towards illegality, it was driven into the shadows by the concomitant risk of the loss of political control. Hence, some form of management system was needed. Second, it had been necessary to shut down certain investigations and immunize or protect key people from prosecution.
Civil society reinvigorated
Initially, there was very little organized opposition to these shifts, as the media had largely managed to fend off moves to formally introduce censorship. Moreover, there was still a legacy of brave, independent investigative journalism that regularly wrote about corrupt government officials. Within the ANC, some individuals raised concerns, but as an organization it rallied behind its president. This began to change when then-Minister of Finance Nhlanhla Nene was unexpectedly dismissed in December 2015. Financial markets reacted strongly, South Africa's currency plummeted in value, and thousands marched on the streets to protest "state capture."
Yet the protest remained largely middle class. It was not difficult for the Zuma administration to present such opposition as the work of either political forces opposed to radical change or in the service of a foreign agenda. But after the dismissal of the new Finance Minister, Pravin Gordhan, and his deputy, Mcebisi Jonas, in 2017—both highly respected technocrats—opposition to the Zuma administration grew, including from within the ANC. The problem with the resistance up until then, however, was that its analysis was superficial. It ultimately fell back on the assumption that the president and his allies were corrupt, motivated by self-interest, or were kingpins of a vast network of patronage. Apart from the obvious flaws of such an analysis—it resonates with all sorts of racist clichés about African leaders—it obscured the political project at work.
Our report, Betrayal of the Promise, launched in May 2017 in an attempt to expose these clichés and instigate a stronger civil society response. Since we released our findings, the SACP has come out officially against "state capture" and has supported efforts in the ANC to remove the president. The report was also widely taken up by some of South Africa's major trade unions. The church, as a civil society organization, has also mobilized religious opposition to the current administration.
This coalition is noteworthy for two reasons. Though it comprises many of the people and organizations that advanced the anti-Apartheid struggle in the 1980s and 1990s—and in this sense marks a revival of an older civil society—it is not exclusively so. Business organizations now share the platform with radical trade unionists and avowedly liberal associations.
Secondly, civil society activists in South Africa have for the first time taken up issues of state building, and even more surprisingly, of public administration. For the first time, there is appreciation for the fact that the immediate victims of tyranny in South Africa have been honest civil servants committed to a public service ethos.
Indeed, in January 2018, after several weeks of tense and inconclusive negotiations, senior leaders of the ANC finally decided to move to have President Zuma impeached through a parliamentary process. Late on February 14, 2018, Jacob Zuma resigned. The mobilization of civil society organizations is widely credited with stalling and, hopefully, ending this authoritarian slide.
Taken together, 2017 has seen the re-emergence of powerful coalitions of civil society, which have primarily used three main tactics. The first is litigation, through which civil society groups have successfully challenged illegal government decisions and appointments. The second is social mobilization, which is key in constituting new and diverse publics. Thirdly, and impressively, activists have built energetic and diverse political coalitions, drawing senior figures in the ANC itself into alliance with a broad range of other organizations. There is finally fire in the belly of a rejuvenated civil society. Alongside high courts, media, and numerous public servants across the administration, we have been able to resist tyranny.
***This article is an adaptation of the author's book chapter found in Rising to the Populist Challenge: A New Playbook for Human Rights Actors.