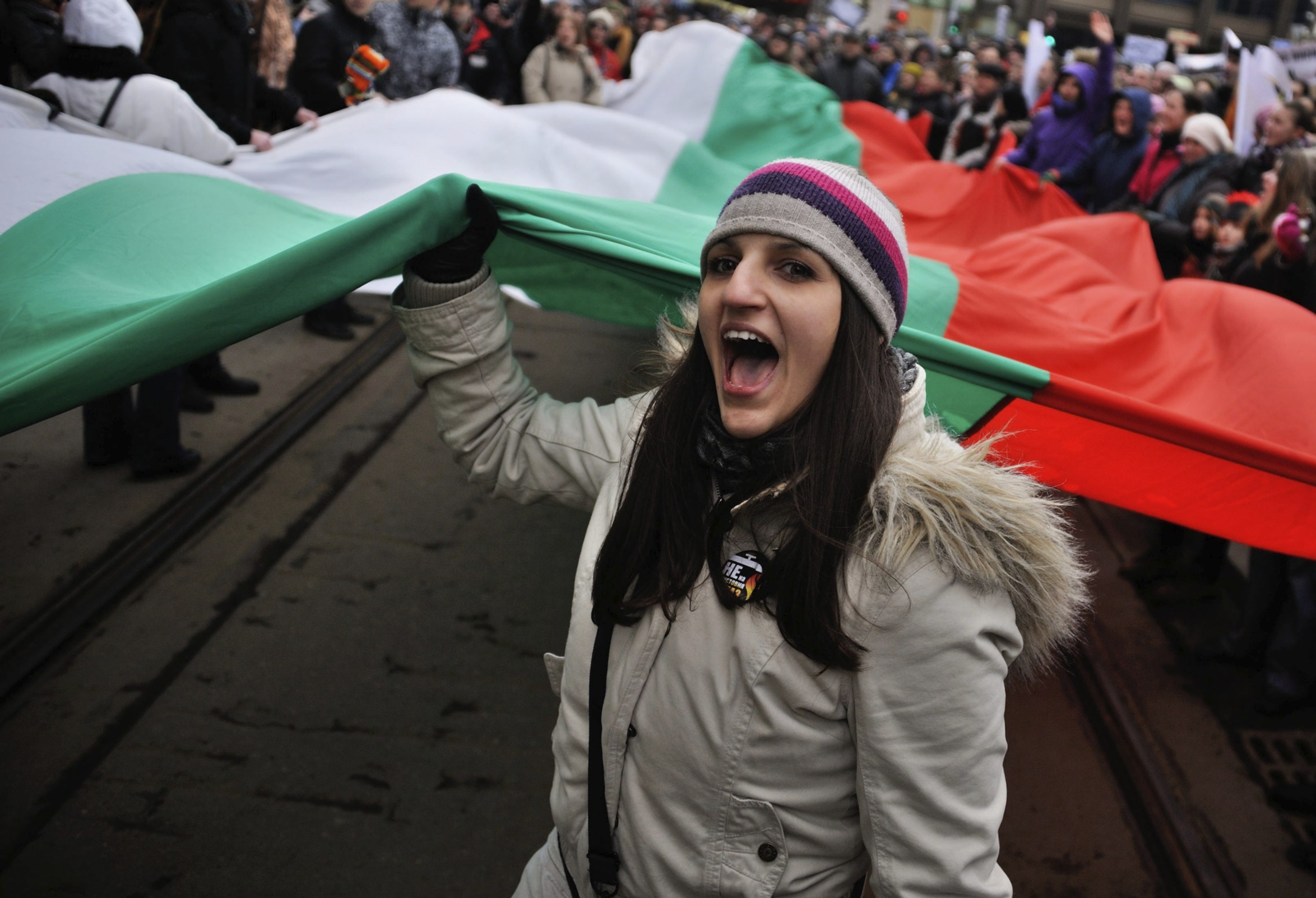 EFE/Vassil Donev
In Bulgaria, the promotion of gender equality has become a contentious issue, especially for political leaders and other influential public figures.
---
In Bulgaria, feminism has become a dirty word. In its communist past, Bulgaria had attitudes and policies that were quite open to women's rights, but in recent years, despite membership in the European Union, the context has shifted. Today, there is widespread backlash against feminism and women's rights at multiple levels. The promotion of gender equality has become controversial, especially for political leaders and other influential public figures, such as the Bulgarian Orthodox Church. LGBTQ rights are also up for debate, often framed as something foreign, imported from the West, as "too liberal" and not innate to Bulgarian society. Indeed, many parents consider gender and sexual education in school to be a taboo topic, and the anti-abortion narrative could be a real threat to women's reproductive rights in the near future.
These perceptions contribute to a climate in which any organizations and individuals seen as holding feminist values are viewed with hostility and suspicion. Women's rights and feminist activists are needed more than ever to fight this backlash, but at a societal level, "women's issues" are not prioritized, making it very difficult to raise funding. The little funding that exists goes to service providers or for survivors of gender-based violence.
An additional factor compounding the problem is that some of the most critical women's rights work in Bulgaria is in Roma communities. Roma are approximately 10% of the population, and many Roma women are young mothers, and the community is at higher risk for domestic abuse and death during pregnancy or childbirth. But the general stigma in Bulgaria—and indeed across much of Europe—against Roma people makes it difficult to obtain local funding to help them. How, then, can women's organizations respond in this political climate?
"In its communist past, Bulgaria had attitudes and policies that were quite open to women's rights, but in recent years, despite membership in the European Union, the context has shifted".
First off, raising local funds is critical to combat the hostile environment in which we are currently working—both to finance campaigns and to mobilize the local population—and we knew this would take courage and creativity. The Bulgarian Fund for Women was launched in 2004, during the process of entering the European Union. The original goal was to meet the tremendous need for resourcing women's rights work, particularly in marginalized communities, and to lobby against the increasingly hostile political climate for women and to the general human rights situation in Bulgaria. In the EU member process, funding from various foreign donors significantly diminished while the necessity of funding women's rights work increased. Our fund is now the only donor in the country that provides funding and other support, such as capacity building trainings, exclusively to organizations supporting advancing women's rights and working to achieve gender equality. For the period of one year (July 2016 – July 2017) the Fund distributed 36 grants, 80% of which supported CSOs outside the capital city of Sofia. According to Prospera's Impact Report (2011-2015), the Bulgarian Fund for Women has grown 141% over the period, with an average annual growth of 70%. Since 2015, the team of BFW has sought to increase the budget of the organization to $50,000 USD per year from both local and international sources.
Mobilizing resources, however, is only a small part of the picture. It is also critical in this type of environment to build a local constituency and change the narrative around women's rights. For our first awareness-raising campaign, BFW partnered with a Public Relations agency to change the discourse around violence against women. The resulting video turned the narrative from one focused on women as victims to the role of men as perpetrators of violence, switching from "every fourth woman is a victim" to "every fourth man is a perpetrator". Although the message was potentially controversial—due to lack of statistical data and the inflammatory issue of domestic violence in Bulgaria—the campaign was launched with influential messengers, including an official premiere of the video in the Bulgarian parliament with the support of the president of parliament, as well as the British ambassador to Bulgaria. This helped ensure widespread support for the campaign, as well as a lot of positive media attention.
We have also been trying creative new strategies with the corporate sector and their corporate social responsibility (CSR) programs. One such campaign was with Volkswagen-Bulgaria, whom we approached with a project proposal to fight the stereotype that women are bad drivers. This campaign also addressed some security issues that women face in taxis and other public transportation by creating a cohort of female drivers: on March 8 (International Women's Day), Volkswagen organized 8-10 cars with women taxi drivers who offered free rides to women clients. Again, despite the "taboo" topic of violence against women in Bulgarian public transportation, hundreds of customers used this service and it obtained significant media coverage. Even though the "pop culture" message was that women are good drivers, the campaign increased awareness of BFW and of women's rights, and we were able to raise discussions about inequality.
What we are learning through this process is the importance of creating a movement while also raising funds, and this requires creating new collaborations and bridging both regions and issue areas. A part of this strategy is our "Feminist Boot Camp", which we started two years ago in a partnership with the German women's fund, filia die frauenstiftung. Over the course of one week, we shared theoretical and practical knowledge on feminism with 12 CSO representatives, including how to recognize and fight gender discrimination, how to write a project, how to fundraise and how to raise awareness.
This was the first time we saw organizations cooperating rather than competing for funding, and it became one of our key lessons learned: if we do not cooperate, we will not be successful. Bridging the urban-rural divide and reaching across sectors is not optional when working in an area so hostile to women's rights—it is critical to survival. Currently, our "Feminist Boot Camp" is supported by the Global Fund for Women and is open to girls and young women aged 18 to 30, who are interested in feminism and working in the non-profit sector. After the women complete this camp, they receive scholarships to implement their project ideas on empowering women and girls throughout the country.
These are just three examples of how the women's movement in Bulgaria is finding new ways to fight the backlash—and misunderstandings—around women's rights and gender equality. But there is still much work to be done on removing the social stigma around feminism. Our next two priorities are: 1) investing more in building a sustainable women's movement in Bulgaria, and 2) increasing investments in monitoring and evaluation, especially in recognizing and addressing the needs of women and women-led CSOs. We want to help other organizations with media coverage and build capacity by expanding our feminist boot camp and providing grants to campaigns that will continue to push back against discrimination.
There are many activists fighting stigma in Bulgaria—and we will continue until women's rights and feminism are no longer taboo, and are no longer considered threats to society, but instead become part of the mainstream and are valued as critical to an inclusive, just society.