The greatest problem of policing in India today is that the police are mostly ineffective. They are ineffective on the streets, in preventing petty or grave crimes, and in defending the rights of the weak or vulnerable. But the most glaring shortfall of the police is that they seldom punish their own. If they could do at least that much, then the public might begin to trust them again. Unfortunately, even if the Indian public want to cooperate with or respect the police, there is currently no basis for them to do so.
The Indian public's experience of policing today is marked by illegal arrests and detention, torture, excessive use of force, and corruption.
The Indian public's experience of policing today is marked by illegal arrests and detention, torture, excessive use of force, and corruption. This is endemic to the Indian police and has become public knowledge, with methods and patterns of misconduct and illegality carefully documented by civil society and researchers. The Indian State no longer actively denies these practices, but it hasn't done much to address them either.
Over a decade ago, the National Crime Records Bureau (NCRB) began collating information on cases of human rights violations attributed to the police. Human rights violations were defined as disappearance of persons, illegal detentions, fake encounters, extortion, torture and rape. This was an encouraging step forward towards fighting impunity. However, the last NCRB report records a mere 94 instances of human rights violations by the police, and of these, 12 were promptly deemed to be false by the police department after a preliminary inquiry. There is no publicly known procedure of how complaints are deemed to be false—this lies at the discretion of the police department. The investigations led to filing of chargesheets (i.e., official accusations) against only 34 of these complaints. But what is more disturbing is that not a single one of these resulted in a conviction.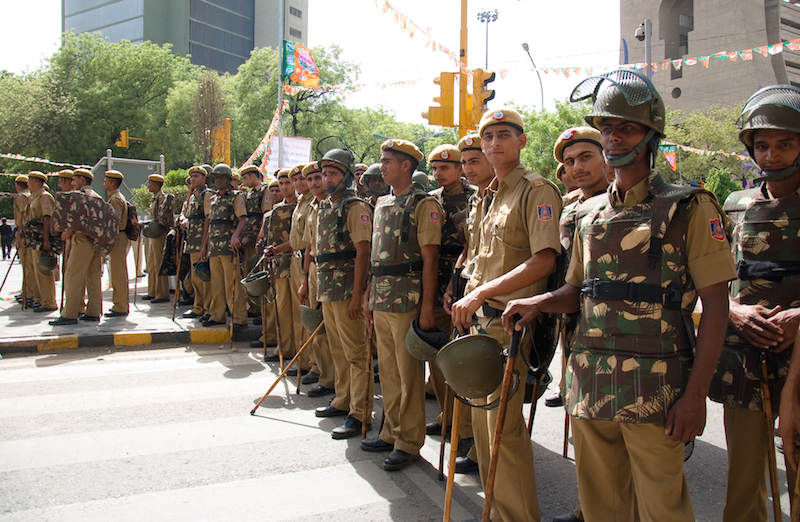 Flickr/Jaskirat Singh Bawa (Some rights reserved)
The dilemma for civil society begins once they are seen engaging with the police. Engaging would compromise their ability to challenge wrongdoing or to question malpractice.
---
In addition, the 2015 report of the NCRB reported 97 deaths in police custody, but only six were reportedly caused due to injuries sustained in custody. The rest were either due to suicides or natural causes. The police are also not required to report cases of torture that do not result in deaths. Further, during the same year a total of about 55,000 complaints were received against the police across the country, but the government only launched inquiries into 30% of these complaints. Less than 8% went to trial and 0.04% (25 to be exact) resulted in a conviction.
These figures, which may just be the tip of the iceberg, reveal that both the judicial and departmental processes are weak in terms of accountability for police wrongdoing. The government is clearly not interested in addressing rights violations by the police, and, it appears, will go to great lengths to suppress all such data that would demand police accountability.
It is thus not surprising that most civil society groups, activists or human rights defenders in India choose not to engage with a police force that refuses to acknowledge its wrongdoings and hold itself accountable. While researchers might see the benefits of this engagement, because of the nature of police violations in India, many human rights workers refuse to engage with the police and would rather (justifiably) focus on individual abuses by police, challenge them in court, or document the malpractices.
Court battles against police abuse have had mixed results, however. At the lower courts, there have been very few convictions and these have come after long years of struggle. On the other hand, the Supreme Court of India has delivered some landmark judgements on police functioning and operations, which have given civil society legal leverage to demand reform and accountability. But the Court guidelines have not been entrenched into policing practice; compliance is minimal and that too is only for fear of consequences and not due to any change in beliefs. To change beliefs, we need more than lawsuits in order to reiterate and enforce the principle that this behavior is unacceptable.
Moreover, while the documentation of patterns abuses has raised awareness of human rights violations by police, it has also widened the gap between civil society and police to a large extent. Most policing organisations look at "Human Rights NGOs" with suspicion. Many officers feel that human rights get in the way of effective policing, and the expectations of human rights groups for police to adhere to the law at all times (with practically no resources) are unrealistic. As policing is an essential service needed to maintain order in society, these two sides must find ways to work together rather than seeing each other as the enemy. But how?
It is not civil society alone that refuses to engage with the state actors. Governments and police departments have also consciously excluded external players from discussions around security and policing issues on the basis that it is a debate only for the government or the police. Wanting to retain control over the police, governments claim that it is not possible for an outsider to comprehend the complexities and challenges of policing. But if the government truly wanted a community-focused police service, then the reform process needs the input of the community.
One obstacle to achieving this community focus is that most human rights groups presently do not look at whole systems. Most are concerned with individual abuses, which are imperative issues, but they will not cease unless addressed through systemic and lasting reform. Systemic reform calls for strong oversight mechanisms (for wrongdoing as well as for performance) and for mechanisms to ensure that day-to-day policing is not subject to undue political interference. This reform also calls for good management practices in recruiting, training, assessing and disciplining the police, and the police and civil society must work together to enact such system-wide changes. As much as Indian civil society is reticent to work with the police, refusing to engage with each other is not an option any longer.
Unfortunately, most of civil society`s engagement with the police is restricted to trainings either on gender or human rights or law. Police leadership welcome such interventions from civil society groups, as these presentations are not really viewed as a measure to improve behavior or practices but just as a formality completed. The training programmes are neither regular nor are they part of the standardized police-training curriculum. Importantly, the discussion on human rights is done in a manner where it is taken as a face-off between the citizens and the police. In addition, the teaching and training of the various human rights issues has lacked contextualization that locates rights in the everyday functioning and procedural structure of the force. Despite the downsides, for civil society, this is still an important entry point into traditionally closed policing systems, but it remains insufficient.
The dilemma for civil society begins once they are seen engaging with the police. Engaging would compromise their ability to challenge wrongdoing or to question malpractice. It also affects their credibility with sometimes deeply threatened civil society actors. However, we all must strike a balance. Police departments need to acknowledge that a truly reformed police service can only be borne of a community focused reform process. Civil society, on the other hand, must accept that police abuse is one of the many problems of policing that needs addressing. We must acknowledge that a "mix" of reforms is required, and we need to get comfortable with engaging when we can and confronting when we must.