Funding truth and transparency: Ukraine's postwar media landscape
A transparent, democratic recovery effort in Ukraine will require adequate and coordinated funding for the independent media sector.
---
---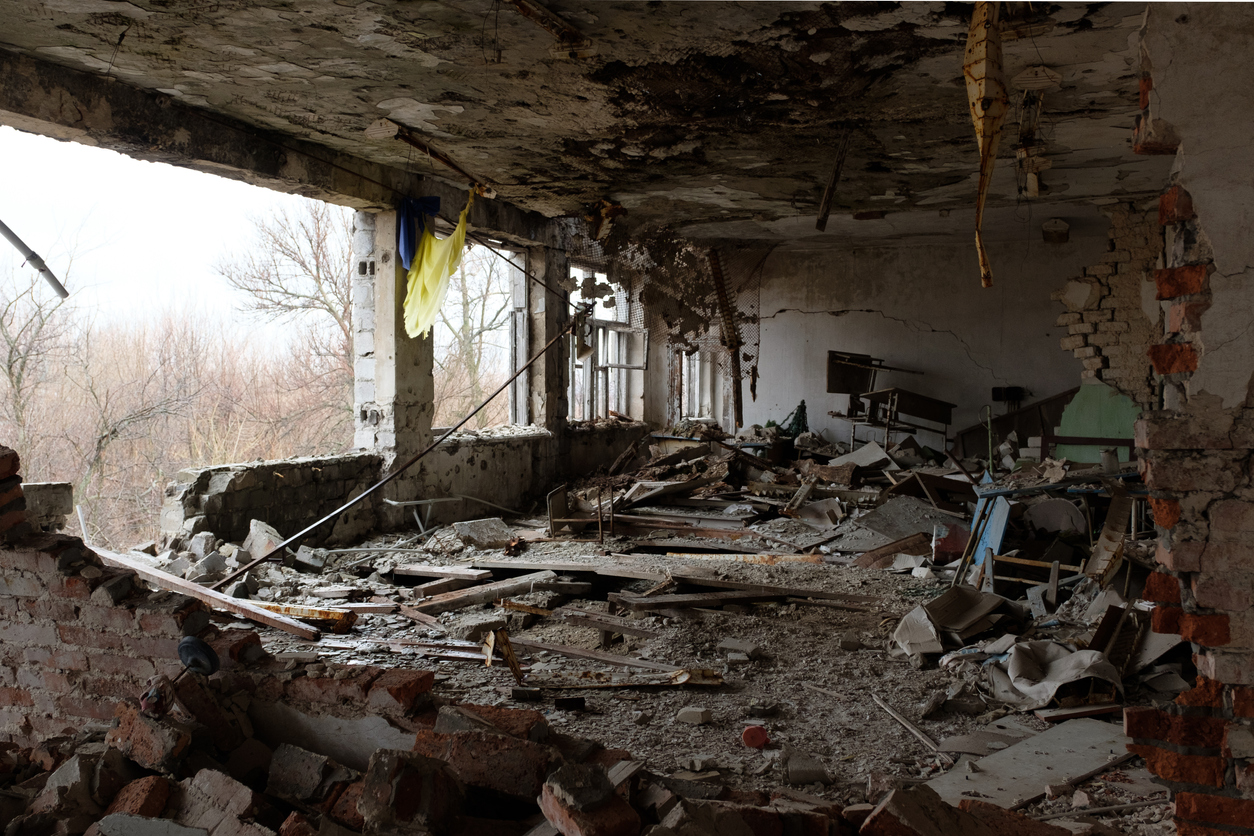 Credit: Jakub Laichter / iStock
The term "transparency" reverberated throughout the Ukraine Recovery Conference in London this summer, as if it were a sacred chant. The European Union (EU) and other international stakeholders are already getting ready to rebuild Ukraine, under the catchy slogan of "Building back better." Despite all the good intentions behind rebuilding and reconstruction plans, these efforts come with some risks. One major concern, given the large amount of money involved, is the possibility of corruption and mishandling of funds. To prevent this, it will be crucial to support independent media, who play a vital role in holding authorities accountable. Independent outlets should be provided with enough funding and support to ensure a transparent rebuilding process.
Transparency, rights, and the role of the media
The World Bank estimates that the Ukrainian recovery and reconstruction after the first year of Russia's war will cost around $411 billion—twice Ukraine's prewar gross domestic product. Considering Ukraine's consistently low score of 33 out of 100 on Transparency International's Corruption Perceptions Index in 2022, ranking 116th among 180 countries, this large amount has unsurprisingly raised serious concerns among international stakeholders. Add to this that foreign investments are well known to be hindered by corruption, perceptions of corruption, and an unfair business environment.
Transparency is one of the EU's key principles, and Ukrainian officials have repeatedly confirmed their commitment toward EU integration, an idea that is backed up by public opinion. According to the latest poll by the Kyiv International Institute of Sociology, 92% of Ukrainians favor EU membership by 2030.
However, merely pledging transparency is insufficient. It must be acted upon. So how can it truly be achieved?
An important part of the answer lies in the efforts of democracy watchdogs, such as media professionals. Media scrutiny and reporting can hold governments and institutions accountable for their actions. Take, for instance, the investigation of the Panama Papers. A massive leak of 11.5 million confidential documents from a Panamanian law firm in April 2016 exposed a vast network of offshore financial dealings involving politicians, celebrities, and wealthy individuals worldwide. Reporting on these revelations led to public pressure for reforms, investigations, and legal actions, fostering greater demand for governmental and corporate accountability in handling financial matters. Similarly, journalists in Ukraine can investigate and report on issues like corruption, mismanagement, or inefficient allocation of resources. By exposing such problems, independent media can ensure transparency and the proper use of funds and resources intended for reconstruction.
Closely connected to transparency are the right to information and the fundamental right of individuals to access and receive information held by public authorities and other entities. Transparency refers to openness, accountability, and clarity in the actions and decision-making processes of governments, organizations, and institutions. When the right to information is respected and upheld, individuals are empowered to seek and obtain information about the functioning of public bodies, government policies, and decision-making processes. These rights allow citizens to scrutinize and hold authorities accountable for their actions.
Transparency in itself will not be enough; diversity must be respected, which brings fairness and inclusivity. In the media sector, diversity means giving everyone a chance to speak up and consider different viewpoints. When there is, for example, a balanced representation of genders in media coverage, citizens feel more connected and recognized in the democratic process. Inclusive rebuilding therefore requires highlighting stories from various groups, like women and youth in rural areas, men working in risky industries, ethnic and language communities, LGBTQI+ communities, and others.
To ensure that Ukraine stays on its steady path toward democracy, the Ukrainian people's right to information must be ensured—now and when the war is over. It is crucial that Ukrainians find out what is happening on the ground in their country, understand the availability of services, know what their rights are, and get their voices heard. The media sector has a responsibility to adhere to ethical standards and donors need to ensure diversity is respected in the media funding they provide.
Coordinating funding for independent media
As the war continues, local reporters are the ones providing life-saving information that allows the Ukrainian people to make informed decisions about their lives. They are often the first ones documenting and bringing attention to the atrocities carried out by Russia. And they will be the ones holding officials accountable for managing the largest reconstruction effort in history since the Marshall Plan after World War II.
For this crucial sector to endure in the long term, there needs to be adequate funding and support. Independent media in Ukraine are currently forced to operate in a highly volatile situation. Up until May 2023, Russian soldiers and occupation authorities had committed at least 514 crimes against Ukrainian journalists and media. Add to this that independent media have limited financial opportunities. Advertising models function poorly, and subscription models generate funding mostly from foreign audiences.
Even if media is prioritized in rebuilding discussions, practical complexities must be addressed. Proper coordination and distribution of funds are essential, considering the media sector's capacity to absorb them. Adhering to international development principles, such as coordination to avoid fragmentation and inefficiency, flexibility to adjust to circumstances on the ground, and gender equality and social inclusion to address inequalities and empower marginalized groups, ensures alignment with international agreements like the Paris Declaration on Aid Effectiveness. This approach unlocks the potential of independent media to foster democratic development in postwar scenarios.
Transparency is not merely a buzzword for a conference or a bureaucratic checkbox; it is the cornerstone of a just and accountable society. To truly "build back better," donors, international organizations, and governments must recognize the essential role of independent media in ensuring transparency and distribute the funds according to key global development principles. Sustainable funding must be prioritized alongside capacity building and the protection of press freedom. Only by investing in independent media can Ukraine continue on its steady path toward democracy, eventually emerge from the shadows of war, and enter a brighter, more inclusive future.
ORIGINALLY PUBLISHED: August 11, 2023
---
Emma Lygnerud Boberg is a gender and programme development adviser at International Media Support, based in Copenhagen, Denmark. She is a feminist with a particular interest in Eastern Europe and Central Asia and has previously worked in the global development sector in Belarus and Kyrgyzstan. She holds a master's degree from the International Development and Management program at Lund University, Sweden.
---