In Myanmar (Burma), the tentative steps towards democracy since 2010 have brought with them some of the tools that dominate most Western democracies, including public opinion polls. Polling is a great device for ascertaining what the public sees and what it needs, but the first public polls in Myanmar were met with skepticism by some of those who might benefit most from understanding them.
The findings of two 2014 polls conducted by international NGOs in Myanmar were publicly released last year, sparking an important debate on the value of public opinion in the country. Those public polls appeared to meet internationally accepted polling standards, and all evidence indicated that the Burmese people were able to answer the questions freely.
In December, I led a team of polling experts from the region—Mahar Mangahas of the Philippines' Social Weather Station and Ibrahim Suffian of Malaysia's Merdeka Center—to further explore polling capability in Myanmar. The project was sponsored by the Open Society Foundations Burma Project and the Think Tank Foundation, and the complete report is available online in English and Burmese.
The team's task became even more important following the furor that greeted the country's first publicly reported opinion poll in April 2014. Interviews were conducted by a local market research organization with a 20-year history, Myanmar Survey Research, and the report was released by the International Republican Institute (IRI). The published results included suggestions that the public held some positive views of the USDP (Union Solidarity and Development Party) and the president, which outraged media and members of the opposition, as well as their Western supporters.
The response demonstrated the lack of experience civil society actors had with polling and how to use social science research in general. The critics chose to ignore other findings in the poll, which made clear the high esteem in which the Myanmar public held Daw Aung San Suu Kyi and the National League for Democracy (NLD). The balanced and nuanced IRI poll results, in which the public gave credit to the USDP for the slowly improving economy and infrastructure, conflicted with the standard narrative of overwhelmingly public support for the NLD and opposition to the government.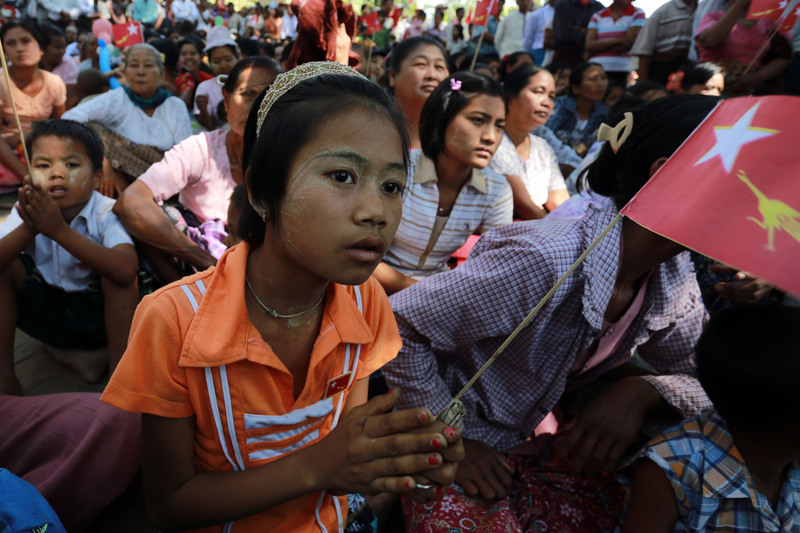 Demotix/Htoo Tay Zar (All rights reserved)
A crowd of Myanma listen to a speech by National League for Democracy leader Aung San Suu Kyi in Naypyitaw, Myanmar.
---
This unfortunate overreaction to what could have been very useful information illustrates a problem for civil society groups in Myanmar and perhaps elsewhere: lack of training and lack of acceptance that the public might have a mixture of nuanced opinions. In Myanmar, the shutdown of the social sciences during the military regime and long prison sentences for activists may have caused much of the problem; many activists are convinced that surveys are impossible, the most common criticism being that a sample of 3,000 couldn't possibly be large enough for a country the size of Myanmar.
There are good reasons to conduct opinion polls in any country in the period before a major election, especially an election that could result in changes in national representation. There is even more reason to have such polling done in countries without a recent history of democratic elections and survey research, like Myanmar. First off, parties need data to understand the needs and desires of the voting public in order to better represent them. Polls can also serve as a check on government excesses, and many of those we spoke with, including critics, appeared open to the idea of using opinion polls to determine public satisfaction with government services and identify problems that government must solve.
Opinion polling can represent the minority population as well as the majority, and describe similarities and differences within those groups.
In addition, opinion polling, especially polls designed with larger sample sizes, can represent the minority population as well as the majority, and describe similarities and differences within those groups and between minority groups and the majority population. Myanmar is a country with many minority groups, some of which have been fighting against the government for decades. Using representative polling, local and national leaders can better evaluate the needs of minority groups, and the Myanmar public can better understand conflict issues as well as areas where the majority and minorities agree.
Polls demonstrate the range of opinions and differences within the population over time. Asking the same questions at regular intervals in a scientific manner generates reliable information about the state of the country and the direction it may be headed for both leaders and the public, as well as early indications of shifts in public opinion. Well-conducted polls can quantify serious problems, even human rights issues, as they will tell those who are interested the magnitude of the problem and measure public support for changes.
Finally, in a transitioning society, pre-election polls can encourage stability, as they create a shared expectation for an election's outcome and the opportunity to prepare for it. Exit polls in many countries are used both to understand voters' desires and to validate the counting of votes.
We noted in our report how polls work especially well if they are released publicly and polls are conducted frequently. It is useful for citizens to know how others in society feel about problems and the parties proposing solutions. When knowledge of what the public is thinking is publicly released, polls act as a bridge between the public and the leading members of society, even in stressful situations. In addition, consistent public release of polling information can create a norm of shared information and create a better-informed society. Methodologies and results can be compared, and polls become part of democratic life.
When we were in Myanmar, we found that members of the ruling party grasped the importance of discovering what the public wanted—after all, they were pragmatic and concerned, as parties everywhere are, about winning elections. Civil society activists were harder to convince, They had never been exposed to this type of data before, and found it hard to believe that the public might not agree with them on every specific question. While their cause is just, this unwillingness to use polling information can put them at a serious electoral disadvantage. If polling data is used correctly, it can provide helpful information to civic activists on where they should engage the public about their rights.
Accepting and understanding polls is not only about the need to know public opinion. Polls should be a starting point for bigger conversations. They are about allowing data to enter public debate, as well as policy- and decision-making processes. Without this, countries transitioning to democracy, like Burma, risk remaining in a vicious cycle of personalized politics, policies detached from reality, and outbursts of public anger and violence against politicians' unresponsiveness.