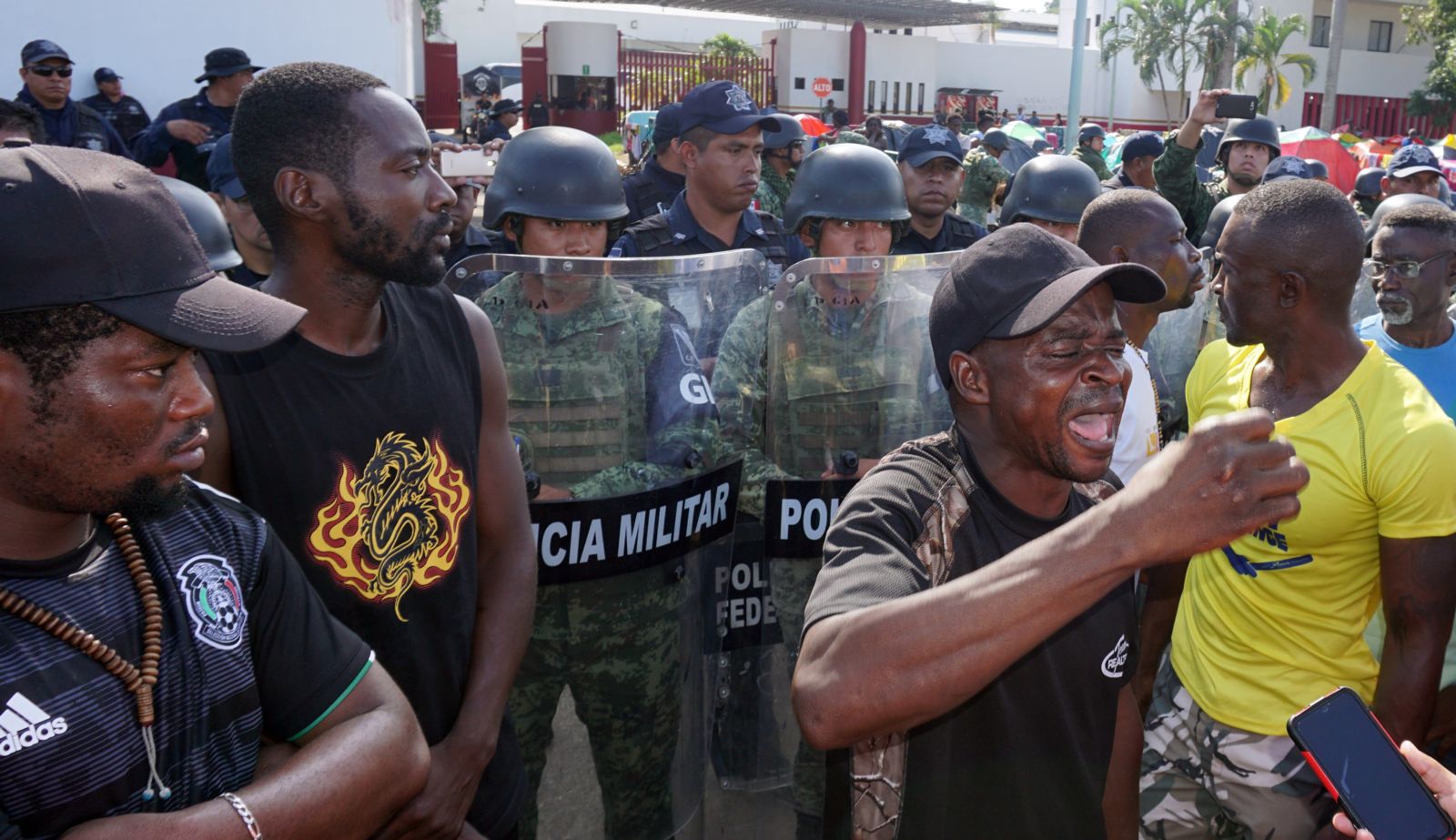 In September 2019, African migrants who were stranded in the southeastern Mexican state of Chiapas protested the Mexican authorites after they went a month and three days issuing any document that allows them to transit through national territory. EFE/Juan Manuel Blanco
---
While racial justice protests erupted across the globe last summer, concurrent demonstrations in Mexico highlighted the ways in which racism and police brutality impact Black migrants in the country. This was not the first time that Black migrants protested their treatment in Mexico. And given the increase in Africans and Haitians migrating through Mexico in recent years, it won't be the last. Although Central American "migrant caravans" often dominate the narrative of migration to and through Mexico, the demographics of Mexico's migrant population are shifting. With this shift, and increased attention on racial justice, now is the time for Mexico to address the anti-Black racism, xenophobia, and other forms of discrimination that impact Black migrants in the country.
In recent years, Mexico has become a key transit country for thousands of African migrants making an arduous overland journey through Latin America to the United States. Mexican immigration authorities recorded the apprehension and detention of only 785 African nationals on Mexican territory in 2014. By 2019, the number had grown to 7065. A significant number of these detained Africans were from countries with ongoing civil war and unrest, such as Cameroon, the Democratic Republic of the Congo, and Somalia. While the data is imperfect, and fails to reflect the total number of migrants entering Mexico each year, it points towards a sharp increase in the number of Africans moving through Mexico over the last five years.
This increase can be attributed in part to the European Union's increasingly hard-line approach to immigration over the same period. For instance, in 2016, the European Union signed agreements with Turkey and Libya that have made it more difficult for migrants to enter Greece or Italy across the Mediterranean Sea. These agreements externalize Europe's immigration enforcement outside its borders, thereby preventing Africans from safely migrating to the continent. As a result, an increasing number of Africans seeking safety and survival have been flying into South American countries like Ecuador or Brazil, traveling overland to Colombia, and crossing into Panama through the Darien Gap jungle – the most dangerous part of the journey – before making their way through Central America to Mexico's Southern border.
Under the current Mexican Administration, it has become more difficult for Africans and other migrants to reach the United States. For several years, Africans arriving in Tapachula – a city near the Mexico-Guatemala border – were issued "exit permits" by Mexican immigration officials. With these documents in hand, they could continue North to seek asylum in the United States. This practice stopped in mid-2019 when, under pressure from the United States, Mexico's approach to immigration became more restrictive. At first, immigration officials began issuing "exit permits" that required the recipient to leave Mexico by its southern border, and later they stopped issuing them at all. At the same time, Mexico increased its immigration enforcement by deploying National Guard troops to Southern Mexico to apprehend migrants traveling North without documentation. Many African and other Black migrants are, due to their skin color and language, often easier to spot and apprehend than other undocumented migrants.
As a result, from mid-2019 on, a growing number of African migrants got stuck in Tapachula for months as they waited for their cases to be processed through the Mexican immigration system. Many were held in the main immigration detention center, Siglo XXI, or were left to camp outside. Thousands of African migrants came together to form the Assembly of African Migrants, which protested the human rights violations they were suffering.
In particular, African migrants faced frequent acts of racism and hostility by immigration authorities in Tapachula. Our recently published report, which relies on interviews conducted with African and Haitian migrants who were stuck in Tapachula in 2019, documents how they faced discrimination by immigration authorities, police, and other government officials. The interviewees also described the racism they experienced in the contexts of employment, housing, and education. For many, the discrimination they faced meant that seeking asylum in Mexico was not a viable option. As described by Rui, a migrant from Angola, "after seeing the abuse and violence inflicted by immigration officials and police on Black people, [Mexico] is not a place where we feel safe."
Mexican immigration officials have even detained and, in some egregious cases, deported Afro-Mexicans and Indigenous Mexicans due to discriminatory assumptions that they are non-citizens.
Discrimination, on the basis of skin color and race, is prevalent throughout Mexico and adversely impacts Black and Indigenous migrants and citizens. For instance, a 2017 study by Mexico's National Institute of Statistics (INEGI) found that darker-skinned Mexicans tended to have lower economic or educational attainment. Similarly, in a 2019 study by El Colegio de México, researchers found that people with racialized physical features, including darker skin tone, experience discrimination in a variety of social spheres throughout Mexican society. Mexican immigration officials have even detained and, in some egregious cases, deported Afro-Mexicans and Indigenous Mexicans due to discriminatory assumptions that they are non-citizens. As outlined in a recent statement by Black Lives Matter Tijuana, racism against Black migrants and Afro-Mexicans persists in different social spheres.
Mexico's National Commission for Human Rights (CNDH) has issued numerous recommendations in response to these practices. In addition, international human rights bodies – like the UN's CERD Committee and CEDAW Committee – have recently condemned Mexico's discrimination against Black, Indigenous, and female migrants. The CERD Committee specifically admonished Mexican authorities for racial profiling and the use of force against migrants. It also noted "an increase in discourse informed by discriminatory views, racial hatred, and xenophobia targeting migrants" in the country.
Although the COVID-19 pandemic has temporarily impacted migratory flows, the forces leading Africans to migrate from their countries of origin, through Latin America, and into Mexico are not going away. While the U.S. asylum system may improve under the Biden administration, the fact remains that many African and other Black migrants will still have to live – either temporarily or permanently – in Mexico. As a result, it is imperative that Mexico address the anti-Black racism, as well as xenophobia and other forms of discrimination, impacting migrants in the country. The advocacy efforts of Black migrants within Mexico, as well as the racial justice movement sweeping the globe, demand that urgent action be taken to address this ongoing and serious issue.