Stopping the abuse in your produce basket
Under the COVID-19 pandemic, governments and consumers have the opportunity to rethink how we look at the human costs that sustain our grocery shopping.
---
---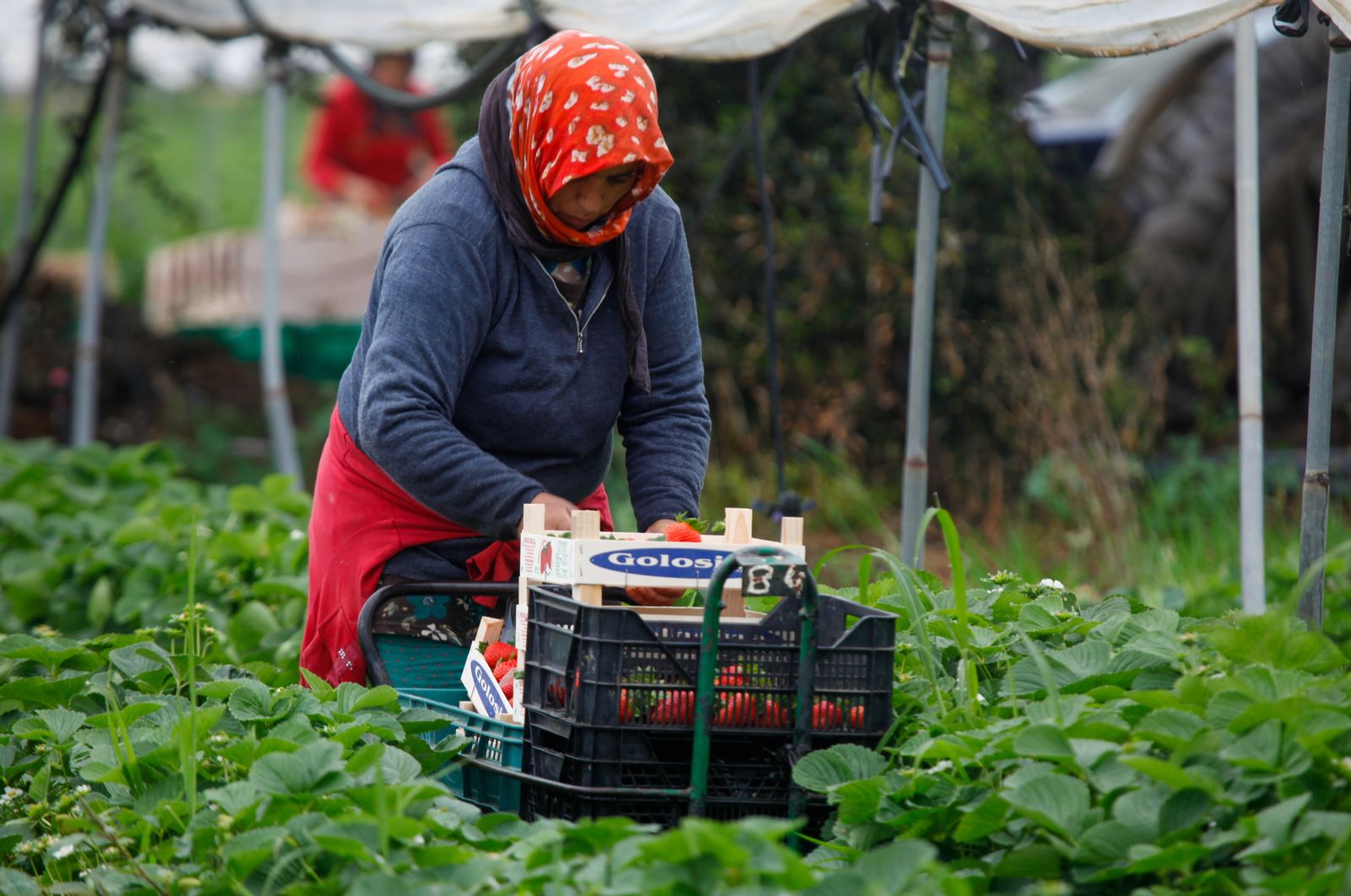 A worker of Moroccan origin picking strawberries on April 4, 2020, on a farm located in Cartaya (Huelva), following the decree approved by the Spanish government that will allow the unemployed, with some exceptions, to simultaneously collect their allowances with a temporary job in the field to cover the lack of manpower in the next campaigns for the closure of the borders as a result of COVID-19. EFE / Julián Pérez
---
As consumers, we rarely pause to think about where our produce comes from. Our best indication comes from an unassuming sticker that we peel off without a second glance. But we should be more mindful of our consumption. Karl Marx pondered how workers are made to feel foreign to the products of their own labor. Similarly, we as consumers are estranged from the products we consume. In most cases, the origins of the produce we purchase at the grocery store are riddled with unsavory truths about the human price paid for our food. Under the COVID-19 pandemic, governments have the opportunity to regulate the labor that sustains our grocery shopping, particularly as our shelves look emptier and we seek alternatives.
While the pandemic has taught us to be thankful for our essential workers, not every essential worker's labor is visible. Our food supply is essential, and therefore our food suppliers, overwhelmingly migrants, are essential workers. However, in Spain, they are essential only in name and not in treatment. Under Spanish law, essential workers are entitled to personal protective equipment (PPE), but migrant farmers have remained in the fields without adequate PPE.
But there were already pre-existing egregious conditions for these workers. Water is stored in pesticides containers. Shacks, made out of vegetable boxes, have no electricity or sanitation. And wages are half the legal minimum. Migrants are confined to densely populated shantytowns that house an estimated 7,000 to 10,000 people where they sleep in plastic tents that release carcinogenic fumes under temperatures of up to 50 degrees Celsius. Because of the virus, those who are unable to go to the fields have been trapped in their shacks without access to running water. Moroccan women, many of whom have been trafficked, report widespread sexual abuse on berry-picking farms that has been ignored by both the Spanish and Moroccan governments. Some migrants report working 12-hour shifts with just 30 minute breaks. Across Almería and Catalonia, migrant-worker farms have experienced outbreaks of COVID-19. And given that Spain is the main supplier of produce in the European Union, migrants bear the costs for produce that ends up in supermarkets across the continent. This is the reality of what lies behind the produce on our plates.
Our food supply is essential, and therefore our food suppliers, overwhelmingly migrants, are essential workers.
Spain was visibly ravaged by the pandemic with its high death toll and strict stay-at-home orders, but during that time, migrant workers toiled away in dismal conditions, ensuring that Europe remained fed at their own expense. When consumers began to see empty shelves, we could not see this tragedy and human exploitation at the source. Though the pandemic placed unprecedented shocks on produce supply chains at various levels, including farm production, food processing, and transport, the bottlenecks have mostly subsided, indicating a supply chain resilience that lends itself to increased regulation to mitigate the abuses migrants endure. Fears of further regulation as disruptive or bottleneck-inducing no longer stand in the context of such resilience, for despite temporary periods of empty shelves due to labor shortages in processing and transport, produce supply chains have returned to meeting consumer demand. After all, such shocks could have been softened if migrants could have safely worked with adequate PPE and appropriate conditions where social distancing and access to hygiene were enforced. COVID's blows to Spain's typical agricultural labor force can serve as a paradigm shift for this bleak industry.
Rather than being characterized by human rights abuses and government indifference, Spain's agriculture industry has the opportunity to be restructured so that it can feed Europe whilst also respecting the dignity, safety, health, and livelihoods of migrants. With a current unemployment rate of around 15.3%, there is an opportunity for Spaniards to fill this seasonal migration labor void. But, because many migrants lack legal documentation to work in the country, they are far more exploitable, unable to complain about their conditions or demand compensation for their work.
When consumers began to see empty shelves, we could not see this tragedy and human exploitation at the source.
Moreover, the pandemic has forced Spain's agricultural industry to reckon with the reality that exploiting migrants is not a sustainable labor source. Without the guarantee of inward seasonal migration, the government has scrambled to create legal changes, granting state benefits to unemployed Spaniards to work on farms as well as temporary work visas for migrants aged 18 to 21. Failing to make these work visa changes might create a food shortage issue, which could potentially trigger migration out of areas that are heavily impacted by COVID.
Consumers can play a role in this paradigm shift too. We must no longer have a blissfully blasé attitude about the origins of our food. The human cost is far too steep. Instead, consumers must learn about the person on the other end of their produce. A pivot to community-supported agriculture or farmer's markets for produce has achieved this. But, evidently, these options are more expensive and grocery stores remain a default consumer option.
Because of that, grocery stores and multinational corporations have to form policy partnerships with governments to aid in labor regulation and rid their supply chains of human suffering. As evidenced by Spain's actions to address the labor void, COVID is already prompting this policy innovation and restructuring to take root in the short-term. But post-pandemic, governments and multinational corporations cannot return to business as usual. If governments can provide proper working conditions for their citizens and pathways to legal status for migrant workers during a crisis, they can do it when we emerge from this pandemic too. The next time we go to the grocery we must understand that the produce we hold in our hands grew into existence through a brutal chain of exploitation that separates us from its creator. Only then can we refuse to be participants in a chain of oppression that has been rendered outdated and unsustainable by the pandemic.
ORIGINALLY PUBLISHED: December 22, 2020
---
Amanda Borquaye is a Master's candidate at The Fletcher School of Law and Diplomacy studying Human Security and Technology Policy. She is interested in the intersections of migrant rights and how technology is altering the security of migration. Prior to graduate school, she worked as a civil rights paralegal at a law firm.
---