When the Ferguson uprising came to Geneva
A shadow report presented to the Committee Against Torture brought police brutality in the US to an international human rights forum.
---
---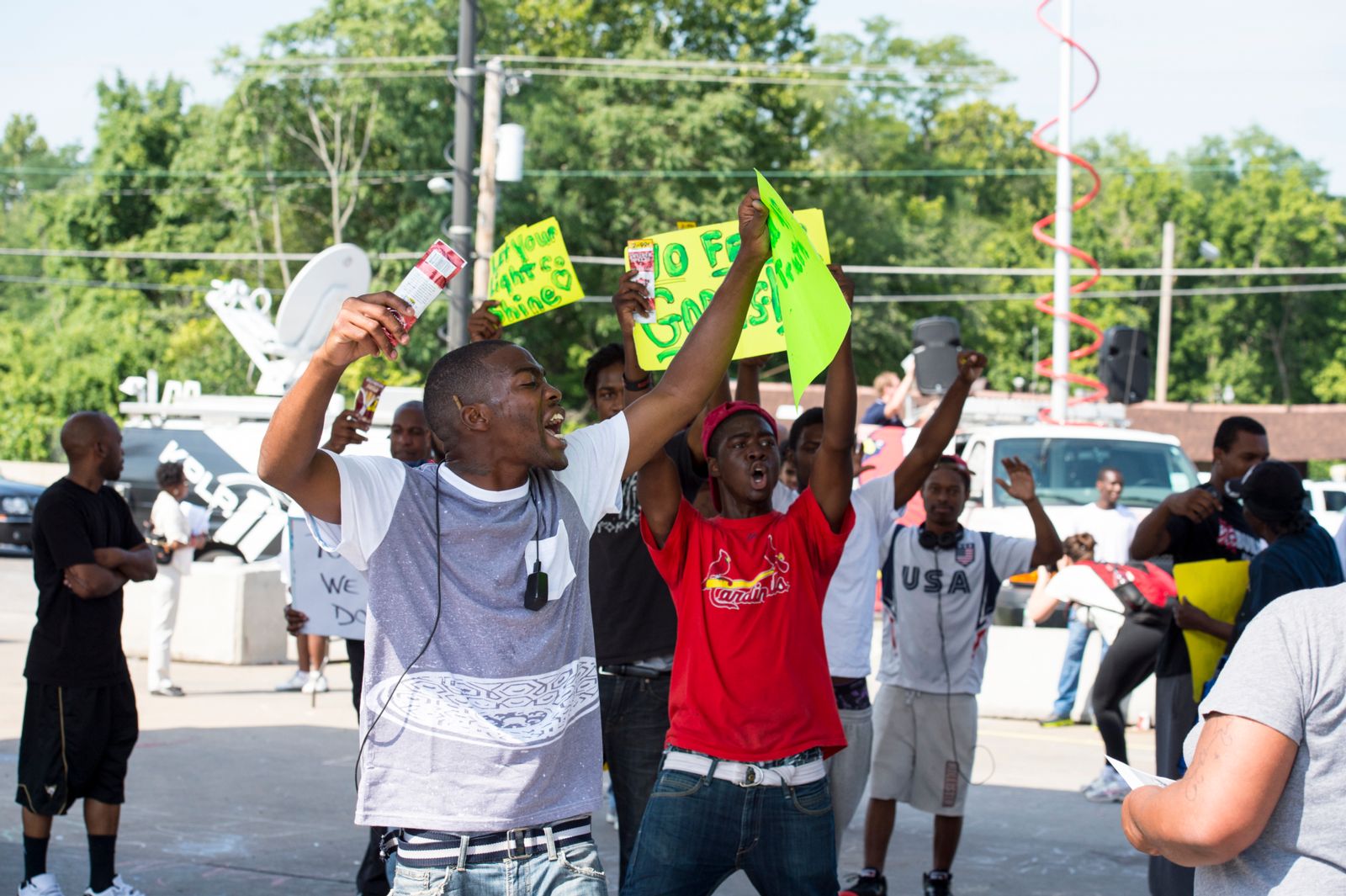 Demonstrators in Ferguson, MO react to the release of the name of the officer that shot Michael Brown, August 15, 2014. Credit: ginosphotos / iStock
In fall 2014, weeks into a sustained grassroots movement that swelled the streets of a small US suburb north of St. Louis called Ferguson, an effort took shape to communicate grievances from the site of the protest to the austere halls of the Palais Wilson in Geneva, Switzerland.
The Ferguson Uprising broke out following the killing of Michael Brown Jr. by police officer Darren Wilson on August 9, 2014, on the block where Brown was living with his grandmother at the time. In the period between the initial event and the grand jury's decision not to indict Officer Wilson on November 24, thousands of people held space day and night, marched up and down North and West Florissant Avenue, broke mandated nighty curfews, and ran from tear gas.
People flocked to Ferguson from across the US and the movement rippled across the world. Early in the uprising, the Ferguson to Geneva (F2G) delegation, a formation of activists and human rights lawyers, submitted a report to the United Nations Committee Against Torture, before which the US government was set to appear.
The F2G delegation participated in "shadow reporting": the practice of submitting alternative documentation for use during a monitoring cycle of states' compliance with international law.
All states that ratify human rights treaties are expected to appear every four years before unique treaty bodies tasked with providing oversight. These treaty body sessions revolve around a self-report produced by the state under review and a critical dialogue between the committee's experts and representatives from the country.
At this juncture, civil society actors (e.g., impacted people, NGOs, social movements, and academic law clinics) are invited to submit shadow reports in order to raise additional issues and provide evidence of human rights abuse. A subset of actors who submit reports also testify at the treaty body sessions.
All of this information, as well as supplemental research, informs the drafting of the committee's Concluding Observations, a report meant to issue recommendations and serve as the basis for the ongoing, consultative relationship between multilateral human rights mechanisms and national governments. F2G was part of a massive, early wave of shadow reporting by US civil society that persists today.
But why would frontline activists take time and raise money to bring their claims to a body of independent experts with no recognizable authority over the institutions responsible for the abuse and pain laid bare over the 100 days of the uprising? What utility, leverage, or opportunity does shadow reporting afford a movement like the one that coalesced in Ferguson?
An initial instinct is to look for the ways that advocates would use spaces like treaty body hearings to apply pressure on states, hoping to see a change in the state's behavior. States generally do not prefer this kind of attention; mobilizing shame and raising awareness of abuse may, under certain circumstances, force them to bend to the power flexed by advocates and campaigners.
However, in interviews with F2G delegates, I did not encounter anyone who thought they would be able to sway US behavior in the areas of police violence or racial injustice. No one thought their UN appearance would change Wilson's fate or produce a sea change in favor of reparations.
As Ferguson organizer Tara Thompson remarked, "So, if we're really being honest about what I thought we would get, I thought we would get nothing—the same thing we've always gotten from the system that is built to murder us."
Instead, as I conclude in an article recently published in Human Rights Quarterly, shadow reporting is a practice that has the potential to provide space for recognition and restoration that mobilizes law in the service of human dignity.
The answer offered by F2G delegates suggests that the shadow reporting process presents a unique opportunity for people and communities impacted by human rights abuse to have their grief and grievances acknowledged as legitimate and real by an official authority.
Lezley McSpadden, Brown's mother, spoke in the session for this purpose. Law professor, scholar, and activist Justin Hansford, prepared McSpadden for testimony and reported that "she had to go all the way to Geneva before she could find a place where she could tell her story before a group of officials and they respected her and they recognized her dignity."
Meena Jagannath, delegation member and human rights lawyer, broadens this expression: "A forum like that has [the power to uplift] what the most disenfranchised people generally feel. They were able to reclaim that humanity in a public forum."
And, yes, the arc of the universe is long and bends toward justice; every little bit counts as we march onward toward freedom, and we must continue to pressure states to do better. But we should take seriously that core and basic human rights values like dignity and respect, like the bare condition of being affirmed as a living human being, can be pursued and attained without state permission or acquiescence, without state will or capacity. Without demanding anything of the state nor expecting anything in return, people impacted by human rights abuse appear in pursuit of something historically denied.
Venues endowed with authority and status, especially those backed by a legal mandate, can serve restorative or even reparative functions by holding space for truth-telling and testimony. Treaty body reporting sessions, though never envisioned to occupy such a role, possess this capacity and can be a powerful context for the pursuit of a notion of justice that is personal and profound.
ORIGINALLY PUBLISHED: February 22, 2023
---
Joel R. Pruce is a tenured faculty member who writes, teaches, and works in the area of human rights at the University of Dayton, Ohio.
---