A cautionary lesson from Italy: commercializing healthcare can kill
At the latest G20 Global Health Summit, global health leaders seemed to have forgotten one of the most costly lessons of the pandemic.
---
---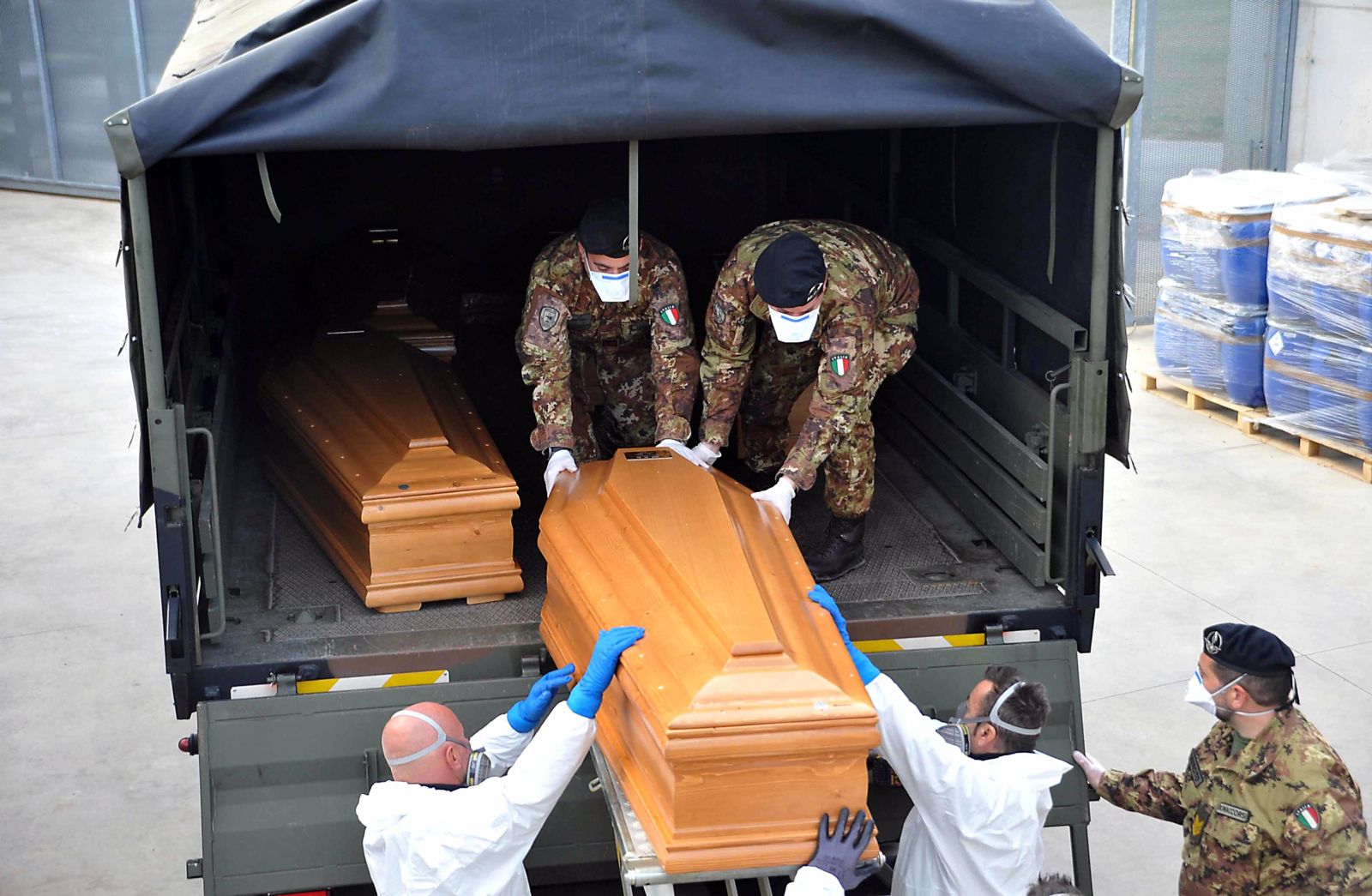 Italian army trucks are loaded with coffins to be transported to crematorium during the Coronavirus emergency in Ferrara, Italy, 25 March 2020. EFE/EPA/SERGIO PESCI
---
In February 2020, coffins had to be taken out of Lombardy, Italy on military trucks because the region was unable to deal with the sheer number of people dying from COVID-19. Medical staff described how Italy's wealthiest region resembled a "world war" scenario amidst the pandemic: patients flocked to public hospitals, healthcare frontline workers were left unprotected in war-like triages, and funerals took place without the bereaved. A year later, Lombardy's case fatality rate was the highest in Italy (5.7%), more than doubling the national fatality rate (2.4%) and that of the neighbouring Veneto region (3.0%).
How was Lombardy, despite being one of the wealthiest regions in Italy and in the world, so ill-equipped to respond to the pandemic? There are certainly multiple reasons, but several structural factors have started to clearly emerge.
First, Lombardy overly focused on treating patients in large hospitals, neglecting testing and tracking, which has proved to be one of the most important responses to the pandemic. In July 2020, only 5.5 tests for every positive case were carried out in Lombardy compared to, for instance, 21.6 in Veneto. Likewise, only 43.5% of patients were treated at home, compared to 74.9% in Veneto.
Second, Lombardy spent a lot of time re-negotiating contracts with its private providers, which account for 40% of all healthcare delivery, wasting weeks when even hours were crucial.
Third, Lombardy was able to activate only 14 acute-care beds per 100,000 inhabitants, below the Italian average of 15 (Veneto had 20 per 100,000). Given that Lombardy is amongst Europe's wealthiest areas, a potential explanation for such a poor pandemic management and preparedness is the high private sector presence in the health system: as acute-care beds tend to correspond to less-remunerative treatments, private facilities might be less willing to deliver them.
These three failures are not just bad luck: Lombardy's difficulties result from decades of political choices leading to the progressive privatization of healthcare in the region and provide a striking illustration of the inability of commercialized healthcare systems to save lives. In a recently published brief, the Global Initiative for Economic, Social and Cultural Rights analyzed how privatization policies of the last few decades, starting from 1997's 'Formigoni regional law,' have played a key role in Lombardy's poor response compared to other regions. These policies have led to the deterioration of primary care and prevention, with Lombardy being one of the Italian regions with the fewest family doctors (one family doctor per 1.413 inhabitants against a national average of 1.232) and prevention services (1 per 1.2 million, against 1 per 500.000 in Veneto).
Italy recognizes the right to health not only as a political objective, but also as a legally binding obligation in article 32 of the Constitution. Furthermore, article 12 of the International Covenant on Economic, Social and Cultural Rights, to which Italy is a party, requires the country and its regions to realize the right to health to the maximum of their available resources. Clearly, Lombardy did not do as well as its resources allowed.
As this experience shows, such obligations cannot be met without ensuring there is a strong and quality public healthcare system, where health facilities are democratically controlled, and focusing on the realization of the right to health, rather than on profits or any other commercial objective.
Global health leaders must learn from the experience of Lombardy and from other parts of the world and reverse the growing market-approach that is undermining the right to health worldwide.
Lombardy is just one example illustrating a broader phenomenon: in countries ranging from India to Kenya, where the privatization of health systems has also been rampant in the last years, many cases have been reported of private commercial providers using the pandemic as an opportunity to maximize profits to the detriment of public health. For instance, in India, a private hospital has been recently accused of withholding the body of a dead COVID-19 patient because the family could not pay the bill. At the global level, commercial incentives and profit-seeking are also at the centre of pharmaceutical companies' resistance to making their vaccines more broadly available, leading to inequalities and inefficiencies.
Yet, despite solid evidence that commercialized health systems failed in providing care when it was most needed, world leaders meeting last month in Rome for the G20 Global Health Summit emphasized the need for strengthened private-public synergies to recover from the pandemic. Reinforcing public health care was not even on the agenda. The summit ended with the 'Roma Declaration,' which calls for reinforcing multilateral cooperation across public and private sectors, without referencing the urgent need to reinforce high-quality public healthcare systems for all to prepare for future epidemics. Similarly, a report published by an advisory group of the World Health Organisation in December 2020 might be misused to encourage commercialisation of healthcare delivery, as noted with concern by eight civil society organizations criticized in a recent open letter. The open letter calls upon the WHO to align such a report with the right to health, international human rights law, and WHO's commitment to promote quality public healthcare, ensuring that it does not encourage commercialization of healthcare in any direct or indirect way. Such emphasis on private sector engagement for healthcare, ever growing in global health policy spaces, risks accelerating even further current upward trends in healthcare privatisation, with disastrous consequences for the right to health for all.
There is no more time to lose. We cannot wait for the next pandemic, or the next catastrophe: global health leaders must learn from the experience of Lombardy and from other parts of the world and reverse the growing market-approach that is undermining the right to health worldwide. Amidst the tragedy, we can build a better world, by focusing on quality public healthcare systems that can realize human rights.
---
A shorter version of this article, in Italian, has been previously published as an open editorial on the Italian newspaper Il Manifesto, available here.
ORIGINALLY PUBLISHED: July 27, 2021
---
Rosa Pavanelli is the General Secretary of the global union federation Public Services International (PSI). She was nominated as Commissioner on the UN High-Level Commission on Health Employment and Economic Growth (ComHEEG), representing the trade union movement, health workers, and public services.
Rossella De Falco is the Program Officer on the Right to Health, Global Initiative for Economic, Social and Cultural Rights. She holds a Ph.D. cum laude from the Human Rights Centre of Padova University, Italy, and an LL.M. in Economic, Social and Cultural Rights from the University of Essex.
---