Business impacts on trans rights demand attention and action
Trans people experience disproportionate rates of violence and socioeconomic exclusion, leading to poverty, homelessness, and food insecurity. What is the role of businesses in addressing these human rights impacts?
---
---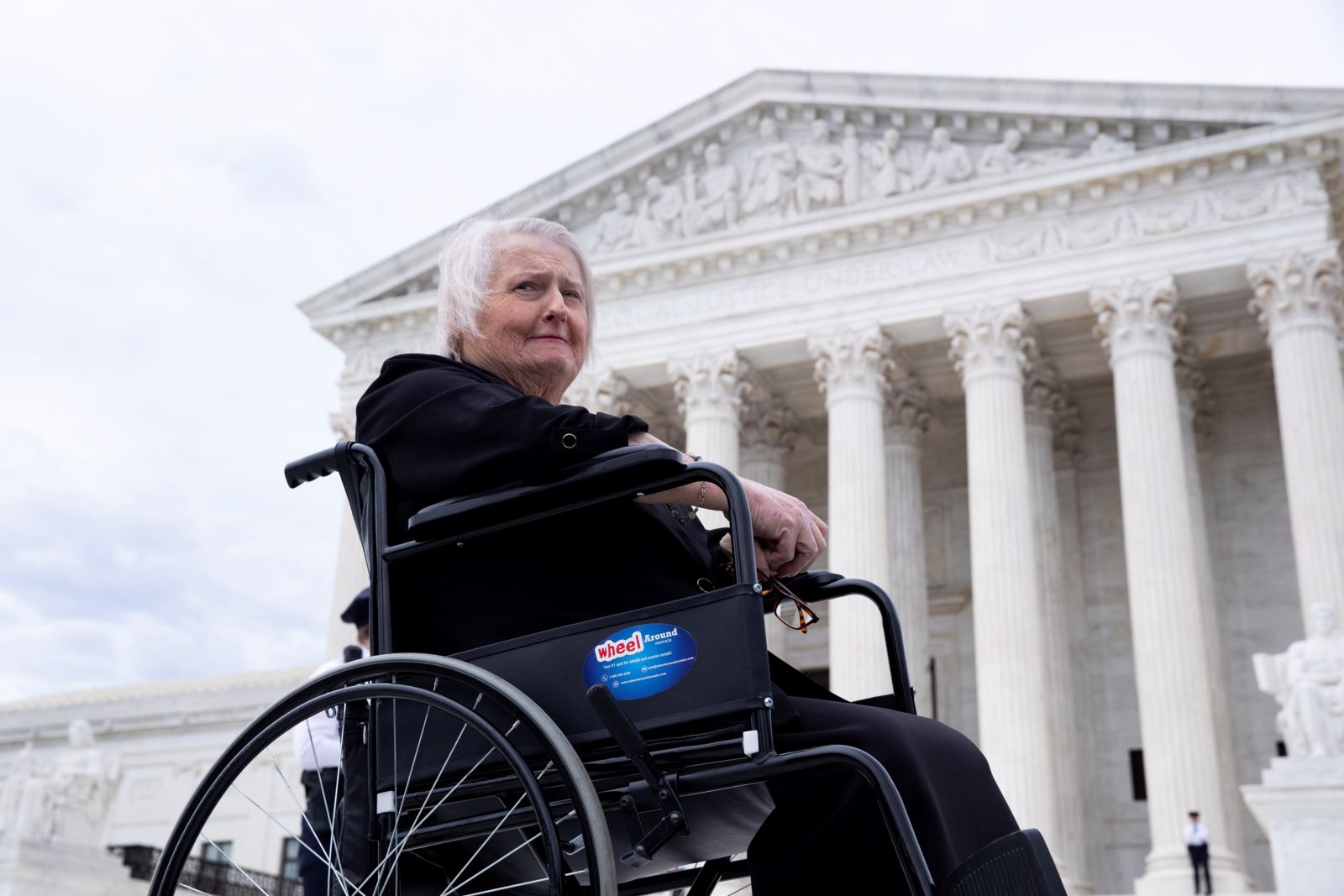 Aimee Stephens, plaintiff in the case R.G. and G.R. Harris Funeral Homes Inc. versus Equal Employment Opportunity Commission (EEOC); is seen outside the Supreme Court after the court heard oral arguments in three cases, in Washington, DC, USA, 08 October 2019. The Supreme Court heard oral arguments for three cases, 08 October, two of which involve allegations of discrimination based on sexual orientation and a case on whether discrimination laws apply to transgender workers. EFE/EPA/MICHAEL REYNOLDS
---
The US Supreme Court only decided in June 2020 that employers cannot legally fire trans employees simply for being trans. Aimee Stephens, the woman at the center of that case who was fired because she came out as trans, passed away just one month before the landmark ruling was announced. Her years of unemployment left her family without resources to cover end-of-life care and funeral costs.
This case represents just one example of how trans people* face human rights risks globally. Social prejudice, family and community rejection, and criminalization lead to socioeconomic exclusion such that trans people experience disproportionate rates of poverty, homelessness, and food insecurity. These factors also lead to prevalent violence, with hundreds of trans and gender-diverse people killed annually and that risk is heightened based on intersecting identities, including race.
To meet their responsibility to respect human rights, businesses must understand this precarious context, learn from emerging good practice, and act on business-related discrimination against trans people.
Workplace discrimination
As the Stephens case highlights, trans people everywhere experience widespread discrimination in hiring and firing, which contributes to high unemployment rates. Of those who are employed, many experience violence and sexual harassment, and in the US, 77% reported taking steps in the past year to avoid mistreatment, such as hiding or delaying their transition or quitting their job. In South Africa, trans workers report that employers refuse to recognize their genders, and in Thailand they have been required to observe the dress code of their gender assigned at birth. While some businesses aim to foster inclusion of trans people, such as by featuring pronouns in email signatures, their trans employees might face discrimination by being "out" when engaging with business partners.
There are promising examples of business actors stepping up for trans peoples' rights at work. Westpac offers gender transition leave and works with trans organizations to support transitioning employees. And in 2019, Walden Asset Management filed a novel shareholder resolution over concerns that a portfolio company's non-discrimination policy did not cover trans people.
Meanwhile, hundreds of companies in the US have used their leverage to oppose discriminatory legislation and judicial action that might require them to undermine their trans employees' rights. This includes publicly canceling investments, sending joint letters, and submitting amicus briefs to the Supreme Court.
Discrimination in Access to and Quality of Healthcare
Another area of widespread discrimination against trans people is in healthcare, which can have fatal consequences. In the US, the Trump administration continues to push exemptions that allow private healthcare providers and insurers to refuse to treat trans people.
Globally, it is exceedingly rare that health benefits cover medically necessary gender-affirming care, such as hormone treatment and surgical interventions. When the Human Rights Campaign's (HRC) Corporate Equality Index was first published in 2002, no US businesses evaluated offered trans-inclusive healthcare coverage. By denying this vital coverage, employers and insurance companies may contribute to adverse economic and health impacts, including on mental health and bodily harm resulting from patients resorting to cheaper black market interventions.
Social prejudice, family and community rejection, and criminalization lead to socioeconomic exclusion such that trans people experience disproportionate rates of poverty, homelessness, and food insecurity.
However, HRC's corporate accountability campaign and other advocacy efforts have driven progress: in the 2020 Index, 65% of Fortune 500 companies now offer trans-inclusive coverage.
At the same time, many US states are considering legislation to prohibit and imprison healthcare providers who follow medical best practice guidance in treating transgender youth patients. Healthcare providers are using their leverage to stop such bills.
Discrimination online and as customers
Transphobic abuse online is rampant, including intentional misgendering and threats of violence that can spill over into violence offline, silence trans people and defenders, and contribute to social stigmatization. Trans customers are also exposed to harassment and physical assaults in retail settings, including when using restrooms.
In a nexus of these two risk contexts, in March 2020, Alexa, a trans woman experiencing homelessness in Puerto Rico, was using the women's restroom in a McDonald's when an employee called the police. Photos of the encounter circulated, and Alexa became the target of widespread transphobic attacks online, misgendering her and calling for her murder. That night, she was murdered and a video of her being shot at was shared on social media.
Some online platforms are taking steps to safeguard trans users from harassment. For example, Twitter prohibits targeting individuals, including "targeted misgendering or deadnaming." And by advocating for the adoption of the Equality Act, large coalitions of companies in the US are using their collective leverage to strengthen protections for trans people, including trans retail customers.
The Path Forward
The need to scale meaningful corporate action to tackle business-related discrimination against trans people remains urgent, as many governments and social institutions target and scapegoat trans people during a global pandemic. While we see emerging good practice, most efforts to combat discrimination are found among companies subject to pressure campaigns. Instead, most companies fail to meaningfully engage with trans people in their non-discrimination efforts, and few prioritize tackling the most severe impacts on trans people connected to their business.
Looking ahead, businesses must center the lived realities of trans people in their inclusion efforts. This involves consulting trans employees and organizations in the process of developing trans-inclusive non-discrimination and anti-harassment policies. Embedding these commitments requires considering context-specific needs of trans people when adopting transition process guidelines for all staff, providing benefits, and ensuring grievance mechanisms have the capacity and safety measures in place to handle complaints of anti-trans discrimination.
The need to scale meaningful corporate action to tackle business-related discrimination against trans people remains urgent, as many governments and social institutions target and scapegoat trans people during a global pandemic.
Centering trans experiences also requires focusing attention and resources on addressing the most severe risks affecting trans communities. For instance, preventing violence against trans people should involve training staff to identify and interrupt incidents of gender policing by colleagues and customers that may escalate into harassment or unnecessary police interactions. Companies should also examine—and where appropriate, use their leverage to address—the risks of being connected to state-sanctioned brutality against trans people through their relationships with police, private security, and prisons.
To scale corporate respect for trans rights, more companies will need to join efforts to promote robust legal and policy standards that protect trans people from business-related harms. For example, private hospitals and healthcare providers, and companies connected to sports organizations, should advocate for an end to coercive sterilization policies, which impact trans peoples' health and bodily autonomy.
Scaling up also involves leadership from the human rights and business community. Some organizations have taken steps to be inclusive of trans people, such as defining "women" as including trans women. However, much more must be done to address the unique gender-based threats facing trans people in our corporate engagements, when conducting human rights impact assessments, and when developing guidance for responsible business conduct.
To ensure no one is left behind in our efforts to achieve universal dignity, businesses must fulfill their responsibility to respect trans rights. As Aimee Stephens stressed in her appeal to employers in March 2020:
"When LGBTQ people are dehumanized, when our civil rights and our well-being are threatened by anti-LGBTQ legislation, companies have the power to blunt these attacks… Meaningful social change does not instantly come to be by the stroke of a judge's pen. What you do—the way in which you treat your workers, your customers, and your neighbors—can move us toward equality."
* "Trans people" as used here includes transgender women and men, non-binary people, and all gender-diverse people, whose gender identity or expression is at odds with what is perceived as being the gender norm.
---
This piece is part of a blog series focusing on the gender dimensions of business and human rights. The blog series is in partnership with the Business & Human Rights Resource Centre, the Danish Institute for Human Rights and OpenGlobalRights. The views expressed in the series are those of the authors. For more on the latest news and resources on gender, business, and human rights, visit this portal.
ORIGINALLY PUBLISHED: August 21, 2020
---
Nora Mardirossian (they/them) is a business and human rights advisor at Shift and a lawyer. This piece is authored in their personal capacity. The perspectives expressed are the author's own and do not necessarily reflect the views of Shift.
---