Collective care in human rights funding: a political stand
To support the activists and groups that we fund, donors must engage in honest conversations around our own burnout and ethics.
---
---
What is the responsibility of donors regarding the care practices of frontline activists? And how does our own well-being affect that of the people we fund? As a rapid response fund for women's rights, we gather daily to discuss new applications for funding, which often involve issues of sexual violence. We take turns to offer analysis and debate on whether each request "fits our mandate". This is a skill learned over time, a difficult one, which can make one feel expedient yet overwhelmingly responsible. And through each case of a woman activist risking her life, or an urgent situation where women's and LGBTIQ rights are, once again, under threat, there is always a potential for a trigger. We, as women, often share similar histories, experiences and traumas with the activists we support. However, we have learned how crucial it is to heal oneself in order to support others facing similar issues. This is the only way to make collective transformation possible.
The experiences of women activists can be different than those of men, because of the gendered nature of threats and burnout.
The experiences of women activists can be different than those of men, because of the gendered nature of threats and burnout. The use or threat of sexual violence against women activists is very common, but it is also poorly documented, because it is often not reported or recognized. Women human rights defenders are also more likely to burn out because of societal pressure and condemnation due to their gender, and responsibilities to support their children and other family members.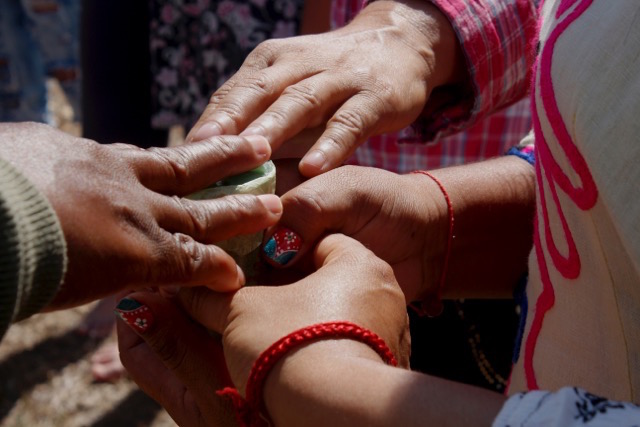 Urgent Action Fund (All rights reserved).
Regional Convening on Sustainable Activism, El Salvador 2015. Urgent Action Fund-Latin America.
---
We at the Urgent Action Sister Funds are deeply passionate about supporting women human rights defenders, but we are not the ones at the frontlines. We are not the ones who will be jailed, who will get beaten or harassed, or threatened with rape for fighting for justice and basic human rights. For most of us in the donor world, this is not the reality of everyday life. Yet we experience triggers and secondary trauma, and the sense of frustration and responsibility can drive us to the point of emotional and physical exhaustion. As one colleague shared, "I try to compartmentalize things and will try to turn off work, but I do have dreams about traumatic cases."
As advocates and funders, we must be honest about our own sustainability. How do we begin? Caring practices are deeply individual, cultural, and even depend on economic background and political beliefs. An ethic of care is both individual and collective. For many, separating their work from their personal lives can support overall well-being; but, unfortunately, this is not always possible for those of us working in the field of human rights. As women working to protect and promote women's rights, it can be challenging to separate our work from our own personal struggles and obstacles as women. As funders in general, we must be aware of our own privileges and assumptions around care.
To support the activists and groups that we fund, we must engage in honest conversations around our own burnout, which stems from our internalized practices and habits, and a lack of healthy polices. To be an ethical donor, we must include funding for well-being and safety for grantees, which can only happen if we understand and utilize care practices, as individuals and as organizations, collectively. We must move away from an "us" (donors) and "them" (activists) mentality in this field. Only then will we stop exhausting activists by demanding ever-more measurable results and lengthy reports rather than funding their basic healthcare needs or providing unrestricted funds to support their secure transportation, maternity leave, pensions, or basic security measures for their offices and homes.
Well-being includes proper time and space to assess the hidden risk of workload and activism. It includes funding adequate time for rest for an activist, after she spent several months or years in jail, so she does not have to worry about sustaining her family. It includes not scheduling 12-hour day seminars and conferences, because we as funders often have the luxury of influencing, if not setting, the agenda. It includes funding an assistant for the activist with a disability, so she can be fully present and comfortable during a meeting or conference, and not forcing people to eat while they work. We must practice awareness and respect for cultural expressions of well-being. If our aim is to support movement building, we need to be open to the ways in which different social movements and people understand and define care practices. For example, many indigenous people define well-being as an everyday holistic practice that enables balance in life and with every living being, not as an individual act or of an organization alone. If we are to make transformation happen, we must broaden our scopes and worldviews.
Establishing sustainable care practices requires ongoing exploration and engagement to find what works. In their brilliant guide "Strategies for Building an Organization with a Soul," two African feminists, Hope Chigudu and Rudo Chigudu, offer concrete suggestions for how to create an organizational culture where "impassioned people go to work every day, inspired by working in an environment that increases both their well-being and productivity."
If an organization engages in an ethic of care, well-being practices become collective and incorporated institutionally, and individuals will be motivated to create and sustain their habits. For example, Urgent Action Fund fosters such culture by holding two "Getting Nothing Done Days" per year, during which staff take a complete break from their work to rest and spend time with each other. At Urgent Action Fund - Latin America, staff members responsible for rapid response grantmaking are provided with ongoing psychosocial support to help with processing their frustration, pain, and difficult workload. In addition, "Sustaining Activism" has been incorporated as a cross-cutting program in an effort to institutionalize well-being across the organization. Many of our grantees have already incorporated care practices out of necessity, and there is much that human rights funders can learn from their practices. Other organizations, such as FRIDA, have been incorporating individual and collective care tools in their everyday practice.
Only when these conversations and practices take place in both directions—from funders to grantees and back again—can we begin to understand the importance of funding and sustaining activism of frontline defenders.
ORIGINALLY PUBLISHED: May 18, 2017