In the 1960s, Nordic countries initiated awareness campaigns to mobilize support for their aid programs, which effectively galvanized public enthusiasm for the delivery of aid. Consequently, Nordic aid had a strong development orientation and sustained broader humanitarian goals, including enhancing human rights in developing countries. The same logic can be applied to the connection between public support of human rights and the chances that a national government will set human rights as a public policy agenda. Without insistence from the public, elected leaders will rarely give priority to respecting and protecting human rights in the country and around the world.
Central to the methods of measuring this public opinion is the social survey. But such a "human rights survey" has not yet emerged as a substantiated and/or legitimated tool to capture public understanding of attitudes towards and experiences of human rights and their violations. For the most part, only sketchy opinion polls with selected items of human rights have appeared, and these provided a limited understanding of what citizens think about human rights. Consider, for example, the Foreign Policy Leadership Project, conducted by the Chicago Council on Foreign Relations, which began to assess the significance of human rights as a foreign policy frame in 1978. In particular, it asked the public to rate the importance of various American policy goals—including the goal of defending human rights in other countries—and found that the human rights goal consistently ranked lower than goals serving national interests.
The available opinion polls fall far short of conceptualizing and measuring human rights in a broader spectrum.
Even now, the available opinion polls fall far short of conceptualizing and measuring human rights in a broader spectrum, nor do they sufficiently or systematically identify individual traits responsible for higher or lower human rights orientations. Globally, there is an increasing consensus that human rights are multidimensional and that remarkable differences exist among global citizens in their human rights orientation. The existing data limitations have now pushed thoughtful people to design questionnaires explicitly and exclusively focused on human rights and their potential determinants.
That this innovation was recently made in South Korea contradicts a common belief that the country has a weak liberal tradition, shows reminiscences of authoritarian rules, and faces a continuing conflict with North Korea. After the adoption of a national human rights commission in 2001 under the leadership of President Kim Dae Jung, a Nobel Laureate, the country experienced a breakthrough around human rights. Not long after, in 2005, the National Human Rights Commission of South Korea (NHRCK) conducted the first human rights survey, which despite its considerable limitations planted the seeds for subsequent improved efforts at capturing public opinion on rights.
The greatly refined 2011 National Human Rights Survey of South Korea (NHRSK) substantially improved upon the previous surveys: first, it was exclusively devoted to understanding general human rights with 170 questions. Second, it was based on a nationally representative sample. Third, many items were systematically derived from existing human rights opinion polls for comparability. Fourth, it captured multiple dimensions of human rights orientations as well as their contributing individual traits. Sponsored by NHRCK, NHRSK was designed by several Korean sociologists trained in eminent sociology programs in the US.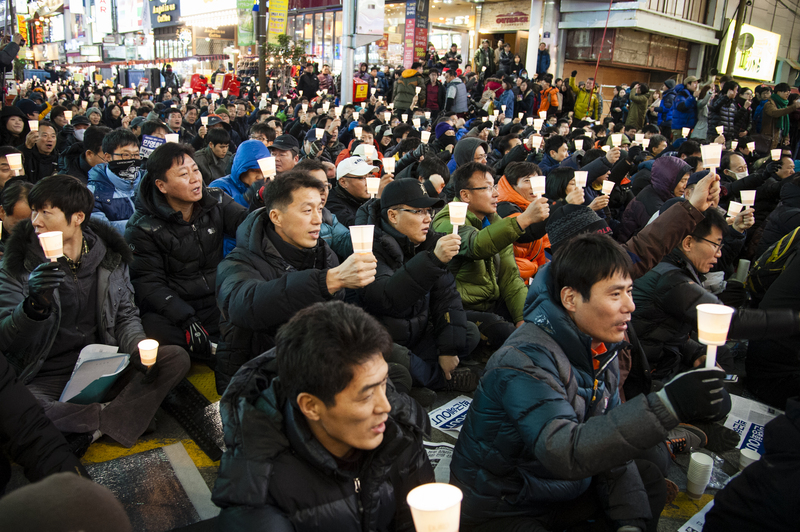 Demotix/Ben Weller (All rights reserved)
A labor rights demonstration in Busan. "The 2011 NHRSK revealed that respondents had high levels of awareness of human rights. However, levels of actual respondent-participation in rights-promoting activities were much lower."
---
The 2011 NHRSK revealed that respondents had fairly high levels of awareness of domestic and global human rights. However, levels of actual behavior—respondents' participation in rights-promoting activities, such as making donations in support of minorities, signing petitions for human rights causes, having memberships in human rights NGOs—were much lower (see Figure 1). The level of support measured by respondents' endorsement of pro-human rights policies remains in between. Over time, general awareness levels of both domestic and global human rights have moved upward (see Figure 2), confirming the widely known thesis of worldwide human rights diffusion. Even more interesting, the findings suggest that urban status, education and global citizenship are closely associated with higher awareness of and higher engagement in human rights. Liberal political outlook and higher level of trust are also correlated with higher awareness. Respondents' socio-economic status, however, appear to be irrelevant to any dimension of human rights orientation.
Figure 1. Dimensions of Human Rights Orientations, South Korea (Koo et al., 2015)
Figure 2. Awareness of Human Rights Practices, South Korea (Koo et al., 2015)
In her contribution to the debate on internationalizing human rights, Louise Arbour highlighted the need of each country to look for indicators to measure progress, regression or stagnation of human rights. She suggested that a policy measure, such as the Universal Periodic Review, might serve the purpose of comparing each country against its own record.
Missing here, however, are citizens' perceptions and experiences of human rights in each country. After all, the practice of human rights is experienced by individuals and thus individual persons are the only genuine bearers and/or appraisers of human rights. The future reforms of the global human rights policy need to be guided by what the local constituents think about the current state of human rights protection for women, the disabled, the elderly and the unemployed. Therefore, policy interventions need to be made in ways to monitor their experiences of, and attitudes towards human rights in order to have a real impact on rights practices. For instance, the National Human Rights Commission of South Korea is currently in the process of transforming the survey-based subjective data into the DB of human rights statistics in an attempt to make it publically available.
The UN Human Rights Council, in collaboration with national human rights institutions and NGOs, should take the lead in considering the voices not only from the victims of human rights abuses but also from the local public—normal citizens—in many parts of the world. We need to further develop human rights surveys or other opinion polls into globally agreeable vehicles for the measurement of global citizens' human rights orientations. In fact, until now, most researchers have looked for "objective" indicators of human rights practices, as perceived by outside observers. What is now required is a better sense of how the people themselves feel about human rights issues, infringements and organizations. If realized, all these promising efforts would eventually lead to the spread of human rights culture worldwide and result in the real improvements of human rights on the ground.