Satire as a tool of resistance in Egypt
In countries where fear is employed as a weapon against freedom of speech, satire is one of the strongest tools of resistance.
---
---
One evening in May, I was scrolling through my Facebook page to find an alarming status update from a friend, Adel, from one of our theatre classes at the Jesuit community centre: "They captured Ezz. He is now detained in Heliopolis police station, and soon they will get the rest of us."
Ezz was another friend of mine that went to the same theatre class, and I soon learned through his Facebook page that he was arrested over charges of publishing offensive videos and attempts to topple the regime. I had seen a few of their YouTube selfie-style videos—shot using a mobile phone camera—that the group used as satirical theatrical performances to make fun of different things in Egyptian society, such as religious radio shows, childhood songs, or the military regime. This group is made up of six young artists (19-25 years), most of whom I've met through the theatre classes, who were passionate about arts and theatre. They believed they could discuss anything—even things they can't normally discuss in everyday life—on stage or through performance. They formed a troupe, called themselves street children, and had a Facebook page with over 300,000 followers, where they posted their videos.
A day or two after I saw that Facebook post, Adel was indeed detained as predicted—along with the other four group members—for 15 days pending investigations into charges of using YouTube videos to incite violence and acts of terrorism. Over the next five months, their detention was continuously renewed, with a total number of 105 pre-trial detention days. Activists took to social media to support the troupe, since protesting in the streets was prohibited at that time. A social media campaign soon took off, called, "Does this phone camera scare you?" Supporters posted selfie photos on social media with their mobile phones to ridicule the regime's fear of satire. Many well-known Egyptian artists, journalists, and politicians participated in the campaign.
Satire has in fact played a tremendous role in the current social movements and activism in Egypt.
Satire has in fact played a tremendous role in the current social movements and activism in Egypt, especially during and after the 2011 uprising. One of the most prominent modern satirists was Bassem Youssef, known as the Jon Stewart of Egypt. Youssef became widely famous in 2011 onwards after he began posting satirical political videos on YouTube due to the absence of freedom of speech on mainstream media. His videos, which attracted millions of viewers, used comedy to criticize the political scene in Egypt and the Middle East. He later became so popular that he was contracted by ONTV channel to host a program called "Al-Barnameg" as the first internet-to-TV program conversion in the Middle East. The program gained tremendous success and ran for three consecutive seasons, and two of them were broadcast free-to-air with a live audience. The program ran through different political transformations, as well as the rise and fall of political regimes in Egypt, including the Muslim Brotherhood, and later the comeback of military ruling. However, in April 2014, the MBC Egypt TV channel suspended the show with the claim that it might influence the Egyptian voters opinions in the run-up of the 2014 presidential elections. In June 2014, Youssef announced the termination of the program due to the pressure on him, his family, and MBC channel. He declared in a press conference at his studio that it was no longer safe for him or his family to continue on with the show. He eventually had to leave the country. Even though he was forced to terminate his program, Youssef inspired a whole generation to speak out for justice. His program influenced people to think critically and take action. He also inspired younger satirists to emerge and follow his lead. Unfortunately, such satirical programs in Egypt and the Middle East are under-researched to be able to provide evidence of their impact on political engagement and awareness of citizens.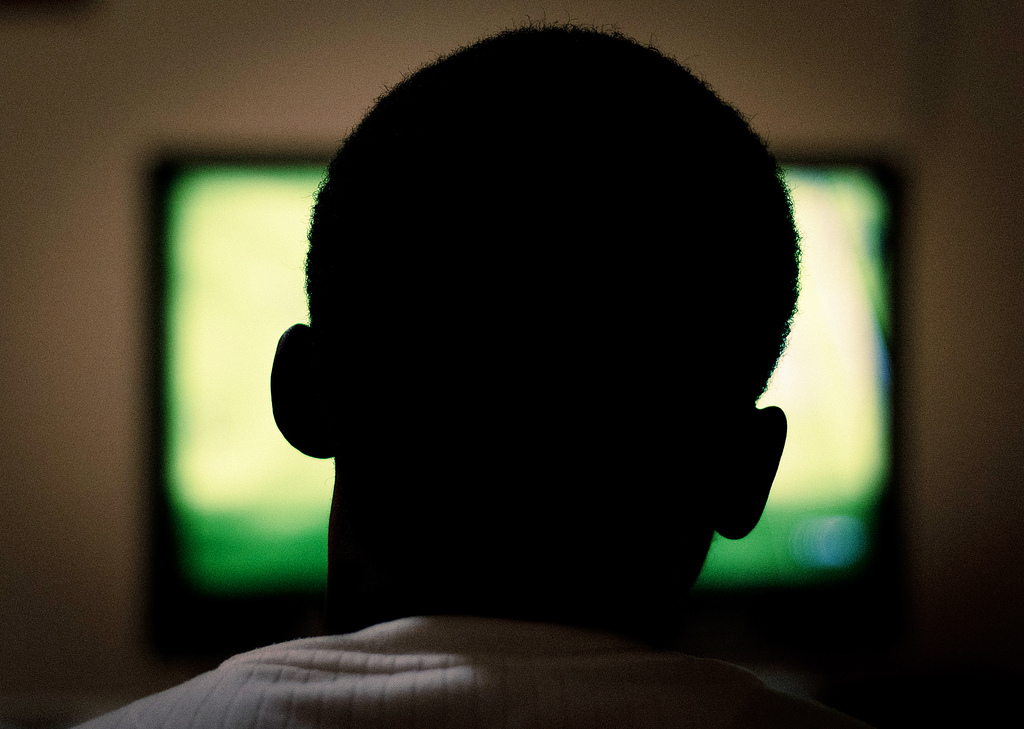 Flickr/Al Ibrahim (Some rights reserved)
In societies where dissent is repressed, the consumption of satire can be one of the strongest tools of resistance.
---
My friends and I used to watch Youssef's TV show regularly for political opinions and commentaries instead of the regular political shows—watching a satirical show provided the emotional release we needed along with a break from the heavy political situation, while still keeping us aware of the different viewpoints and events. It also sent the subtle message that no one is above the non-discriminating voice of satire, not even the president himself. Watching Youssef's show made me feel courageous and empowered, and at the very least, it allowed me to laugh.
Satire has been as a tool of resistance not only in Egypt, but also in many countries all over the world. I first learned about the brutality of Hitler and the Nazi regime through the legendary Charlie Chaplin's silent movies that outlived any political news or commentaries of that time. Jon Stewart of the US, Ali Farzat of Syria, and Ebrahim Nabavi of Iran are only but few examples of satirists who challenged authorities using comedy, sometimes taking it so far that some were jailed for speaking out. Satire has always had its share of hard critics. Numerous lawsuits were filed against Bassem Youssef by Islamists for "corrupting morals and violating religious principles", and later during the military ruling by the top prosecutors, accusing him of defaming the military. In research done by Dina Youssef at the School of Mass Communication at the American University in Cairo, it was found that there was a significant shift in the audience's attitude towards Bassem Youssef after the election of Abdel-Fattah El-Sisi, especially among the older generation, who claimed that he was trying to invade the Egyptian society with western ideas.
In countries where fear is employed as a weapon against freedom of speech, satire is one of the strongest tools of resistance. Satire is a craft that needs attention, studying, and investment to flourish and be powerful enough to liberate the people. As Youssef said in his speech at the Deutsche Welle Global Media Forum, "Satire and comedy might be one of the very few antidotes against fear. It liberates your minds. It sets your judgment free. And that is why it is a threat…. [This] is a world where fascism is celebrated and where fear rules. But satire comes to disrupt such an equation, because when you laugh, you cannot be afraid anymore, because—and thus the system will make sure to eliminate that powerful weapon of laughter, in order for fear to set in."
ORIGINALLY PUBLISHED: December 20, 2016
---
M.B. is a human rights fellow from Egypt currently based in the U.S.
---