Security and well-being: two sides of the same coin
By not paying enough attention to self-care, activists are compromising their own security—and that of their organizations.
---
---
There has never been a time when being a human rights defender is so challenging and fraught with risk. According to Front Line Defenders, "[m]ore than 1,000 human rights defenders were killed, harassed, detained, or subjected to smear campaigns and other violations in 2016." More human rights activists are victims of deadly violence in more places than ever before—especially those defending environmental rights in Latin America—while made-up charges, unfair trials, and obstructive laws targeting rights defenders and their work have become the norm in many parts of the world.
Defenders face exhaustion and trauma and struggle with burnout.
In addition to threats against their personal safety and security, defenders face exhaustion and trauma and struggle with burnout. For example, one of our partners, an activist living in exile, was followed multiple times by government officials and security forces because she was highlighting human rights violations in her home country. She had been threatened physically and her home had been broken into. She was terrified for the physical safety of her children and family members and confided that there was no place where she felt safe. Despite this, she refused to give up, saying, "[I'm] so motivated to continue. I believe the work I'm doing is very important. If I'm not there, it will be very difficult for others."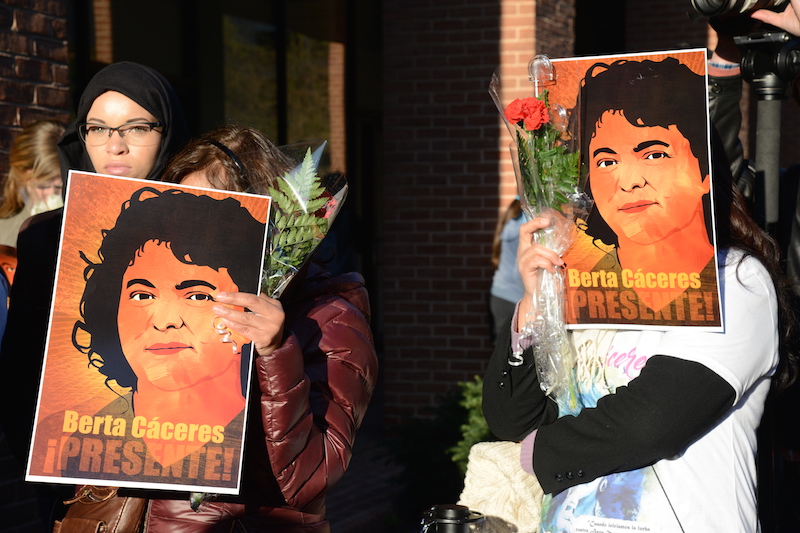 Flickr/ CDIH (Some rights reserved)
A vigil held for Berta Cáceres, an environmental activist who was murdered on March 3, 2016 in Honduras.
---
Talking to defenders like this about their personal security is difficult. Well-being, self-care, and managing stress and burnout seem like self-indulgent luxuries for which they do not have time. Their day-to-day work may involve keeping their organization afloat, whether financially, politically, or otherwise; protecting community members from myriad threats and harms, some of them deadly; or struggling to respond to incessant ideological attacks that stigmatize human rights and usually lead to attacks on individuals. Non-profit organizations are often understaffed; as a result, employees and volunteers are often overworked. Taking care of themselves is at best an afterthought or at worst not even on the radar. There is simply no time.
Recently, we attended digital security trainings for human rights defenders in South and Southeast Asia, organized to support digital security needs and emotional resilience techniques that participants identified as being important to continue their work as lawyers, human rights defenders, and journalists. We observed that the majority of participants were under so much stress that they were barely able to focus on new information, especially about new technologies, let alone make smart decisions while under threat. One participant, a human rights lawyer, commented that while creating a plan for personal well-being was easy, the challenge would be to implement and sustain it among all the demands of her life and work. Another participant reflected on the importance of prioritizing self-care: "Before our session, we were unable to process our stress and trauma. Now I feel lighter, like I have the capacity and tools to process."
This kind of experience pushes us to think more consciously about the issue of self-care of human rights defenders. To ensure that human rights workers understand the importance of taking care of themselves—and have the time to implement it—we identify three crucial steps. First, the human rights sector must redefine security to include everything from a human rights organization's physical, digital, and financial security to an individual defender's intellectual and emotional well-being. If human rights activists are constantly afraid for their safety, it's nearly impossible to consider participating in therapy or taking time off.
Second, donors and others supporting human rights activists must include individual health when assessing the health and sustainability of the organizations, communities, and networks that constitute the human rights movement. If staff are overworked, the chances that they will take time for self-care are even more diminished. This concern leads to the third step: incorporating security and well-being practices into the day-to-day work of defenders and the organizations they serve. This means mainstreaming security and well-being. It also means moving towards organizational cultures in which self-care is inherently understood to be critical to the security of human rights defenders and the sustainability of their work.
What does this look like in practice? We believe that both funders and trainers have an important role to play. Our role is to create environments where talking about mental health and well-being is not associated with stigma but rather used to underline that there is no healthy human rights movement without healthy human rights practitioners. What we need is an honest conversation where funders do not shy from asking, "How are you?" Funders and trainers also need to be ready to search for answers with their partners and adapt grant making to focus on resilience, not only emergency/transactional support. Creating spaces and opportunities for human rights professionals to make good practices more well-known and transferrable may be one way to go. Such efforts should involve not only human rights professionals, but also digital security trainers, psychologists, and therapists. Based on our experience we also advocate for integrating psychosocial support and self-care principles into existing training efforts, especially those on digital security.
By including and addressing well-being, trainers have a critical role to play in expanding defenders' understanding of security and increasing their capacity to adopt new habits. These changes can happen only by integrating security and self-care into the everyday work and culture of human rights defenders and organizations.
Each organization and individual will have different needs. They may include:
Allowing time and dedicated funding for staff retreats, peer support groups, psychological or supervision support, or other individual practices.

Creating space to discuss people's well-being at the team or organizational level.

Connecting activists with peers from other organizations so they can find solidarity and support.

Designing an organizational self-care plan with clear goals, expectations, and boundaries that are transparent and to which teams are accountable. Such a plan might include expectations for work hours and off-hours availability, the option to work from home, time for a true break during the workday, offering activities like stretching and meditation, or simply scheduling a block of quiet time without meetings.

Consistently implementing an organizational self-care plan, with staff supporting each other, and regularly checking-in with each other through meetings that include a well-being status update.

Challenging what is truly a crisis requiring immediate action, breaking a cycle of stress where people feel like they cannot afford to stop working.
Above all, human rights organizations and funders need to remember that prioritizing the safety and health of defenders, preventing burnout, and treating trauma are not self-indulgences. Rather, they are best practices. Individual and organizational attitudes and behavior must evolve. This means mainstreaming security and moving towards organizational cultures in which self-care is inherently understood to be critical to success. The old refrain of "toughen up or leave" is obsolete.
ORIGINALLY PUBLISHED: May 10, 2017
---
Holly Davis is the Executive Director of CommunityRED, an expert group providing digital security and psychosocial trainings and mentoring assistance to human rights defenders at risk.
Magda Adamowicz is a Senior Program Specialist at the Open Society Foundations and has worked around the globe on supporting human rights groups and networks of defenders in building effective protection and security strategies.
---