State-owned enterprises in China could be an entry point for human rights
To make headway on human rights in China, advocates need to get creative by partnering with state-owned enterprises.
---
---
According to a 2007 survey by John Ruggie on Chinese companies' human rights policies, state-owned enterprises (SOEs) "recognize human rights at a higher rate than non-SOEs." SOEs also control a significant portion of China's economy and could, therefore, play a crucial role in advancing the agenda of business and human rights in the country. Working with SOEs is an opportune space in which to make headway in this area. However, the Business and Human Rights Resource Centre claims that SOEs are "often less approachable" than private enterprises in China. Human rights practitioners, then, need creative and culturally specific approaches in order to make inroads with these companies.
The first window of opportunity here is that—contrasting regular corporations—profit making is not the only mission of SOEs. Instead, they are supposed to pursue non-economic goals beyond their self-interests, including human rights. Some concepts promoted by the Chinese government—such as the "sustainable development strategy", which pursues balance among economic, social and environmental development—are political drivers for improving SOEs' human rights performance. Arguably, promoting human rights obligations among SOEs serves the national interests of China, because it would help to improve domestic environment and social stability, as well as enhance China's international reputation.
Second, human rights are important for SOEs in China's "Going Global" strategy. A large number of overseas investments by Chinese SOEs have failed in recent years, and one reason is their involvement in human rights controversy. Indeed, various Chinese SOEs have been challenged by their local employees or criticized by the local community, press and Western countries because of their negative impacts on human rights. For example, after its Myitsone Dam project was halted by Myanmar in 2011, the State Power Investment Corporation publicly recognized that it needed to be more diligent about protecting human rights in its business dealings. Many SOEs have now realized that they must overcome human rights challenges and be more diligent in how they conduct their overseas investments.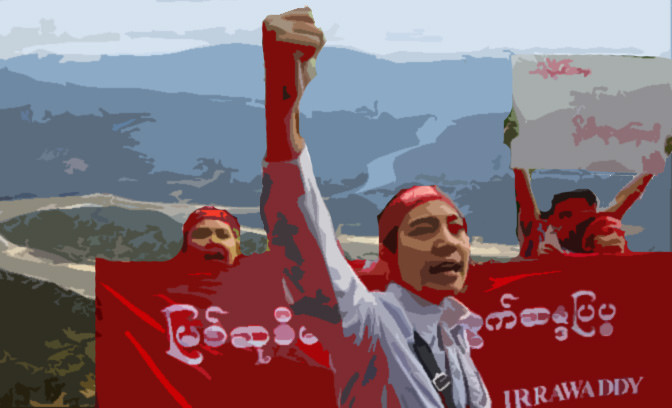 Flickr/AK Rockefeller (Some rights reserved)
Protesters at the Myitsone Dam project in Myanmar. China's State Power Investment Corporation was forced to halt the dam's construction in 2011 due to human rights concerns.
---
Third, there are several laws and policies in China covering SOEs' human rights obligations, which the international human rights community could draw upon when engaging with SOEs. For instance, the Guidelines to State-owned Enterprises requires that SOEs fulfill social responsibilities and protect employee's rights, and enhance international cooperation on CSR; other guidelines on cultural development in Chinese overseas enterprises require these companies to obey local laws and environmental rules. Most human rights are, in fact, covered by Chinese domestic laws. Compared to international human rights conventions, Chinese SOEs are able to understand and accept domestic tort laws, criminal laws, environmental laws, and even constitutional laws more easily.
It is important to use proper language to make SOEs comfortable with their participation in human rights initiatives.
Nonetheless, human rights remain complicated in China. On the one hand, the Chinese Constitution mandates that the state respect and protect human rights, and the Chinese delegation to the UN also expresses its support to the Framework on Business and Human Rights. On the other hand, the term "human rights" is politically sensitive in particular contexts. For instance, sometimes human rights issues are considered as tools used by Western powers to challenge China's authority. Therefore, it is important to use proper language to make SOEs comfortable with their participation in human rights initiatives. Using "CSR" (corporate social responsibility), for example, to discuss human rights issues is much less volatile, as most Chinese SOEs are familiar with CSR, and many of them have experience in CSR projects. Another approach is to use detailed "problem-oriented" concepts, like "occupational safety" and "occupational disease prevention" to address labor rights. In this way, the human rights community could help to solve specific human rights problems without delving into heated political debates. This isn't a perfect solution, of course, but it is a way in.
Chinese culture is also a critical part of understanding the country's approach to rights, as China prioritizes economic, social and cultural rights over civil and political rights. This characteristic is also reflected in many Chinese SOEs' human rights policies: labor rights, environmental rights, and the right to development are frequently acknowledged by Chinese SOEs. While these certainly do not cover all the human rights issues in Chinese corporations, they do serve as an entry point that is easier for many Chinese businessmen and women to understand.
Chinese SOEs are starting to become aware that they need to manage the legal and economic risks regarding human rights, but they are not always equipped or trained to do so. To make more headway, human rights practitioners can identify and address some of these gaps and needs when working with them. For example, most Chinese SOEs are lacking in the human resources, knowledge and capacity to manage their human rights impacts. They need external consulting and training on international and local human rights standards, to help them to network with international and local human rights organizations, and to assist them in the establishment of a human rights management system. If human rights practitioners could solve these problems for SOEs and reduce their human rights risks through cooperation, SOE's would likely be much more open to dialogue on future human rights concerns.
Finally, the Chinese government is the most influential stakeholder of Chinese SOEs. Public organizations such as industry associations, universities, and think tanks are also actors that SOEs cooperate with. Engagement with government and public organizations is a potentially effective way of engaging Chinese SOEs on human rights. For example, the State-owned Assets Supervision and Administration Commission (SASAC) is a critical authority that promotes CSR, including human rights obligations among SOEs, by issuing regulations and guidelines on the CSR of SOEs. Many national industry associations include human rights standards into their industrial CSR guidelines, such as the CSR Guidelines for China Information Technology Industry and the Guidelines for Social Responsibility in Outbound Mining Investments. In addition, the China Society for Human Rights Studies launched a research project on "CSR and Human Rights Protection" in 2014.
The achievements of cooperation with these organizations will probably create direct or indirect impacts on SOEs, and they can be bridges to develop the partnership with SOEs. For instance, in cooperation with SASAC, the Center for CSR of the Embassy of Sweden in Beijing successfully organized a training session for twenty leading Chinese SOEs on the UN Guiding Principles on Business and Human Rights in 2014.
It is certainly possible to make SOEs reliable partners to promote the business and human rights agenda in China. This partnership can even contribute to human rights causes worldwide, but only if both sides adopt effective strategies.
ORIGINALLY PUBLISHED: December 6, 2016
---
Qian Cheng is a legal researcher and columnist. He served as the Greater China Research Associate at Business and Human Rights Resource Centre, and a program director at Wuhan University Public Interest and Development Law Institute in China. He was an international fellow at PILnet: The Global Network for Public Interest Law and visiting scholar at the Center for Chinese Legal Studies of Columbia Law School in the United States.
---