The news that three African states—Burundi, South Africa and now The Gambia—will quit the International Criminal Court marks a setback in the long struggle against impunity for grave crimes. Although the politics are specific to each country, the common thread underlying each of the three departures is cynical self-interest.
A number of Burundi's current leaders no doubt fear that the Court, currently conducting a preliminary inquiry, may charge them with crimes against humanity for political violence which has taken the lives of hundreds of civilians and forced hundreds of thousands to flee. Indeed, Burundi's notice of ICC withdrawal immediately followed its suspension of the activities of the UN human rights office to protest a UN report implicating the country's security forces in massive rights violations.
The Gambia's president, Yahya Jammeh, who came to power 22 years ago in a military coup and once infamously threatened human rights defenders with death, has been spouting further incendiary rhetoric in the run-up to elections this December. His Minister of Information's characterization of the ICC as "an International Caucasian Court for the persecution and humiliation of people of color, especially Africans", seems designed to employ anti-ICC rhetoric to hide the facts of the regime's ugly record.
South Africa, whose own history embodies the triumph of democracy and the rule of law over racial apartheid, has no reason to fear ICC prosecution. However, President Jacob Zuma has been fighting for his political life since elections this August dealt an embarrassing blow to his governing African National Congress. Exiting the Court now positions South Africa to reclaim continental leadership on a decisive question, and aims (perhaps unsuccessfully, as legal challenges are underway) to remove the threat of imminent condemnation by its own Constitutional Court for the government's refusal to arrest Sudanese President Omar al-Bashir, an ICC fugitive, during a visit last year.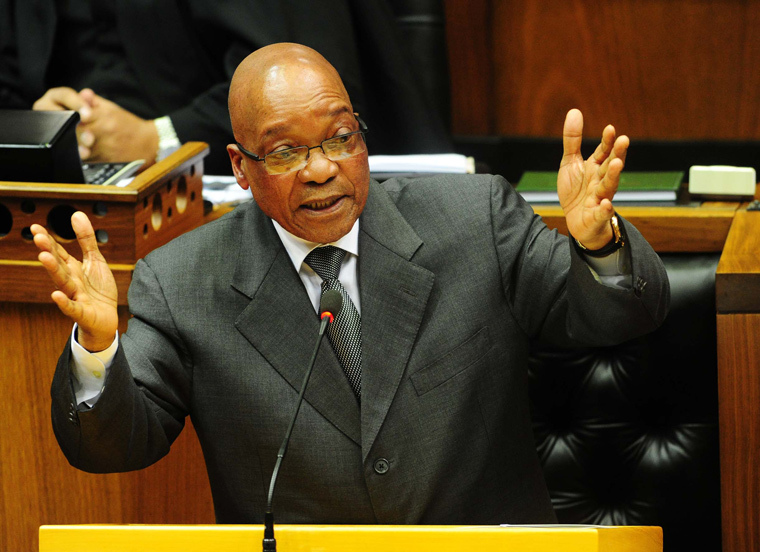 Flickr/GovernmentZA (Some rights reserved)
President Jacob Zuma speaks to South Africa's parliament in Cape Town.
---
Worrying as this string of losses is, other departures may be in the works. At the inauguration for his fifth term in office this past May, Ugandan president Yoweri Museveni called the Court "a bunch of useless people." Kenya actively fought the ICC's prosecution of its president and deputy president on charges of orchestrating mass electoral violence by intimidating witnesses and leading a global diplomatic campaign against the Court. Earlier this year, after rumors emerged that Namibia was pulling out, a minister confirmed that the "ICC is not a priority."
Do the past week's events signal the beginning of the end for an institution hailed at its birth as a "gift of hope to future generations"?
But where does this leave the ICC? Do the past week's events signal the beginning of the end for an institution hailed at its birth by then UN Secretary General Kofi Annan, a Ghanaian, as a "gift of hope to future generations"?
Not so fast.
The gap the ICC was created to fill—the absence of any alternative way to bring perpetrators of mass atrocities to account—persists. Domestic courts in too many countries in the global North and South remain unable and/or unwilling to prosecute and try such politically sensitive cases. Notwithstanding discussions underway in Africa, there is currently no regional court anywhere capable of addressing individual responsibility for grave crimes.
Moreover, the ICC is not going away. Even if another dozen or so states pull out, that would leave around 110 members from all over the world, a substantial global quorum. The ICC still has vigorous supporters, including in Africa. Just this week, South Africa's neighbor Botswana reaffirmed its commitment to the court, as have diplomats from Sierra Leone, who are all too familiar with the brutality that the court seeks to combat.
But advocates for justice should be concerned—and there is much to be done.
First, they must expose the falsehoods that are being widely pedaled. The ICC focus on Africa during its first decade of operations stems primarily, not from racial bias, but from the invitations of African governments, who have self-referred most of the situations on the Court's docket, and the UN Security Council's failure to authorize the court to address atrocities in Sri Lanka, Syria, Yemen and other war zones.
Second, they must acknowledge the truth in some critiques. Power in the world is divided unequally. Double standards unfairly limit where the ICC can tread. However, the solution lies, not in leaving the court, but in calling on others—in Beijing, Moscow, and Washington—to hold themselves and their friends accountable or risk losing further authority to lead.
Third, those who steer the ICC, and their allies in government and civil society, must do a better job of listening to, and addressing, legitimate questions. To take a prominent example, even if one accepts (as all those who ratify the Court's underlying statute must) that no head of state is exempt from prosecution, there is a genuine discussion to be had, as some have requested, about how to reconcile that principle with the need for states to uphold their respective diplomatic obligations to each other.
Fourth, while legal arguments are important, this contest must be fought where it has begun—on domestic political terrain. Though the ICC is a global institution, its constituencies, like its opponents, are (understandably) moved largely by local concerns. Those of us in countries that have not yet ratified the Rome Statute have a special responsibility to argue for domestic accountability. And the voices of victims must be made to resonate more powerfully in those debates.
Finally, the Court must do everything it can consistent with the evidence and the law to push forward ongoing inquiries outside Africa. The prosecutor is investigating in Georgia, and examining situations in Afghanistan, Palestine, and Ukraine. All are fraught political contexts, which present enormous challenges. A more concerted push there will not silence the critics; it will almost certainly breed new ones. But then again, this Court's underlying mission—to bring law to bear on the exercise of unrestrained power—was always destined to engender fierce opposition from those who have reasons to fear justice.