The Minnesota Model for human rights: improving both scholarship and practice
Long-term partnerships between academics and practitioners can build knowledge that both protects and advances human rights.
---
---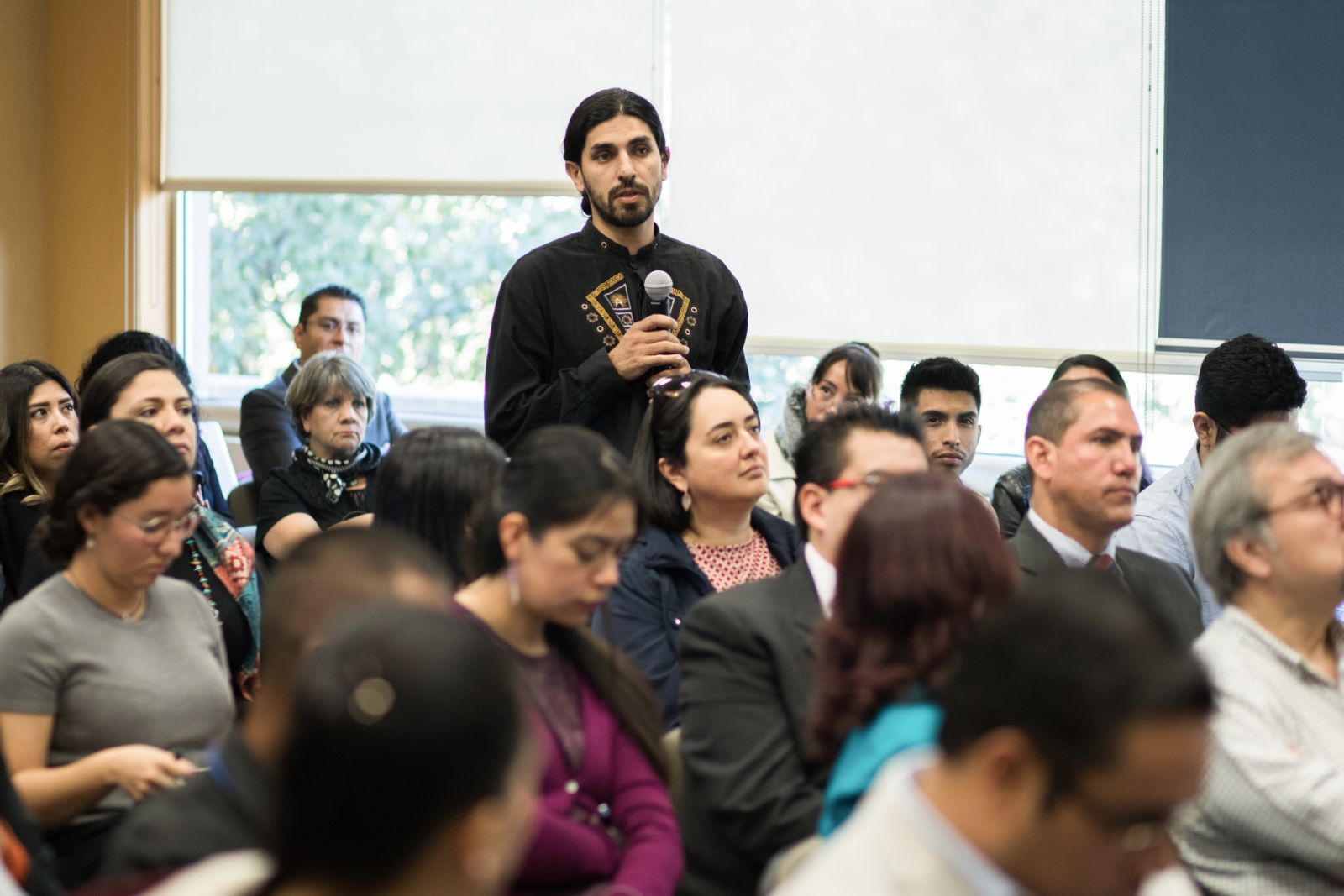 A seminar entitled the "Disappearance of Persons in Mexico: Documentation, Analysis and Communication", being held on the campus of FLACSO- Mexico, Mexico City, in December 2019. The conference was sponsored by the Observatory on Disappearances and Impunity in Mexico. Photo credit: Hunter Johnson
---
Minnesota's human rights record has been in the public gaze in recent months, captured in the painful death of George Floyd and the protests that followed. Our university-based human rights community has been rocked by these events, but we believe we are in a better position to respond because of the years of work building effective research and practice partnerships with civil society groups. Rejecting the idea of ivory tower knowledge production, the University of Minnesota has been at the forefront of encouraging honest debates about human rights around the world and in our own backyard.
The "Minnesota Model for Human Rights Research" promotes long-term partnerships between academics and practitioners, aimed at knowledge production that simultaneously protects and advances human rights. We work to generate projects that exemplify Pasteur's Quadrant, where the commitment to basic research intersects with the benefits of applied research. We embrace this approach by asserting that the goal of advancing human rights is not inherently at odds with academic rigor.
In the past four years, through the Minnesota Model, our work with partner organizations at this intersection of scholarship and practice has supported two dozen interdisciplinary projects to address issues as diverse as:
Access to justice in Chile;

LGBTQ+ health care in Kenya's refugee camps;
The role of ex-combatants in transitions to peace in Northern Ireland;

K-12 education on Indigenous histories in Minnesota and Manitoba;

Discrimination against women in Ethiopia; and

The rights of rural communities in Colombia.
Faculty participants in the Minnesota Model span at least 15 disciplinary fields, including public health, public policy, law, theater and literary arts, medicine, nursing, education, language studies, anthropology, economics, sociology, and political science. Each project team involves a faculty investigator and graduate student researchers, working in close collaboration with a partner organization in the field.
Research collaborations with human rights partners are less common and, therefore, not as well understood as other research-practitioner partnerships. Drawing from our collective experience, we have identified six major lessons learned, which we propose as a guide for collaborative human rights research and practice projects:
First, researchers should work closely with partners to develop projects that are responsive to the most pressing needs of the communities within which partner organizations operate.
In the field of human rights, the issues at stake are often highly contentious and politically sensitive. Research may reveal deep governmental failures concerning longstanding social or cultural issues—such as structural racism, the erasure of memory, or collusion with organized crime—that could put activists as well as the communities they operate within at risk. Moreover, academic research objectives may not always accord with the partner organization's outlook or preferred approach to addressing a particular human rights problem. It is essential that academics develop projects in close collaboration with partner organizations to ensure research that is independent while still being relevant.
Second, researchers ought to work with partners from the earliest stages of their projects, including project design and implementation.
Rather than approaching partners with a pre-determined set of research questions or objectives, academic researchers should collaborate with partner organizations to design the project and develop a work plan; obtain research approvals from university research boards as well as local communities; and even provide financial support for the partner organization. To identify potential sources of conflict, academics and partners ought to clarify their timelines and constraints – driven by the rhythm of the academic year, the demands of donors or funding agencies, the imperatives of litigation processes, pending policy implementation and different ways of working.
Third, research should draw on multi-disciplinary sources of knowledge and ideas.
Central to the Minnesota Model is the "Human Rights Lab", a collegial workshop in which each research team presents their project ideas to a diverse group of faculty and students with expertise in a variety of academic disciplines and research methodologies. This workshop provides space for multi-disciplinary input on the project's design, methods, implementation, and outcomes.
Fourth, researchers ought to spend time working closely in-person with their partner organizations to build strong personal relationships.
Physical presence builds trust, though remote interactions may be the best we can do in this era. In post-COVID times, partners should come together in their respective worksites to interact in each other's communities. Minnesota Model projects bring student researchers into these relationships as integral partners, pushing them to ask hard questions of themselves and the academy about relevance, empathy and knowledge.
Fifth, researchers and partners alike, must be flexible, willing to adjust research priorities and implementation in response to changing circumstances.
There will always be bumps in the road. Local, national, and international events may alter research priorities or demand a shift in activist strategies, requiring mid-project adjustments to design and implementation. Changing circumstances, such as escalating violence or emerging public health crises, may even require the cancellation of planned field work. In the COVID-19 era, collection of data has stopped cold in some places, and "action research" pilot projects and workshops have been postponed. Faculty also struggle to balance the demands of teaching, research, and administration all the more so with the care and working challenges presented by the pandemic.
Sixth, researchers should share research findings widely, with academic and practitioner audiences.
We promote policy results as well as academic publications. Examples of applied outcomes include submitting amicus briefs to domestic or international courts; organizing Congressional hearings; designing reparations models; drafting speeches, resolutions and reports for UN bodies; revising curricula; and providing training to government and security officials.
We are living in troubling times for human rights. We believe it is not enough to use our privilege as researchers to answer questions that resonate only with other academics. We want to generate real-world knowledge with mutual partners. We also seek to demonstrate that it is possible to undertake transformative research without extraction from our communities and those whose experiences we base our work upon. We are determined to enhance scholarship while increasing the capacity of local actors to defend human rights in our neighborhoods and towns, in our country, and across the globe.
---
This article is part of a partnership with the University of Minnesota Human Rights Lab. The series explores the possibilities and barriers to building effective research and practice collaborations between academics and practitioners of human rights.
ORIGINALLY PUBLISHED: November 11, 2020
---
Barbara A. Frey, JD is a senior lecturer in the Institute for Global Studies at the University of Minnesota and director of the Human Rights Program in the College of Liberal Arts.
Fionnuala D. Ní Aoláin is a University of Minnesota Regents Professor; holder of the Robina Chair in Law, Public Policy, and Society; and faculty director of the Human Rights Center at the Law School. She is concurrently a professor of law at the Queen's University of Belfast, School of Law.
Joachim Savelsberg is a professor in the Department of Sociology and an affiliate with the Law School of the University of Minnesota. He holds the Arsham and Charlotte Ohanessian Chair, dedicated to issues of human rights and genocide.
Jessica A. Stanton is an associate professor of political science at Temple University. She is a research fellow with the Human Rights Program and the Human Rights Center at the University of Minnesota.
---