There is an increasingly polarized global debate about the place of "gay rights" within international human rights law. On the one hand, many countries, particularly in the global North, have approved legal reforms repealing discriminatory legislation and granting equal rights—most recently including the recognition of same sex marriage. On the other, there are a number of countries, particularly ex-British colonies, that criminalize consensual sexual relations between people of the same sex. Attempts to change these laws have met with intense opposition on the grounds of tradition, culture and religion.
Nowhere is this debate more visible than in Africa, where 34 countries (out of a total of 52) criminalize consensual same-sex relations—five with the death penalty. NGOs working on gay rights issues face a number of hurdles in trying to challenge these laws, ranging from refusals to register LGBTI groups and ridicule in the press, through to open police harassment and the arrest of activists. South Africa stands apart from this trend, being the first country in the world—and the only country in Africa—to enshrine constitutional protection to all persons regardless of sexual orientation. However, nearly twenty years after the adoption of the constitution, homophobic attitudes and violence remain widespread.
In many parts of the world, surveys on attitudes towards sexuality are commonplace, and have been widely used by human rights activists to press their case for decriminalization and equal rights. Similar surveys in Africa are far more rare. As a result we know very little about what the public thinks about securing and protecting the rights of sexual minorities across the continent. The Other Foundation is supporting ground breaking work in South Africa to begin to address this gap in knowledge as part of an ongoing work to strength advocacy efforts in the Southern African region.
How we frame LGBT issues is critical to winning public support, and choosing the right frame means we need to know our audience.
Our foundation's purpose is to expand resources available to defend and advance the rights, well-being and social inclusion of LGBTI people in the Southern African region. To this end, the Other Foundation has entered into a working partnership with the Human Science Research Council (HSRC) to ground LGBTI advocacy in a stronger empirical base. As Kevin Nix pointed out, how we frame LGBT issues is critical to winning public support, and choosing the right frame means we need to know our audience.
Since 2003, the HSRC has undertaken an annual Social Attitudes Survey (SASAS) to explore and analyze the attitudes, beliefs and behaviors of South Africans. As a nationally representative survey that has been administered for more than a decade, it provides critical information to monitor the way in which public values have changed (or not) since the end of apartheid. In addition to the core module of demographic, behavioral and attitudinal variables, each year rotating modules on specific themes are also included, with a view to providing detailed attitudinal evidence to inform policy and academic debate.
In October 2015, the 2015 SASAS will be administered in eight official languages and will include a 32 question module exploring South Africans' knowledge, beliefs, attitudes and behaviors around sexual orientation and gender identity (SOGI). The module was developed by the HSRC and the Other Foundation, along with a reference group made up of diverse academics and researchers who are the leading scholars in this field in South Africa. The 32 questions in the module are arranged across eight sections: moral frame; knowledge and understanding; contact; attitudes; behavioral responses; experiences; attitudes to legislation and policy interventions; and personal experiences/expressions of sexual orientation and gender identity.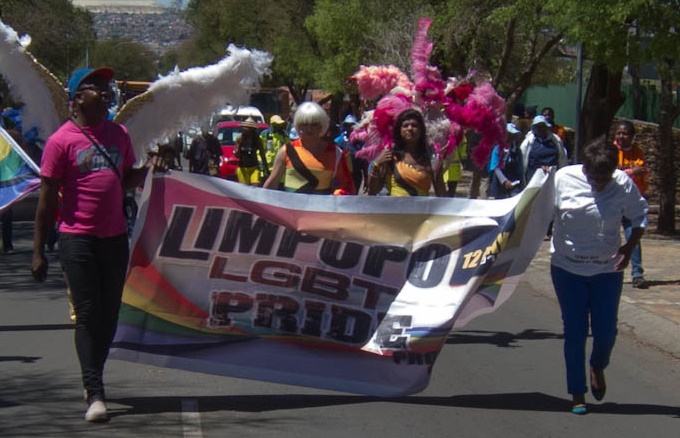 Flickr/Charles Haynes (Some rights reserved)
An LGBTI rights demonstration in Soweto, South Africa.
---
The questions themselves are drawn from a range of internationally recognized surveys, adapted to make sense in the South African context. In particular, this meant paying attention to the implications of translating the survey from the design language (English) into seven African languages (including Afrikaans, Zulu, Sotho, Xhosa, Venda, Tswana and Ndebele). Many of these languages do not have translatable equivalents of concepts used in some of the most well used homosexuality attitude surveys. For example, a question like, "Male homosexuality is a natural expression of sexuality in men" proved both inaccessible to many English speakers, and not translatable to other languages used in the SASAS. Hence, a simplified version is to be used in the module that reads, "For some men, having sex with another man is natural". This worked well in the pilot phase across all languages.
We felt it important to move beyond measuring attitudes towards homosexuality, as much of the reported violence (including bullying in schools) in South Africa, while described as "homophobic", was felt by our reference group to have more to do with transgressing gender norms and boundaries. We also adapted previous SASAS questions around xenophobia and domestic partner violence to explore respondents' own acts of harassment and violence towards non-conforming SOGI persons. But the bulk of the questions in the module are newly developed, and hence regarded as experimental, making the module itself a pilot that we hope will be refined and improved over time.
Initial result of the 2015 SASAS will be available in early 2016. The results will be embargoed for a period to ensure that South African researchers are able to write and publish the seminal analyses. The Other Foundation intends to facilitate a process with civil society to use the results and analysis to develop more effective advocacy strategies, including high-level engagement with government officials across the region. Right now South Africa is a leader on the continent in LGBT issues. But until we know what the public really thinks, we won't have the tools to help us win those rights in other African countries.